3d architectural visualization is a remarkable way to create a life-like experience when designing projects to bring clarity and details to a model.
These modeling services have made the industry a prominent center of attraction with the upbringing of many advanced rendering software producing photorealistic animations, and 3d walkthroughs.
However, technology alone cannot make such graphics; a human operators must utilize the available resources at their best. So, we have introduced various skills a 3d render artist must have.
9 Smart Skills A Best 3D Visualization Expert Must Have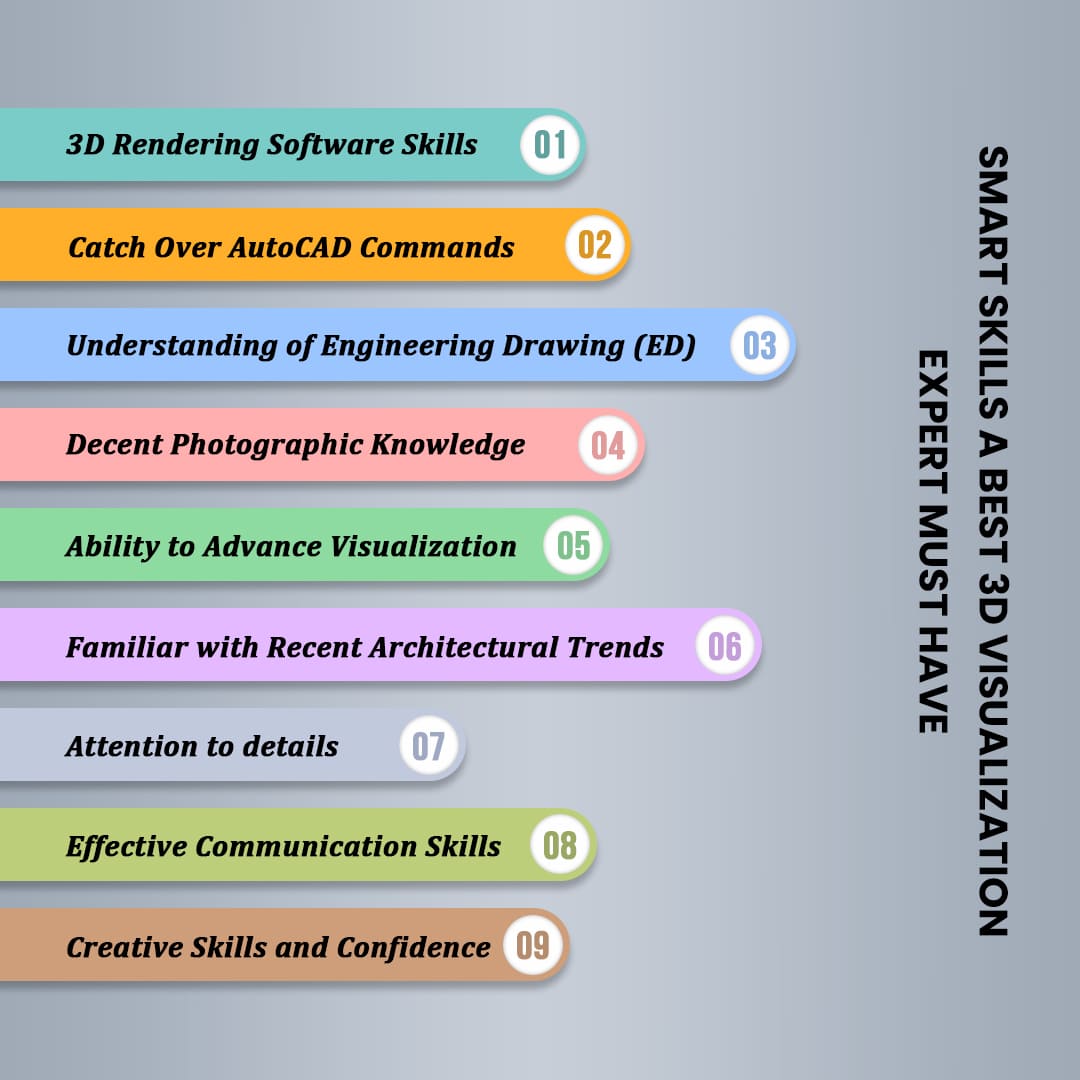 Even though architect software for rendering matches wholesome expectations; they are always incomplete without the involvement of a human mind.
Read below the proficiencies that make a 3d designer an X-Factor:
1.    3D Rendering Software Skills 
One of the most required skills for an architecture design is the depth of knowledge to operate rendering software effectively and wisely to benefit all of its features.
3d renders use many architecture visualization tools such as V-Ray, 3DS Max, Corona, etc. Mastering various operations will help add, delete, modify, adjust, and integrate designing altogether.
In fact, the final output performance, detailing, finish, and overall presentation depends entirely on the ability of the expert to use digital tools and software.
2.    Catch Over AutoCAD Commands 
The foremost step to getting started rendering designs is drawing clear 3d architecture images with AutoCAD software that draws accurate units of measurement without errors.
If a person is aware of commands and works with the drawing coordinates, he assures tons of high-end prototypes with a 3D appearance.
All in all, CAD software skills are important to generate revenues and produce maximum results quickly with higher efficiency.
3.    Understanding of Engineering Drawing (ED)
A best 3d home architect must possess the ability to draft and understand engineering structures, layouts, models, and 2d drawings; they act as a cornerstone in 3d modeling.
ED includes interior and exterior structures from every view (side, top, front, etc.) that help observe the construction model closely for further upgrades.
Since every 3d render type needs a two-dimensional design to build a definite visualization, this skill is icing on the cake for an industry.
4.    Decent Photographic Knowledge 
3d modeling services are not only about working with photographs, drawings, and all but also about examining professional photographs and knowing their light composition, angles, and colors to create a similar rendering.
Hence, an expert in 3d architectural visualization must be keen to learn photographic skills to implement in the elements such as shadows and reflections, finding perfect focal points, adjusting artificial lights, and more.
5.    Ability to Advance Visualization  
A 3d modeling and rendering expert need to adopt an open mind ready to hold and transform every idea hitting his head into an exceptional visualization that can produce an ultimate architect.
CGI experts should be able to create their visuals with advanced features that can help the industry to grow and dictate its unique identity.
Good imagination leads to great results in graphics that form a unique structure in the market—being open and confident in discovering possibilities is what a professional needs to acquire.
6.    Familiar with Recent Architectural Trends 
A visualization expert wins the hearts of his clients by putting all his love and hard work into the work by working with the latest interior design, trends, and technologies.
For instance; the impossible becomes possible by knowing which 3d rendering services are invented and updated that downgrades the imperfections of previous tools.
So, a disciplined visualization artist balances newly programmed and old software to bring optimal results.
7.    Attention to details 
Render 3d images are a work of art and the minor details are its building blocks escorting to a marvelous fully functional and practical architects.
A rendering artist with a significant focus can work seamlessly to put together material finish, texture, and details, eventually adding life to a 3d walkthrough.
The small items, home décor items, and lighting should be realistic, sophisticated, and nicely toned enough to narrate a visual story.
8.    Effective Communication Skills 
Communication skills are deal breakers in 3d modeling services as someone smart enough to convey the actual model to clients' builds trust and connection.
3D render artists with good communication can explain the entire project presentation to designers and customers eager to know the details.
Besides, if miscommunication occurs, a skilled artist transparently responds to the queries of the significant other.
9.    Creative Skills and Confidence 
An unmatchable creativity is the arsenal of architect 3d design; innovation is one thing, but creativity contributes to drawing attention. Undoubtedly, photorealistic images are subsets of individual imagination.
An expert in house 3d render believe in his work, does not underestimate it, and creates top-class visualizations.
Does he able to think out of the box and ready to experiment unknown? Then he is the right person for architecture rendering.
The Conclusion 
Skilled Architecture Artists are essential to run construction and designing projects properly and completing them successfully with maximum efficiency no matter the technology boost.
The best 3d home architect visualization expert with the nine skills mentioned earlier can strengthen a 3d modeling portfolio. Finding such great artists can take time and money, but getting a professional will bring achievements and excellent customer satisfaction.