"Renderspoint has been in business for over a decade. Have your shot at growing with the best 3d renders. A community of great artists."
Architecture 3d rendering is the most demanding and efficacious technology one business can ever acquire to upgrade its services. It leads to a better understanding of work output and brings guaranteed satisfaction.
Converting Your Imagination into Virtual Reality
With an architecture 3D model, clients precisely envisage interior, exterior, and home décor. They can also dictate the changes they want for polishing up the design.
3D render meaning to generate high-quality three-dimensional computer-generated images, adding the same material and finish touches as to be done in the final output.
Many construction-based companies go hand in hand with this innovation to bring the optimal change to the table for their customers.
Step inside the doorway to bring your wild thoughts into something that can be touched and seen. By that, we mean allowing you to experience the taste of photorealistic animations.
Furthermore, it significantly helps to attain high ROI, attract better deals, and maintains long-term client relations.
Step Up Your Deals with Our Exponential 3D Architect.
Elevate your business with the right 3D modeling company in the UK. Teamwork always leads to better results; it is the best deal breaker.
This photorealistic architectural model is widely used in businesses to look at the results, observe and make sales final before building.
Exceptional designs take extra work and creativity, which are approached shortly by working with a support system.
And therefore, Renderspoint can help you communicate and create admiring ideas.
We are open to collaboration on 3D rendering with designing companies who anticipate successful projects backed by feature-rich & high-performance tools and software.
Since Success is best when shared, and great things are never done by one person.
Let us be the bridge between you and your potential clients. Let us be a language translator for people who speak of outstanding house designs.
Outsource 3D Rendering Services with Renderspoint
We are up for rendering outsourcing for brands and industries seeking the best architecture render team to work for them.
Our incredible smart team with higher qualifications, unmatchable skillsets, thoughtful imagination, and endless dedication put together every detail to deliver dream architect design in 3D.
Invest some minutes in checking out our 3D render gallery and portfolio in the link below.
Likewise, we offer first-class bedroom/bathroom rendering, graphical designing, concept art, and various 2D/ 3D render services.
5 Reasons You Need to Hire a 3D Rendering Team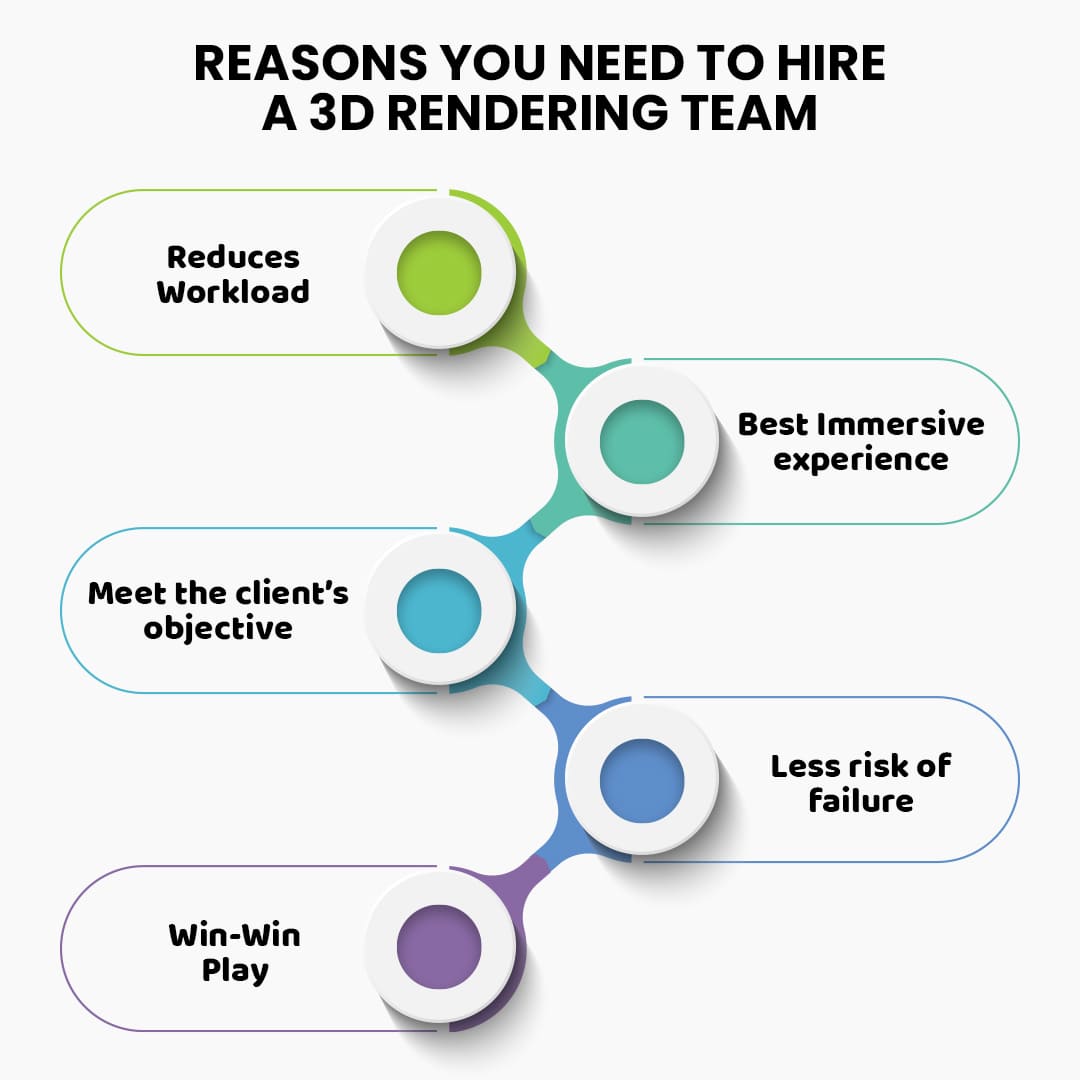 3D architecture design requires much effort and excellent skills to hit more than clients' desired results.
The world knows the truth, and teamwork leads to better creativity by exchanging ideas and problem-solving effectively.
Here are some main reasons why you need a collaborating 3D company:
Reduces Workload
Following teamwork collaboration in 3d rendering primarily reduces workload as it divides the projects between contractors and the hired team.
Also, the offered deals are done within the decided deadline. The workflow runs smoothly without wasting time and money.
Meet the client's objective
Rendering work collaboration is an easy way to a better understanding of a client's wants and needs. It brings freedom to new ideas and creative ways to look at customers' requirements.
Therefore, working as a team for 3d models brainstorm results and meet the desired objectives.
Best Immersive experience
A contractor might need the technology that the outsourcing renders operates with or vice versa—collaborating to generate 3d images benefits from unknown tools in the market.
Thus, working as a team on photorealistic projects give exclusive results.
Less risk of failure
The communication brings transparency and inspires better solutions to match expectations—the timely issues and updates made on the point.
It mitigates the end-goal failure in any module due to regular trials and feedback conversations.
Win-Win Play
In addition to all the good things that come with the best 3d home architect collaboration, it benefits both sides. (Contractors and the hired team).
The outsourced team gains experience and interacts with versatile projects, whereas the contractor earns superior turnovers and improves its market value.
Why Renderspoint for Online 3D Rendering Designs?
Why should you choose us? Read the below 5 advantages to clean out your benefit of the doubt.
Timely delivery
We are highly disciplined regarding the deadlines and manage to complete the projects within the period decided as per deals.
Countless revisions
A client's satisfaction and sense of surety matter the most to us; we never let him leave if the work does not equate with his desires. Our team respects his money and our commitment.
Budget-friendly
The best part of working with us on 3d architecture is we welcome everyone! Share your ideas. We have the best solutions to fit your pocket.
Latest trends and technology
We keep on upgrading as the technologies innovate; our brilliant team work round the clock to keep their minds refreshed on the latest tools, which helps us make quality 3d images.
Group of Ace people
Our expert artists target to create high-end 3D CGI and the most engaging walkthroughs that boosts the customers' confidence and builds trust.
What We Do
Do you still have a question about what rendering services we deliver?
Look at the list below to learn more about our outstanding modeling:
Interior Visualization
Exterior Rendering
Walk-In Experience
Architectural Animation
2D Drawings
Real-time virtualization has shaped construction holistically stuffed with quality and luxury. And backed by the best designing team, we are proud to be known as the #1 professionals in 3d models.
Get ready to sell your upcoming projects with engaging renders online.
The Bottom Line
Unleash the power of rendering team collaboration to reach the heights of your architect & construction design. It is the time to reward you with perfect interior designs with rich features, lighting, contrast, and reflections.
Get your hands on the eye-catching 3D visualization and transform it into a better version of every service.
Team up with us to offer detailed dimensions and accurate material on every scale project. Are you ready to begin your journey with us?