A Doorway to reach the highest business potential: 3d aerial or bird's eye view rendering
3D Aerial Rendering is a digital art used to present a complete architectural structure from a bird's eye to understand design, site surroundings, and the available land in a better way.
Designing industries are rapidly evolving with innovation and technologies, which is the food for smooth growth in the 21st century. The eye-to-eye competition in real estate and construction marketing evokes users to program with many advanced applications and software. Hence 3d building renders are shifting to one of the most influential and dynamic techniques: 'Aerial Rendering.'
Aerial 3D renderings are a bright highlight in the present architectural era. The grander applications, exclusive features, and advanced level skills of renders approach specific projects better. Do you want to know how?
Keep your curiosity alive; we will cover every important thing in the sections below. We will discuss how it works and present the input pictures more attractively and how it also impacts various fields in helping them bloom!
How does Aerial View Rendering Work?
When we talk about the brief retrospective of aerial render services, we see that prior to today, helicopters and planes were being used to capture a landside from different angles.
Back then, there were costly expenses on the same rendering process due to additional hardware and attachments to the flying object.
Nowadays, drones perform the same work more comprehensively, with higher competence power, constant updates, and abilities to take control of 2D shots.
Hence, the invention of drones benefited not only in capturing a detailed bird-eye photograph, but also there is a vast variation seen in aerial rendering pricing.
With this, architecture 3D renders use various high-end software and applications to command drone hardware for controlling directions and elevations. It helps achieve maximum efficiency in recording standard videos and photos within desired topography.
This way, the present aerial CGI is generated after taking samples through AI drones. Let's move next to know the top benefits of bird's eye view renderings.
7+ Mighty Benefits of Aerial Rendering
The advantages of aerial renderings are essential to know if you want to stay ahead of the competitors. Photorealistic visualizations mean converting 2D images into 3D visuals, which is an undeniable part of the designing industry; the 3d aerial rendering process is the same with a significant aspect.
Aerial Renderings Provides an Entire Terrain View
3d aerial samples are taken from above by setting any desired angle to take the shot from various sides, edges, elevations, and slopes. Henceforth, drones and software can cover the whole territory.
The complete realistic presentation helps judge an area's true beauty with extreme details. In this way, it is much more beneficiary for commercial and residential Rendering on deeper levels.
3D Aerial Offers Rotations and Zoom out views
As already mentioned, aerial CGI visuals are the best way to inspect the entire property, and therefore camera can capture the region from a top view, rotating to several positions.
If you find the best aerial rendering company near me, they will show an on-demand demo to clients for examining an object with total zoom-out views. Thus, details can be viewed from desired levels.
Aerial Rendering is multifunctional
Today, 3d aerial views are more useful in several industries for growing existing business projects. For instance, it benefits 3d renders, gaming software designs, and real-estate investors for observing structures of different sizes.
All industries are adapting technical changes and awesome innovating tools to stand still in the neck-to-neck competition for attracting potential clients.
Mapping and Navigation Look up by 3D Aerial.
Drones cover the local area and can extend it within the location, which helps to create maps and reference navigation. Developers use its mapping upbringings to help clients calculate the accurate home size. Thus various seekers can look at the building renderings to know a particular spot.
Bird's Eye View Rendering is a One-time great investment.
Find yourself some best aerial 3d rendering partners nearby, and you are all set for future profits as it is a one-time investment. Experts aerial Rendering Rendering uses software to produce versatile samples for multipurpose business deals.
For instance: to advertise a property or to present a complete structure in the marketplace. Therefore, it can be your OTI for future goals.
3d Aerial Architecture Rendering Gives Exceptional Output
Aerial view rendering has taken construction companies to a new level of creativity. It can engage people deeply through high-end visuals and presentations.
Also, there is less probability of objective failure because aerial shots dictate the entire picture and idea precisely. Hence, 3d aerial architecture rendering comes with higher quality.
Aerial Renders Cause Fewer Errors and Failures With
Since aerial photographs, the details are open entirely in a single frame, one can inspect it attentively and sincerely, which further helps in finding possible errors. Thus the procedure results in overall work excellence.
3D Aerial Makes projects a complete FUN.
Representing sales, buildings, and landscapes with 3d building renderings increases the project value by making it more attractive to people like investors, clients, and property dealers.
Smart software does all the work once captures are taken by drones. It stands out, even the minor details and finishing in those shots.
How Aerial Rendering 3D Boost Business Growth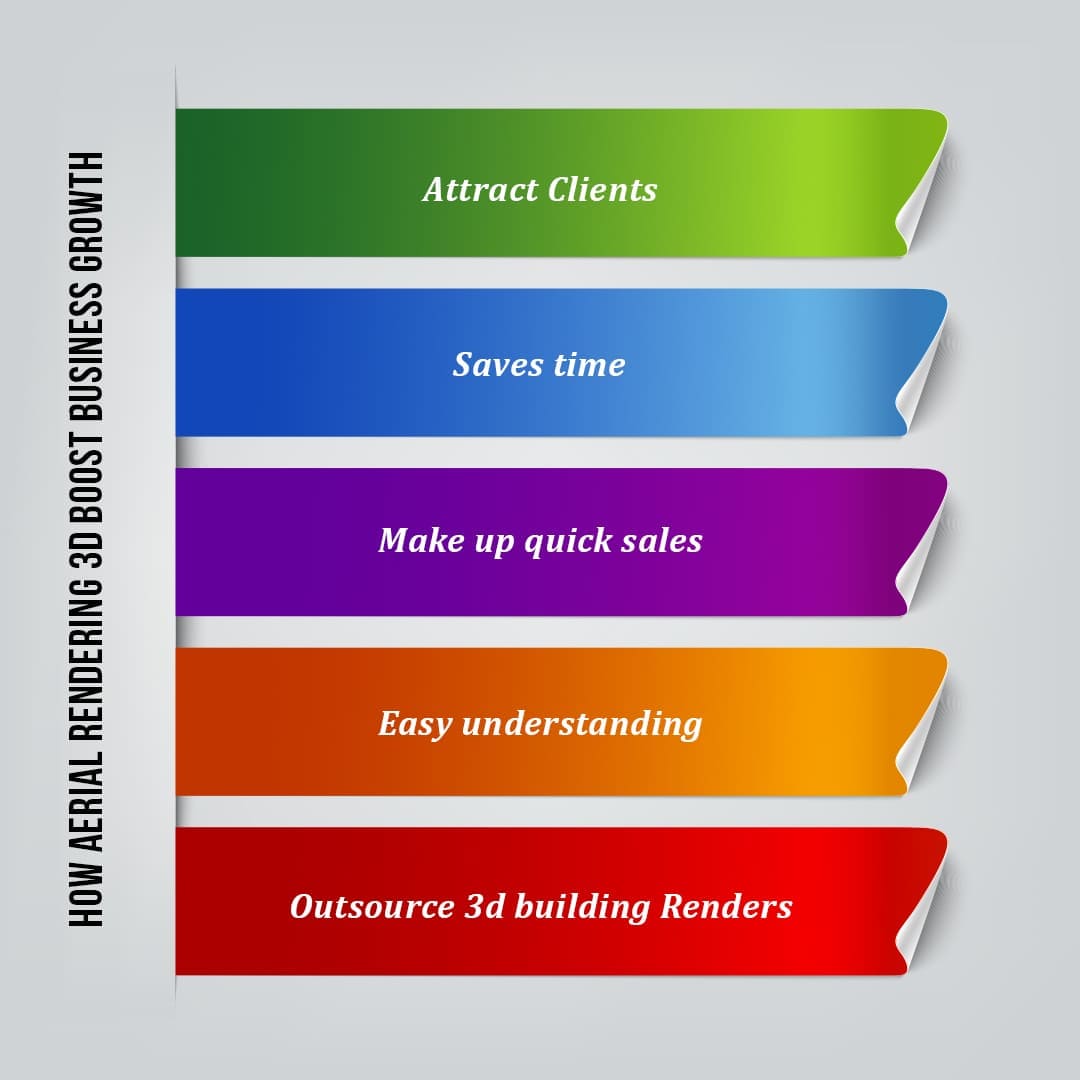 In this section, we will discuss how aerial rendering techniques are excelling in the businesses of industries that have adapted to its innovative approach.
Attract Clients
Aerial architecture 3d renders services look spectacular and add a whole new life to pictures. This visual representation from a sky-high view win clients' heart and trust for the rendering company and therefore are easily convinced.
Saves time
An aerial render uses cutting-edge tools to produce all-inclusive outputs with superior in less time. It is the fastest type of RenderingRendering that also help customers to decide if the project is worth their investment.
Make up quick sales.
The innovations of aerial technology will showcase the project presentation better and help customers to get connected to it firmly. They will enjoy it and appreciate its reliability and the future-proof approach that will set up a sure-shot promise to finalize sales.
Easy understanding
Using the 3d aerial feature effectively makes understanding the layout, area, dimensions, shapes & sizes, neighborhood ground, and many factors regarding a project view become effortless. Better understanding means more chances of getting deals done.
Outsource 3d building Renders
Instead of hiring a whole new rendering team, it is always wiser to outsource the best team of 3d aerial works of outstanding talent and knowledge that can meet your requirements. It is a time-saving, cheaper, and intelligent choice to get your tasks done skillfully.
Why do Architectures use Aerial Rendering?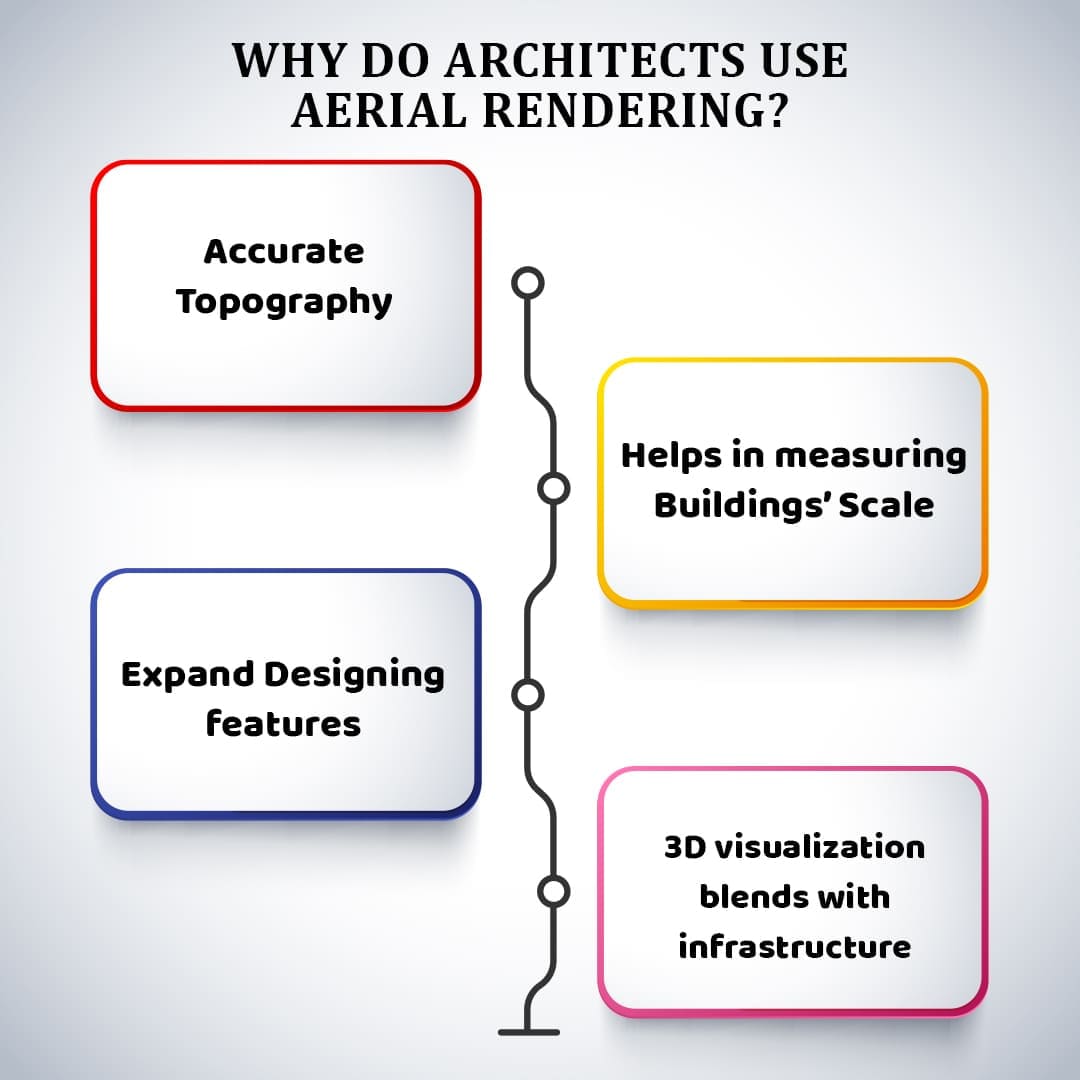 3D aerial shots help architectures to study the general property development area closely. Experts work with aerial rendering technology to increase the pace and inspect the land, which is impossible with ground-level shots. Here are some main reasons why 3d building renderings are becoming popular among architects.
Accurate Topography
3d visualization alone cannot cover many parts of the existing property, such as neighboring land, residential structures, and other connected terrains.
With the help of aerial CGI in architectural projects, customers will quickly understand the topography and the geographical area with accurate positioning of all entities.
Helps in measuring Buildings' Scale
Looking at the pictures and objects from far make the observation deep and accurate; there is no better way to judge the building's size than by looking at it from the top.
A clear vision is achieved using aerial view in architecture that helps customers and investors easily understand the property scale.
Expand Designing features
Large buildings, skyscrapers, and architectural complexes with multiple features and elements need a bird's eye view CGI to inspect their design thoroughly.
Besides, aerial renderings show the rooftop, swimming pool on the highest floor, and gardens at the top.
3D visualization blends with infrastructure
Someone looking to upgrade the existing property concerning its surroundings can significantly benefit from aerial view rendering.
It shows how the final construction will look by blending with the natural habitat and manufactured structures.
Industries that use Aerial Renderings Services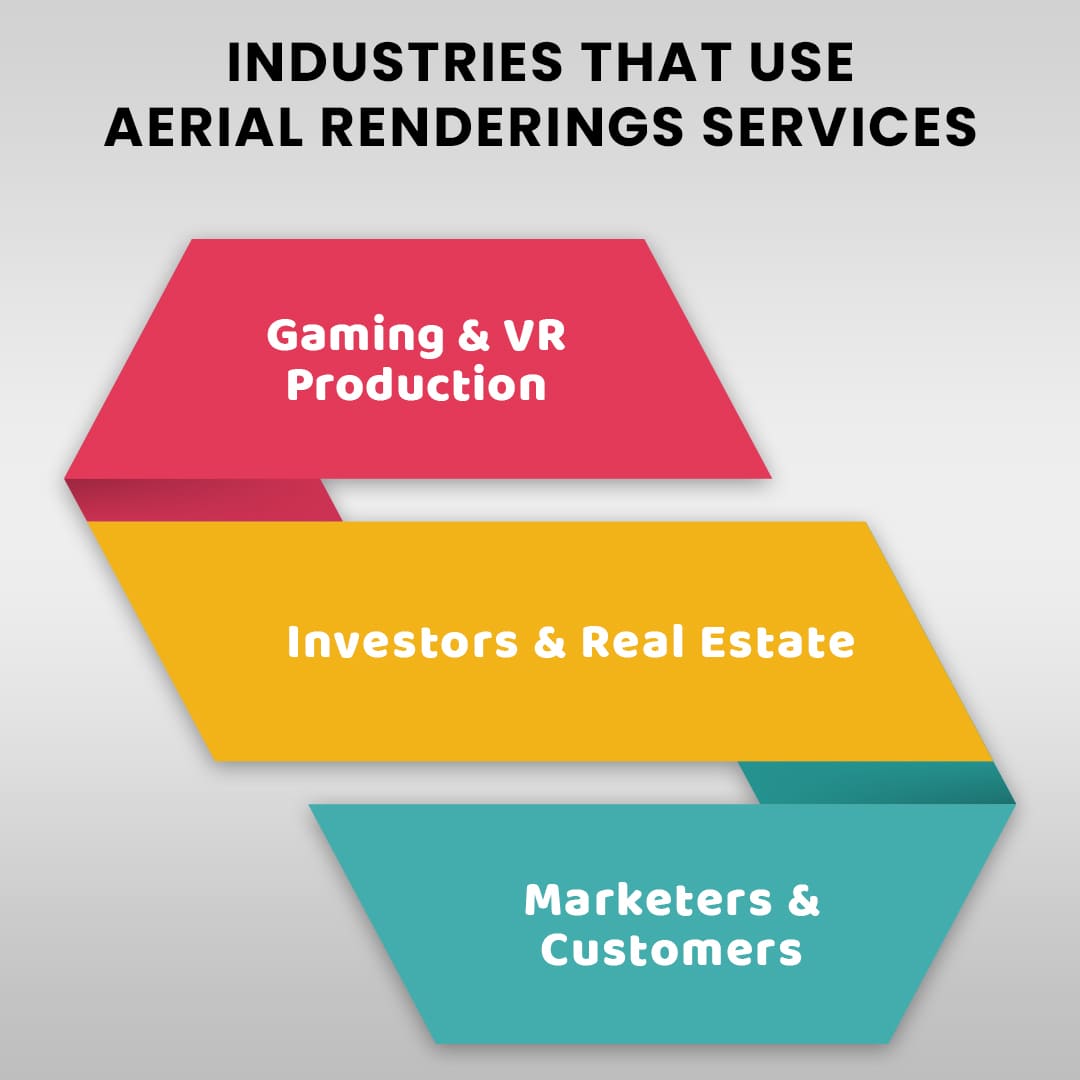 Three-dimensional aerial rendering is not limited to architecture; other companies started using aerial view or bird-eye view rendering to polish up their larger-scale projects.
Gaming and VR Production
High graphical games and virtual reality productions are often programmed using a certain level of aerial visualizations to catch the complete picture of the environment. Hence the application of 3d Aerial is widely implemented in gaming and VR films.
Investors and Real Estate
Aerial render experts are helpful to investors looking to invest in big projects as it helps explore the detailing work and for real estate agents who find customers to buy properties. It is an important business tool to present a project with more clarity.
Marketers and Customers
Companies who want to develop new construction, customers seeking the best value lands to buy, and marketers looking to purchase an old site, playground, school area, etc., get more familiar with the existing space.
The Conclusion
3D building renderings broaden the spectrum of present and future constructions by providing all-purpose value to a business product. It is beneficial for commercial and residential, government, and private sectors.
Renderspoint is the leading 3D aerial rendering company in the UK, with a team of architecture 3d renders dedicated to putting stellar visualizations into project presentations.
Develop quality 3D aerial renders and increase the product value to grow your business. Give us a call today. We will schedule a meeting or FREE site visit.