3D architectural rendering allows you to drive high operational productivity and excellent business outcomes in real estate Industry. Keep reading to know more.
Are your efforts failing to garner audience's attention even after using the most advanced sales tactics?
You still feel a gap in your pre-selling ventures and looking a way that attract more eyeballs and aim better conversions?
Well, in that case you're not alone!
Whether you are a broker, builder, realtor, architect, contractor or any stake holder from the real estate industry, the benefits of 3D architectural rendering makes you stand league apart.
Discover how the modern day CGI and 3D visualization strategies have become indispensible to drive business value in real estate industry and are critical to stay competitive.
What is 3D Architectural Rendering in Real Estate?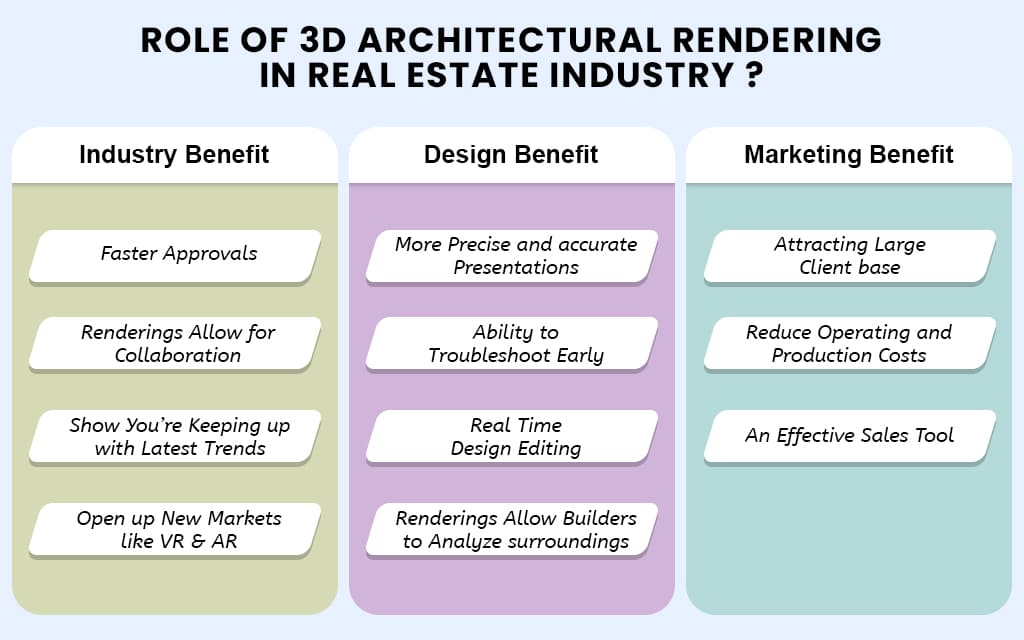 In general, 3D rendering in architecture stands for creating photorealistic images for the proposed project from 3D models by adjusting the required camera angles and lighting.
3D rendering in real estate allows simulating a detailed 3D design of the building before it is build, be it commercial or residential.
This visualization helps to avoid various structural loopholes, ensure better resource utilization, serves as excellent marketing materials and helpful in getting quick approvals from the authority.
How Real Estate Business drives values with advanced 3D architectural visualization?
This state-of-the art technology offers a hyper-realistic view of the proposed building as well as meticulously represents all the details such as materials, lighting and other contextual elements to make an accurate presentation.
3D visualizations such as walkthrough, flythrough, 3d rendering and modeling etc enable the real estate developers and designer to effortlessly unleash innovative ideas, create exceptional marketing stuff and edify their efficiency.
Virtual tours, panoramas and 3D photomontage play a crucial role in engaging, interacting and impressing the stakeholders and ace up the promotional strategy.
Wanna know more?
Let's get deep and unveil how 3D architectural rendering serve as a game changer for the real estate industry.
Industry Benefit
Faster Approvals
When it comes to any official permission, the authorities won't entertain a project that doesn't contain the required 3D models and renders.
Providing 3D renders makes the authorities understand the project along with all pros and cons in a detailed manner.
Also, while proposing to investors, clients or other stakeholders, the approvals become quick and easy as the prospects are able to fully visualize and understand the project.
Renderings Allow for Collaboration
3D imagery helps the real estate designers and builders to collaborate with other professionals and even clients to deliver exactly what they propose.
The guesswork gets completely eliminated.
For example: Professional landscapers can easily understand the desired look and feel of the landscaping requirements mentioned in the project.
Similarly, collaborating with interior designers becomes easy as it enables them to understand the furniture and other décor requisites.
Show You're Keeping up with Latest Trends
The modern day clients trust the real estate brands that showcase their abilities to stand above the rest by demonstrating their authoritativeness in the market
Brands using latest and cutting –edge technologies to sway the customers tend to benefit more as compared to those who stick to traditional ways of marketing.
As 3D renderings enable the customers to visualize what the brands are trying to sell, the customers are under the impression that they're dealing with a brand that stays up to date with technology and trends.
Open up New Markets like VR & AR
Augmented Reality and Virtual Reality are ground-breaking technologies that are quickly influencing the realms of real estate industry.
These technologies when clubbed with 3D rendering images can help creating virtual tours that are completely realistic and can be seen while sitting right in the comfort zone of the home.
Design benefit
More Precise and accurate Presentations
It's imperative that floor plans, 2D drawings and sketches do not offer 100% accuracy and explanation to a layman.
Renders offer the exact depth, measurement, scale, angles and efficient space utilization and placing ideas.
3D rendering services offer absolutely precise details about any space with zero tolerance to errors.
Thus, making the presentations more impactful, impressive and conversion friendly.
Ability to Troubleshoot Early
As 3D architectural visualization offer precise analysis, various structural anomalies or design issues can be detected in the design phase itself.
3D renders serve as the blue print for actual construction work as they are dimensionally stable.
Therefore, it helps in easier troubleshooting and quick rectifications.
Real Time Design Editing
As the rendering process involves discussions and inputs by various stakeholders, the proposed building designs are clearly understood as well as well conceptualized.
The changes suggested can easily be incorporated in the real time in just a few mouse clicks.
Even a slight change in dimension can easily be adjusted and automatically gets coordinated with rest of the projections.
Renderings Allow Builders to Analyze surroundings
Advanced rendering and 3D flythorughs enable the designers and real estate developers to potentially explore the area regarding other structures, traffic lights, neighbourhood and more.
Any problems found at this stage can easily be resolved by making certain modifications.
It's easy to address these critical issues at this stage rather than doing them after construction.
Marketing benefit
Attracting Large Client base
It's very important to stay updated with new technologies that enable to present fresh, innovative, engaging and easy-to-comprehend ideas to impress the clients and convert them.
Renders, walkthrough videos and other 3D visualizations serve as a great marketing and promotional tools that help you to market on various platforms.
This not only makes the projects appealing but improves the brand visibility and aid the business to win the customers.
Reduce Operating and Production Costs
Going for 3D rendering services is relatively budget-friendly rather than going for traditional approach to photography and marketing.
Furthermore, all the stakeholders such as investors, customers, builders and the workers understand the entire process seamlessly and vividly.
3D architectural visualization helps to work over the project milestones and the project is expected to be completed on time within the given budget of resources.
An Effective Sales Tool
Appearance and quality are the two main factors that determine the sales for any real estate project.
The highly-photorealistic renders act as a catalyst in quick decision making ability of the customers as they're able to grasp the nitty-gritty of the design easily.
These designs can be included in the portfolio, can be shared on social media for better reach & visibility.
Customer satisfaction
Discussions during Design
The rendering process involves a comprehensive approach for designs.
The inputs are invited from all the stakeholders to come up with an output that resonates with the vision of everyone involved.
Feedback ensures that the final design meets everyone's expectations.
Working on Design Disparities
The local authorities or the neighbours may put an objection regarding any aspect of the design.
It's better to sort any design expectations or disparities before the foundation stone gets laid.
This is sign of relaxation for both investors and clients as they can be rest assured that every penny spent is worth the investment.
Customers Love Visual Advertising & New Technology
It's a human tendency that they tend to remember the things which they have seen.
The 3D renders form a striking and compelling impact on user's mind and make them coming back to your project time and again till they make the decision.
Ace up your Real Estate Business with Renderspoint
Wanna take your real estate businesses up a notch?
Widen your business appeal with Renderspoint – the leading and developer's most trusted 3D architectural rendering company in UK.
The highly seasoned and diligent team of 3D artists create spell-binding renders that help you to flag the potential design issues long before they could endanger your project's viability.
Renderspoint deliver high-quality, engaging, impressive and budget-friendly 3D rendering services for real estate that suit your business needs to the fullest.
Bottom Line
Though you cannot turn the impossible to possible with 3D architectural rendering!
But, you can certainly create innovative solutions that turn the dream designs of your clients feasible and real.
Open up a new world of possibilities with top-notch 3D real estate rendering services by Renderspoint!
Are you ready to broaden your reach and ace up marketing endeavours with ground-breaking renders by Renderspoint?
Grab your phone and call us now at 020 8146 5629  or drop us an email at support@renderspoint.com  to take your real estate sales to next levels.