"Let your designs speak in all their glory and impress clients sitting miles away with exemplary 3D walkthrough services."
Are you unable to impress your clients with your presentations?
Are you facing a decreased conversion rate as you are unable to share visual references?
Telling stories and spinning long verbal pitches won't work in today's scenario. You need more.
Welcome to the world of 3D Architectural Visualization and 3D Walkthrough!
It's time to "SHOW" your vision than to "TELL" as visual appeals the audiences much better than simple words.
Unleash the power of 3D visualization and make your designs speak with all their glory to all your clients whether local or global.
Let's dig deeper and understand what exactly 3D Walkthrough is, it's requirements and how it is propelling the real estate industry.
What is 3D Walkthrough?
3D walkthroughs power up your real estate endeavours and give a drastic turn to your marketing presentation.
This technology has become one of the essential elements of the designers and architect's toolkit and is indeed a great option than static 3D rendering.
Also known as 3D architectural animations, these walkthroughs are like animated videos made using full scale CGIs (Computer generated images).
The animated video is made by using 3D models. Be it interior or exterior, these models when visualized through photo-realistic standards, encompass all design elements.
In simpler terms, 3D walkthrough is like a 3D virtual tour of the property space that helps the prospects to analyze the design elements of the proposed design.
How does 3D architectural Walkthrough works?
3D Walkthroughs are adding a new dimension to the construction, architecture and design businesses. It offers the clients an opportunity to view the space before construction or without being present there physically.
This 3D visualization process uses the same 3D modeling processes as used in any other designing process. The 3D images created using modeling are used to create the animations.
To bring about the guided virtual tour, proper animated cameras are instilled on the modeled scene. The 3D images are rendered and compiled into one sequence.
Types of 3D Walkthroughs:
Single and uninterrupted camera movement
Multiple animated cameras to capture wide angle shots
What is the role of 3D Walkthrough in Real Estate Marketing?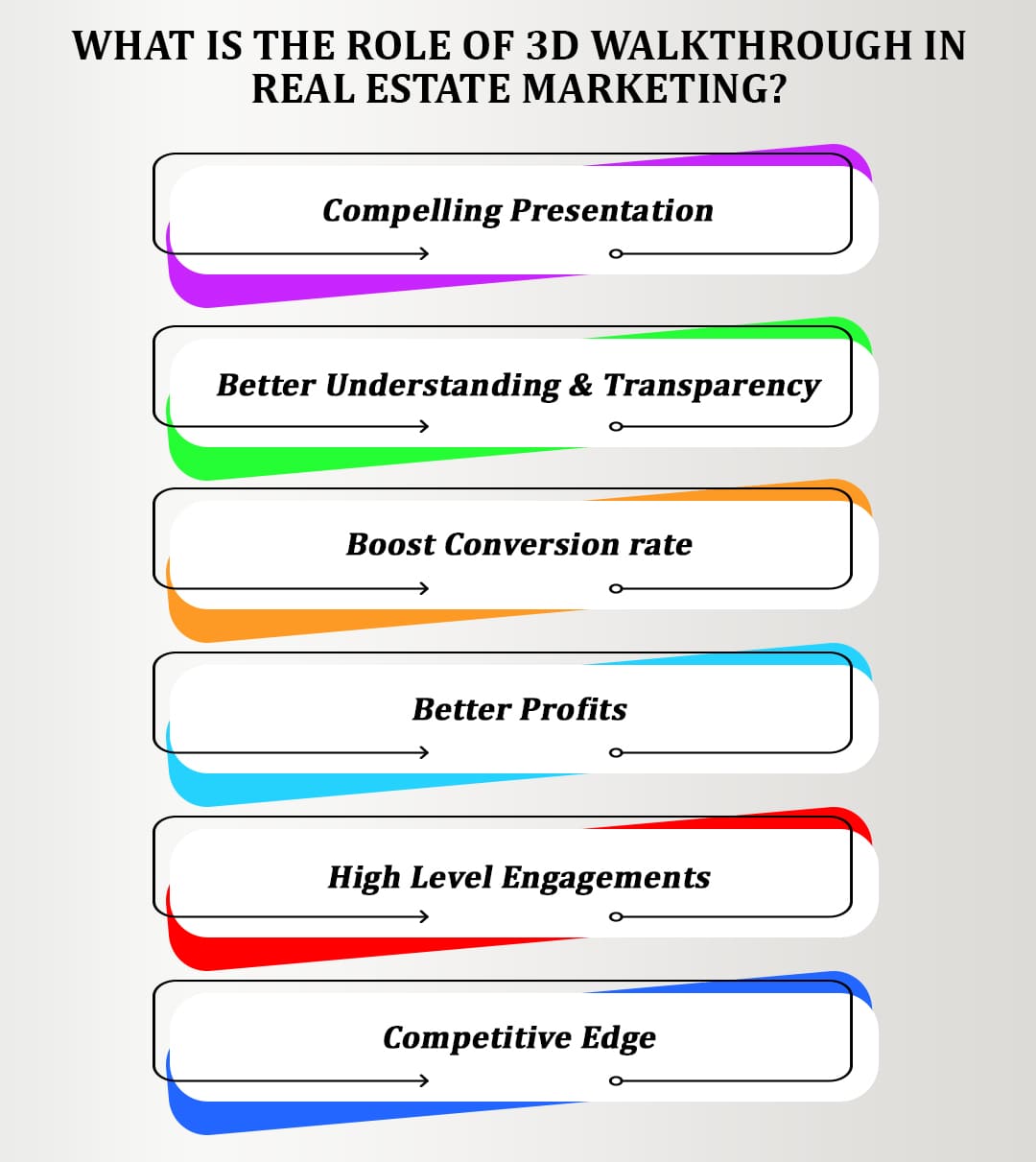 To get the lead converted it's very important to engage and connect with the investors, buyers and other stakeholders.
Going for 3D architectural Walkthrough services help the designers and architects to give a real flow and layout of the project before making any financial investments.
Have a look how this technology is laying the foundation of a better tomorrow.
Compelling Presentation
To breathe confidence in the clients and the prospects, you need a killer presentation that directly builds an emotional connect with them.
3D walkthrough is one the finest and richest form of visualization that help you showcase your proposed design in a never before way.
It is indeed the most engaging, accurate and photorealistic approach to lead generation as well as conversion.
Better Understanding & Transparency
It's a bit obvious that people do find 2D plans difficult to understand. They are least concerned about dimensions but are more focused towards quality, design and the final outcome.
3D walkthrough and still CGI's such as 3D rendering and 3D modeling techniques help the prospective clients to understand the layout and design in a better way.
The customer get a clear picture that what they see, they'll get the same. Any changes can easily be incorporated at this stage itself.
Boost Conversion rate
When it comes to marketing, the ultimate goal is lead conversion!
3D walkthroughs have garnered popularity in the recent times as their ability to impress the clients and help them emotionally connect with the space.
This significantly triggers the conversation rate by making people interested in your property.
Better Profits
As the overhead costs are greatly reduced and the reach grown multifolds, profits are expected to overflow.
Acceptance to your projects and your sustainability in market is boosted to a wide extent.
High level engagements
So, you have your target audience clear. This high-value video content helps you grabbing your audience's attention to next levels.
Posting the videos on social media platforms will further broaden the reach, visibility and aid in more lead generation.
A per digital marketers, video content brings 10x more engagement and awareness of the proposed project. This also results in more social shares, comments and likes. 
Competitive Edge
In this extremely competitive market, it is essential to build a rapport that holds equally influential in online as well as offline world.
3D walkthrough act as a catalyst in this quest to gain the competitive edge in your marketing endeavours.
A study has revealed that by adding a 3D video on the video increases your chances of coming on first page of Google and other search engines.
How the customers are benefitted with 3D walkthrough and visualization services?
While you are focusing on marketing strategies, it's beneficial to outsource your 3D walkthrough requirements with a 3D visualization partner.
The professionals not only create compelling walkthrough but have adept knowledge to ensure that your customers are fully convinced and get converted.
Have a look at some stupendous benefits associated with it that not only help your business prosper but will instil trust and confidence in your customer about your project.
Cost saving
The customers get to experience a great look and feel of the entire space and the project. This makes them better explain and feel connected with the proposed thing.
Even the customers don't have to spare extra time to visit the project, it can be done online at a date and time that they prefer.
Huge savings on time, commuting cost and better addressal to apprehensions makes the 3D visualizations gain an edge other techniques.
Excellent Quality: 
In this cut-throat competitive world, each and every company is trying to impress their customers by offering best of all worlds.
Approaching a trustable and leading 3D visualization service partner ensures that your clients are getting high-resolution renders, models and walkthroughs.
Exceptional quality is guaranteed to the customers that automatically builds trust, loyalty and recognition.
Accessibility
It's time to say goodbye to physical barriers as the power of 3D walkthroughs can be unleashed from any place across the globe.
For a property which is yet to constructed, this form of architectural visualization builds trust amongst the stakeholders with an advantage that you can access the 3D walkthrough animation of the space online 24/7.
Quick Turnaround Time
3D walkthrough mitigates the requirement of physical infrastructure for the design approval.
The entire layout and animation can be designed in the minimum timeframe with least turnaround time. Customers love speedy work and even help you earn a better reputation in the market.
Ready to impress client presentation with 3D Walkthrough services?
3D walkthroughs have created a massive shift in the fields of interior design, architecture and real estate.
The experienced team at Renderspoint delivers stunning and compelling 3D walkthrough services with utmost efficiency and unmatchable quality that are hard to find a match.
Be it residential or commercial, the bevy of 3D designers at Renderspoint is capable of handling even the most complicated and demanding of tasks.
So, what are you waiting for?
Connect with our 3D experts today by calling us at 020 8610 9655 or write to us at support@renderspoint.com.