Creating a house's exterior is both fascinating and challenging. A 3D exterior rendering design needs to be impactful and must reflect the owner's lifestyle.
And a good exterior design must be in harmony with the surroundings, which is what Renderspoint strives to.
Wondering what else Renderspoint can offer?
Here's all you need to know!
Why Renderspoint is the best 3D Exterior Rendering Partner?
Renderspoint is here to convert the sketches, 3D models, or 2D models into irresistible high-resolution 3D renderings.
We endow with architectural visualization services for projects of all sizes. That means from small-scale residential projects to large-scale industrial ones; Renderspoint covers it all.
With the focus on providing high-resolution renders in stringent deadlines, our team of skilled professionals delivers the projects without any delays.
We have the technological resources and technical know-how that altogether helps us search and monitor the latest trends in the fields and allows us to offer the best!
Are you wondering about our competitive difference?
Well, here is what sets us apart from others!
High levels of detailing
Stringent delivery timings
High quality renders
Professionalism
Renders Point helps you visualize your dream project with all the technical aspects, including colours, elevations, materials, textures, peripheral details, landscape, etc.
Our engineering and architectural team understands the clients' requirements and then begins working on the architectural visualization of the space.
We have expertise in developing 3D architectural rendering services according to the client's requirements.
With our high quality renders, you can expect
Lower costing and time wastage
It saves you from expensive mistakes
Improved footfalls
Manifesting to 7X faster sales
Stronger return on investment
Enhanced brand equity
Renderspoint's success is based on the ability to create, utilizing cutting-edge technologies, and generating hyper-realistic 3D renderings that actually sell.
With these inclusions, we develop the 3D architectural visualizations of the exterior spaces. We apprehend that the notable and appropriate lightings are the real crux for generating High-Quality realistic renders. Here are some additional factors that Renderpoint emphasizes!
What additional factors do Renderspoint emphasize?
Photorealistic Visuals
Renderspoint generates the photorealistic rendered images so that you can have a look at your project, transforming it to a witnessing state in the most realistic form.
Photorealistic visuals are the cost-effective solution that provides the graphical representation of the project. 
Deciding on the light
The final produced renders by Renderspoint show proper lighting of the entire space. We generate the renders with appropriate lighting using several effects using types, layouts, and colours.
We have nighttime and daytime exposures that are used to develop both the settings of the space. 
Color and material mapping
We endow with a look at your final space utilizing several materials and colours. We prefer making ample combinations with several elements to bring out the best look of the space.
Special Effects
Our 3D visualization rendering techniques comprise several effects that make the rendered visuals more realistic and appealing.
Photomontage

We use photomontage techniques to create realistic intricacies of the project's site.
In order to increase the imaginary quality of the entire space, we add the different elements or products or generate them with the actual environment elements.
Products

3D visualization or rendering generally leads to lesser time and cost investment. This is because the 3D renderings help perform the market and design testings at a very initial stage.
Renderspoint's 3D exterior rendering Service
Renderspoint offers excellent 3D rendering services to architects, designers, builders, contractors, retailers, and real estate professionals.
Renderspoint is an experienced offshore 3D Rendering Service provider in the UK and our services are advantageous for work on housing to commercial projects.
Our 3D Rendering Services include:
3D Interior Rendering
3D Exterior Rendering
House Plan Rendering
Floor Plan Rendering
Furniture and Fixtures Rendering
3D Architectural Rendering
3D Product Rendering
Interactive Rendering
The best 3D rendering designs of a London house are the ones that enhance the exterior look of your home, and when it comes to checking out some options for the latest exterior trends in London, Renderspoint is your one-stop buddy!
Here are some pretty 3D exterior rendering designs of London houses, crafted with expertise and care!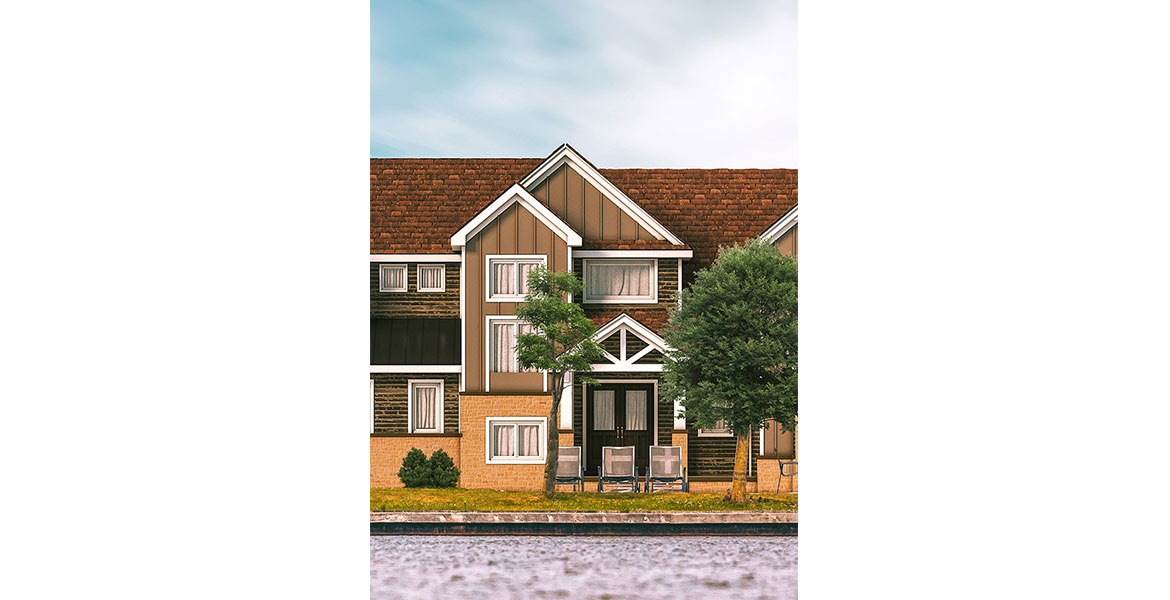 Home exteriors in elevated format
3D rendering of a contemporary home exterior in Elegant brown two-story mixed with windows arrangement.
Look at this pretty elevated home exteriors combined with the appropriate nearby actual environment. This rendered image beautifully portrays every material well and gives a pretty look to your imagination in real.
3D rendering of commercial, residential project
Real estate or commercial projects are time-consuming projects where a single mistake can cost you a lot. This 3D rendered image presenting the future vision of the entire project is indeed the best way to avoid expensive errors.
Who else doesn't wanna see the outlook of their future house? Well, everyone does! The entire setup with individual balconies for each apartment, long windows, and plantation all around with the parking in the middle is fantastic for the residents. Planning and executions got a new direction.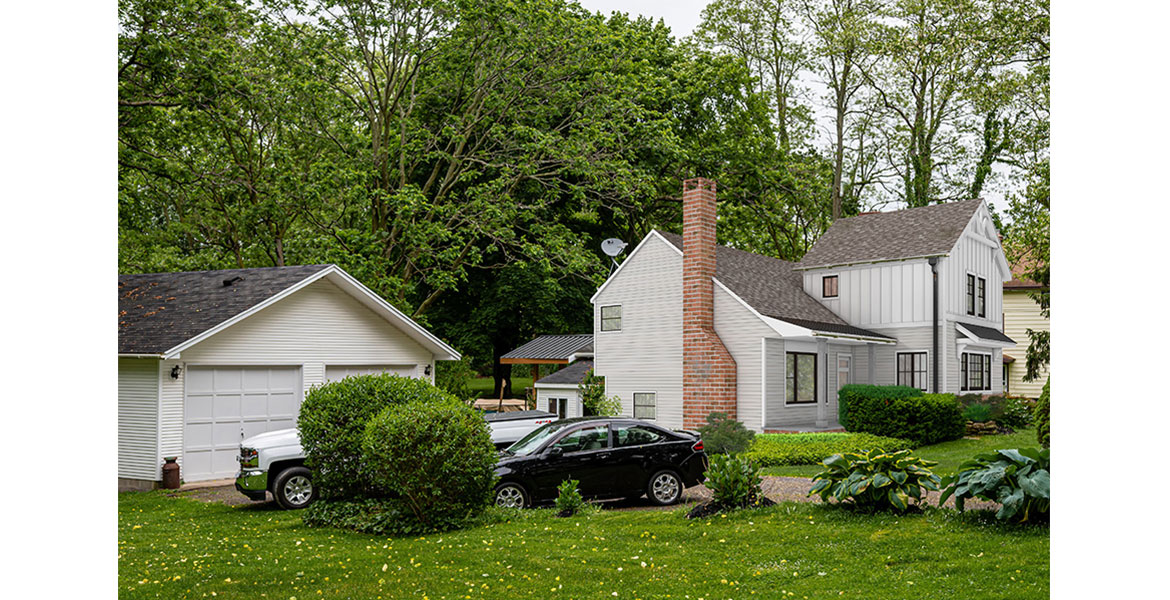 Exteriors rendering in landscape
A modern 3D architectural rendering of a house's exterior with a simple and pretty landscape in the garden area. The beauty of this house's exterior render is the parking area in the midst of an appealing green environment.
The modern house with a touch of the natural environment gives enough space to breathe in the fresh air and enough natural light to pass in. What can be more beautiful than this!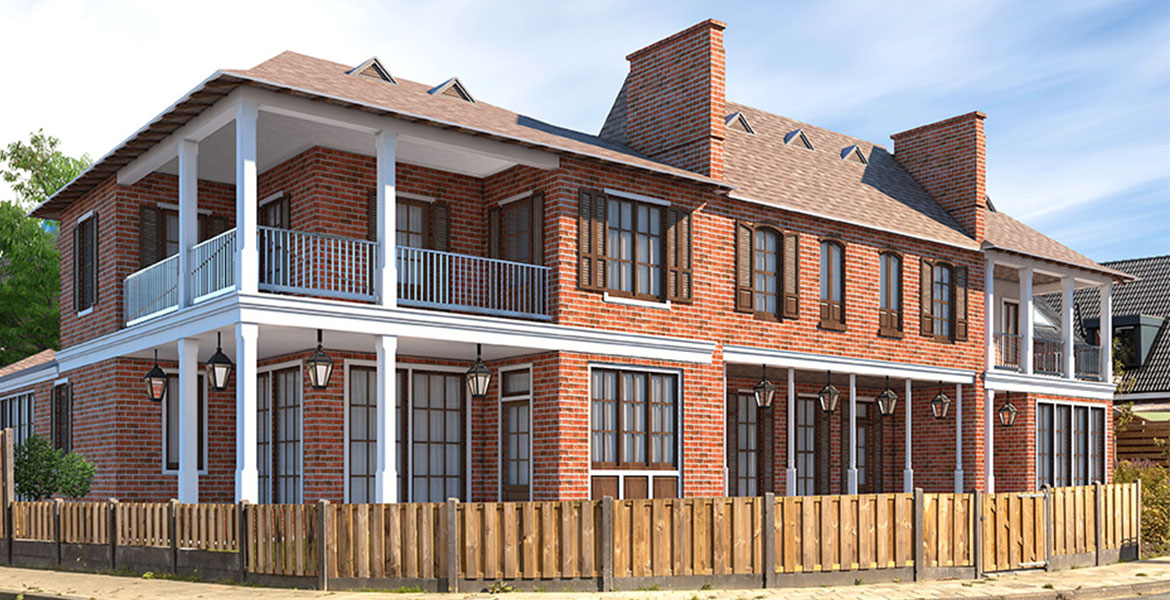 A modern house exterior render with a contemporary touch
This modern house exterior renders in a contemporary touch is the pretty addition for the residential print with extensive space.
We have generated this exterior render for our client who wanted a touch of traditional in modern. This elevated house design with borders aligned at all the sides is a pretty image matching our client's taste.
The roadside house bordered on all the sides is designed with the kid's safety in mind, so you don't have to worry about your kids playing outside.
Apartment residential 3D exterior render
Gone are the days to adjust to the fixed shapes, sizes, and designs of the residential apartments. This modern 3D exterior renders with unique designs providing apartments of different shapes, designs, and sizes.
This is so that you can choose the one that fits your requirements. A residential apartment that is more like a home and less like a flat.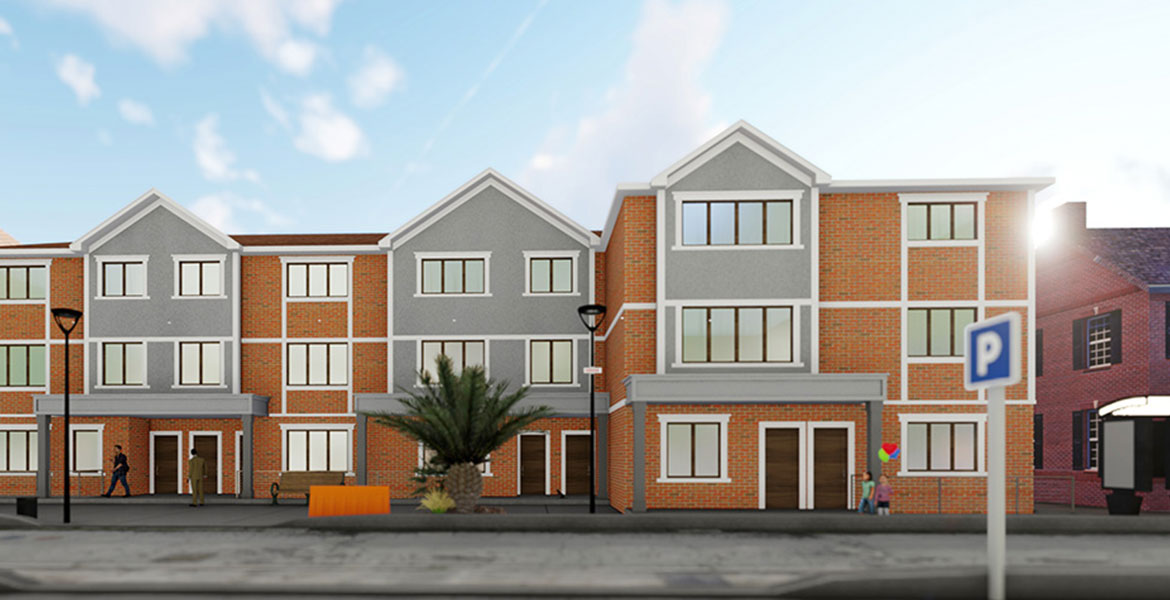 Residential apartments exterior render with a touch of elevation
This rendered design is for the ones who are bored of the straight and identical look of all the apartments in the straight line.
This design is for one of our clients who was bored of the identical looks of the residential apartments, and this design gave his taste a new direction.
With enough space for parking and walking, this residential apartment design is the trending exterior design pick.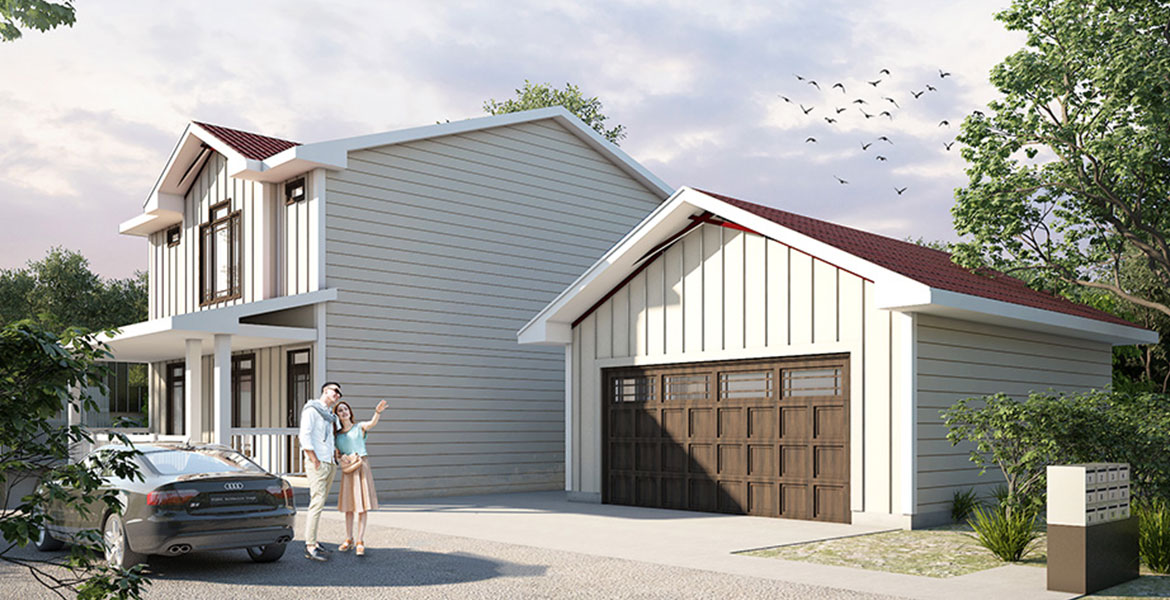 House exterior render in pastels 
This two-story house exterior renders in pretty pastels, and extended parking space is the prettiest design for our client with a modern taste.
The natural environment nearby is the pretty addition in this rendered image that gives you an actual image of the entire project with the vision of the actual surrounding.
This photo montage gives a real vision of the project. So what do you have to say about this rendered image of this exterior project?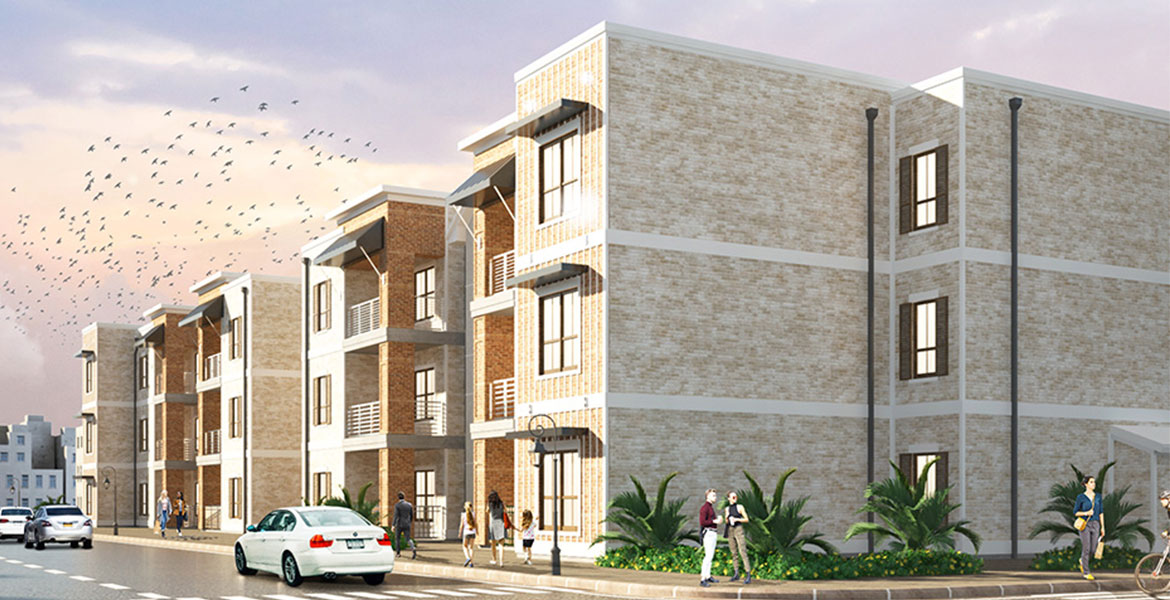 Residential apartment in realistic 3D vision
A realistic 3D render of residential apartments in the UK. A residential apartment project for others but a home for many.
To give that real touch of a home, we have generated this image with the actual nearby elements that give it a realistic vision.
Who else wants to get this apartment for making new memories in a new place with new people.
PS: All the rendered images are generated by Renderspoint and comprise different materials, colors and elements. For more details, you can connect right away!
Bottom Line!
Feel the brilliance with an excellent 3D exterior renderings experience!
Renderspoint offers 3D architectural rendering services designed by highly qualified professionals with proven work experience applying the latest 3D technologies on the projects.
And do you know the result?
We are among the top 3D rendering services in the UK.
Got a project to discuss? Connect straight away through email support@renderspoint.com or call us at 020 8610 9655.