When it comes to bathroom spaces, it is not about the size only; it is about the design and how you make most of it.
Maybe you associate gigantic bathrooms and ample space with the luxury bathroom designs, but if so, you got it all wrong!
Yes, you got it right, as even the small bathroom spaces can also be the bathroom of your dreams but only if designed and planned appropriately.
With a bit of creative imagination, a tiny bathroom space can be your own luxurious, relaxing space. There are several ways to enhance the small bathroom space. You can
Find out a layout design that fits your style and requirements
Color to make your bathroom appear more spacious
Experiment with lightings
Storage to clear the clutter and store the toiletries smartly
What is a bathroom vanity unit?
A bathroom unit is a type of furniture piece that combines the storage and bathroom basin into one neat package only. Vanity units are generally available in a diverse range of styles, sizes, and materials to fit into any bathroom.
Materials of vanity unit 
Vanity units are generally constructed from diverse materials that affect both the overall appearance and the size of the bathroom unit. Choosing the material of which your vanity unit is made largely impacts the entire appearance of the bathroom space.
Instead of being just a functional unit in the bathroom space, it can also be the style statement of your bathroom space that can either make or break the look of your bathroom.
How to choose a bathroom vanity unit? 
While deciding on the vanity unit for your bathroom, you must take note of several essential factors. Two of them include:
Size
Size is the basic essential factor that must be considered primarily. Vanity units are generally available in different sizes, including height and width.
Whether you are choosing a freestanding unit or a customized one, you must take good care of the size that will enhance the appearance of your bathroom space.
Appearance
The vanity unit comes in an extensive selection of colors and finishes. From modern finishes like concrete and many others to classic finishes like white and wooden vanity units, every style and color offers a different appearance.
Types of Bathroom Vanity Units!
Vanity units come in different types that you can choose from. The different bathroom vanity types include
Floorstanding vanity units
Floor Standing units are the ones that are placed on the floor. These types of vanity units are very quick and easy to install. For this, you don't need to worry about how strong your wall is.
Floor Standing units are available in diverse sizes and styles to choose the right one for your bathroom, and also, the customized ones can also be crafted according to the space.
Wall hung vanity units.
Wall-hung vanity units are the ones that are mounted on the wall and leave the floor below them empty. This indeed helps in making your bathroom appearance less cluttered and larger.
And the best part of this type of vanity unit is that the underneath clear space makes the floor cleaning much easier.
Corner vanities

Corner vanities are the ones that tuck snugly into the corners, devoid of taking any considerable space. These work well for the smaller areas, and on the downside, they have space for storage.
Along with the vanities, which include various materials and colors, it is equally essential to take care of the sink as well as it plays a crucial role in making the vanity unit complete.
Combination Vanity Units
Combination vanity units are the sleep and furniture coordinated items that combine the basin, toilet, and additional storage that is perfect for smaller bathroom spaces.
Double Basin vanity units

Double basin vanity units add that luxurious feel to the bathroom space. Coming in a great range of colors, materials, and styles in both wall hung and freestanding varieties, double basin vanity units stand out nicely.
SO you gotta choose the right bathroom vanity sink design to make your bathroom's appearance and function well.
You can select from a plethora of customized bathroom vanity sink designs to modify the visual landscape of your bathroom space. This includes
Under-mount sinks
Under-mount sinks are generally mounted from the underside of the counter with lines and waste tucked in the vanity's base.
These types of sinks are crafted in clean lines and are of premium quality. Under-mount sinks are well capacitated and easy to maintain.
Vessel Sinks

Vessel sinks are the beautiful and striking ones. These types of sinks sit on the countertop, which is connected to the floor-mounted vanity base.
Its structure saves the precious counter space around the sinks. These types of sinks come in unlimited design options.
Drop-in sinks
Drop-in sinks are often known as surface-mounted sinks, which can be installed on any countertop. Whether it is stone, synthetic, ceramic, or plastic laminate, these types of sinks can be adjusted anywhere.
Drop-in Sinks are comparatively easy to install and are subjected to seal decay with time.
Integrated Sinks

Integrated sinks are the design that incorporates the sink with the counter and are also known as countersinks.
Well, if you are also looking for all this, then this blog gives you an extensive list of ideas to transform your tedious bathroom space into a relaxing and prettiest one.
Renderspoint has provided all the basic essentials concerning the bathroom vanity units here in this blog, along with the pretty vanity unit ideas.
Tips for Bathroom vanity unit
Come up with a layout
We all know that the bathroom spaces have space restrictions, so you gotta decide the vanity design that fits well in the bathroom space.
Well, no matter what layout you choose, ensure that the addition of a vanity unit in your bathroom maximizes the space instead of congesting it.
Decide on the number of sinks you want to add.
Some may consider having double sinks in the vanities, while others might like single only.
This all depends upon the space you have in the bathroom, and that is why you must have a clear vision over it.
Select your preferred style
Another essential factor you must emphasize is the vanity style that you are looking for. You can opt for built-in vanity units, a freestanding one, or any other.
A floating vanity unit can also be a good option, and even a vanity unit mounted to the wall will work well for you, but select the one that matches your style preferences.
Select the right countertop
If you desire to add the décor to your bathroom space, installing the right countertop is the basic essentiality.
You will find ample materials for the vanity countertop, but yes, granite and quartz are the two most popular options due to their durability.
The color and material
At last, you must consider these two essential factors that include the material and color of the vanity unit. Obviously even you don't want an addition in your bathroom space that does not enhance the aesthetic of the space rather looks odd one out, right?
So yes, you must consider the material that is durable and water-resistant. And the color must be chosen in such a way that matches the décor and color of the bathroom interiors.
Trendiest Bathroom vanity ideas by Renderspoint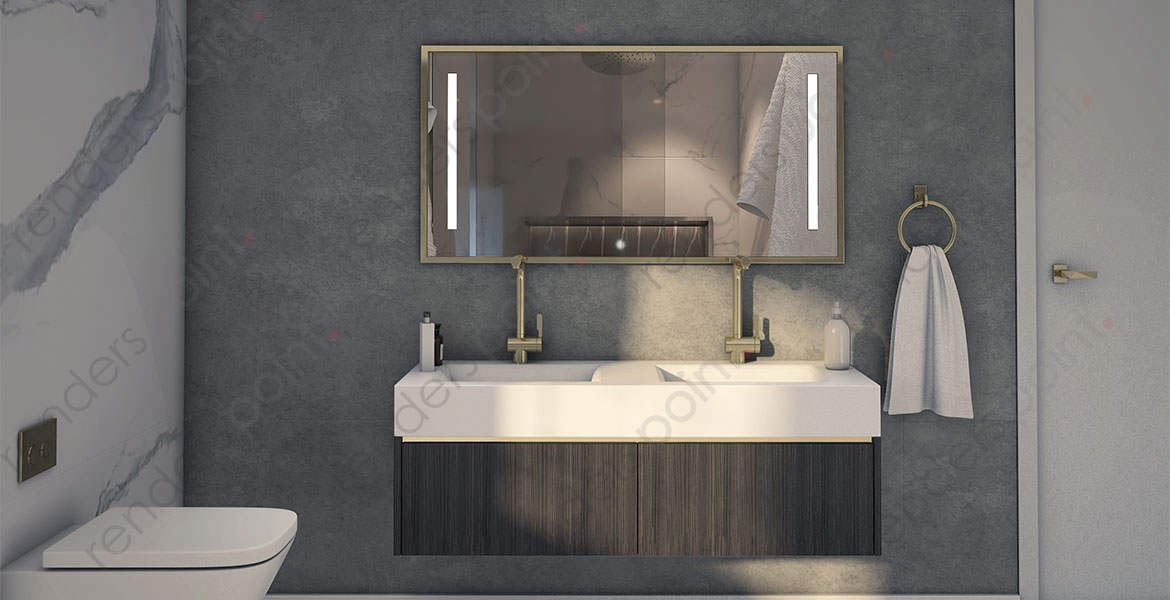 Double Basin Wall-mounted vanity unit
This double basin wall-mounted vanity unit in the dark tones is the pretty addition to making a style statement in the bathroom space. The open space underneath the vanity unit makes the space easy to clean and clutter-free due to the additional storage space.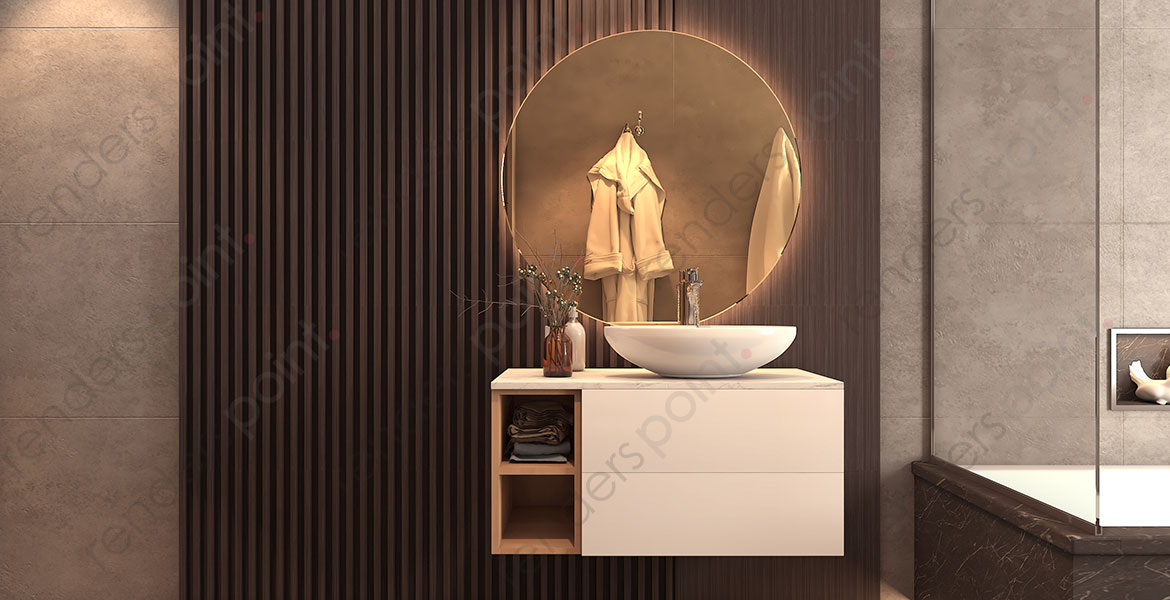 Luxurious Drop-in sink vanity unit
Look at this elegant and luxurious vanity unit design combining the sleek wall hunged mirror with the drop-in sink and a wall-mounted arrangement. This simple vanity design in pretty white marks a style statement in the bathroom space.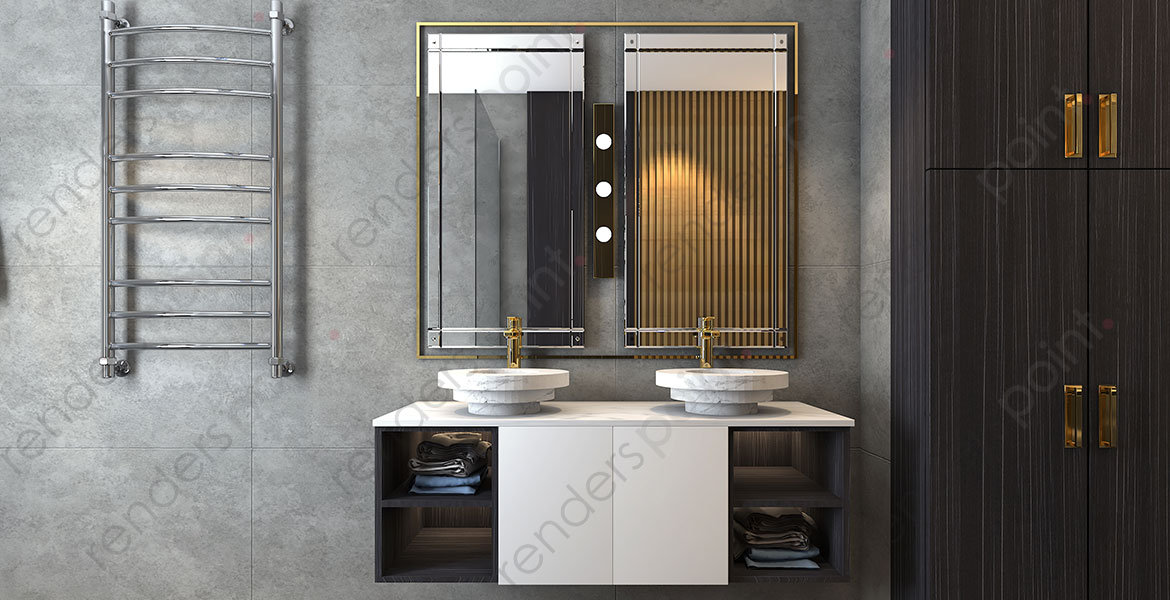 Double basin Drop-in sink vanity unit.
If we say that the luxurious element meets pure elegance, then this would be the image that can define it. This wall-mounted vanity unit design in white with textured marble drop-in sinks makes it stand out. And the best part is that it keeps the bathroom clutter-free with its additional storage and more functional because of the double basins.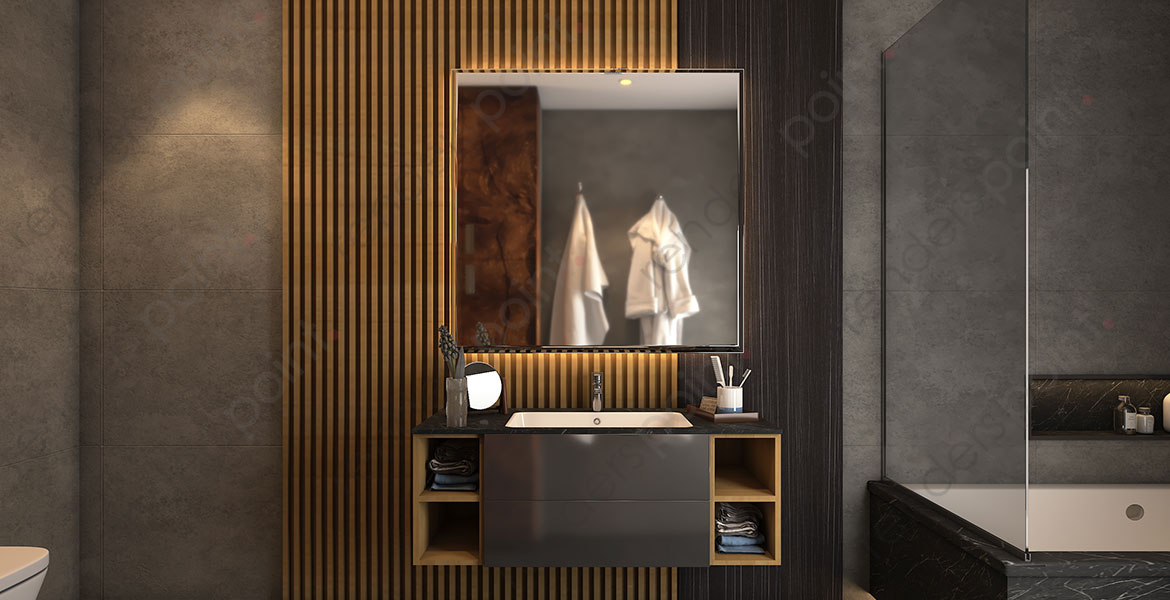 Integrated basin wall-mounted vanity unit.
This integrated basin wall-mounted vanity unit is indeed the perfect durable addition to the bathroom space. The countertop in textured marble material makes it more durable, and the wall-hung sleek mirror with incorporated lighting gives enough opportunity to behold.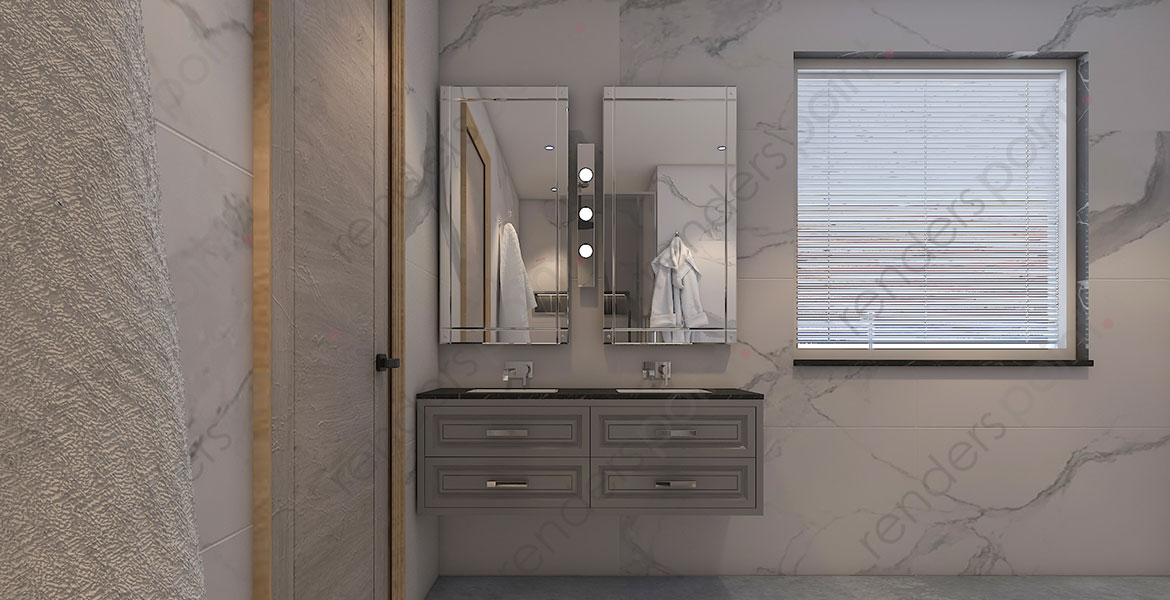 Double basin vanity unit with marble countertop
Look at this durable vanity unit design; isn't it the perfect match and a ready for wear and tear scenario? Indeed. The addition of drawers in the cabinetry offers enough storage space to accommodate the bathroom essentials nicely.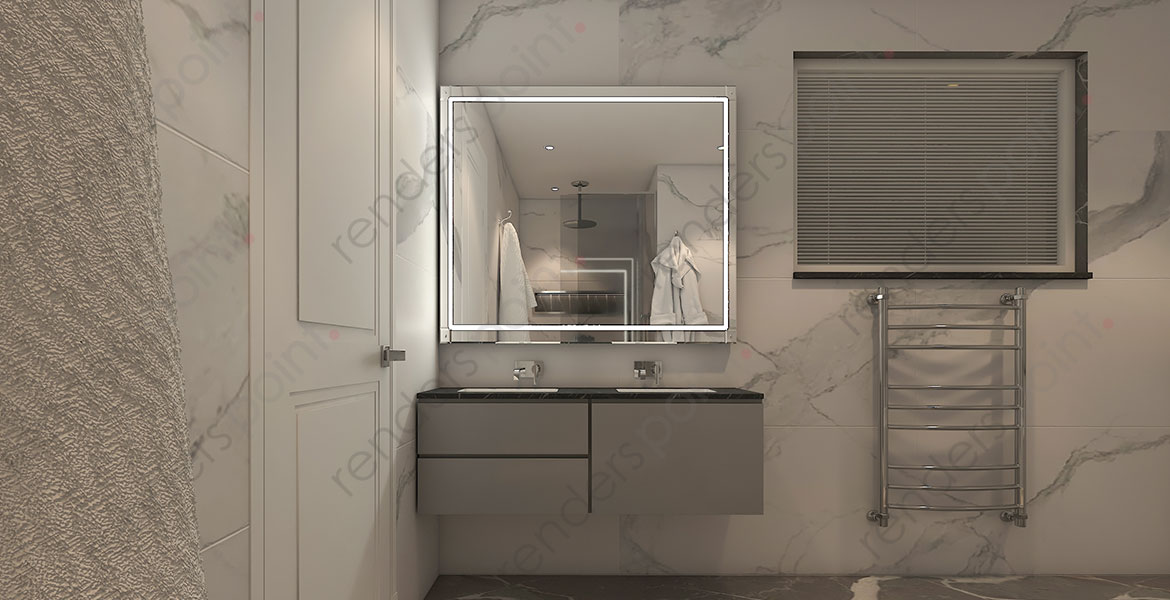 Sleek bathroom vanity unit design
What do you have to say about this double sink bathroom unit design with a textured marble countertop? Indeed a durable addition. The additional storage cabinets and the space underneath help keep the space cleaner.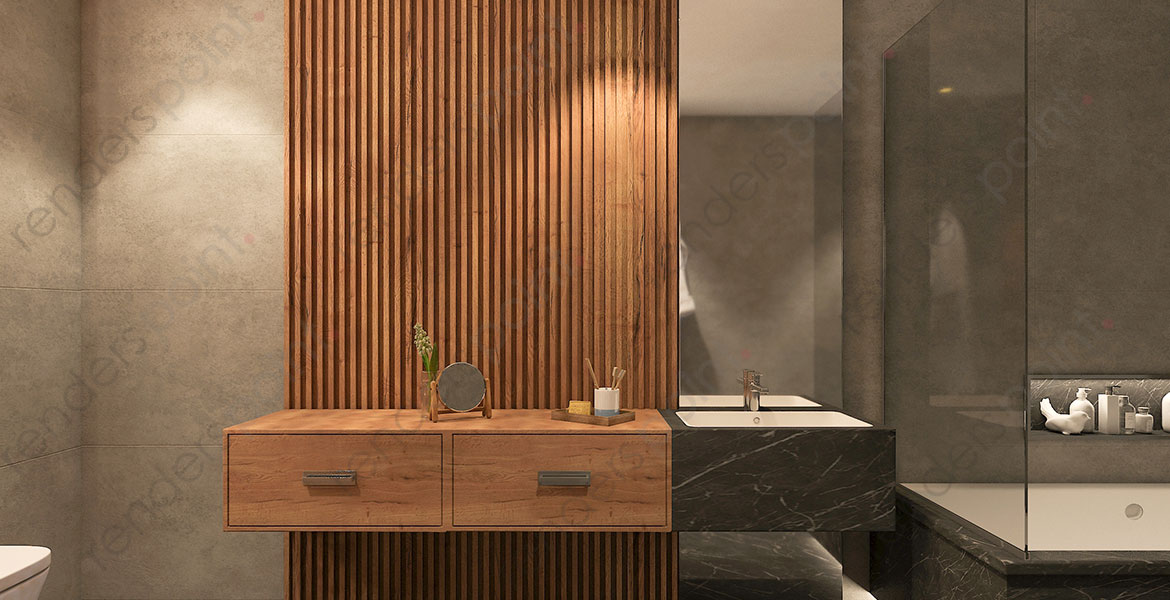 Wooden wall-mounted vanity unit.
If you have a traditional taste and like to incorporate a warm wooden touch in your bathroom space, this is it!
The wall-mounted bathroom vanity in elegant textured marble extended to the wooden cabinetry keeps the entire bathroom space clutter-free and clean.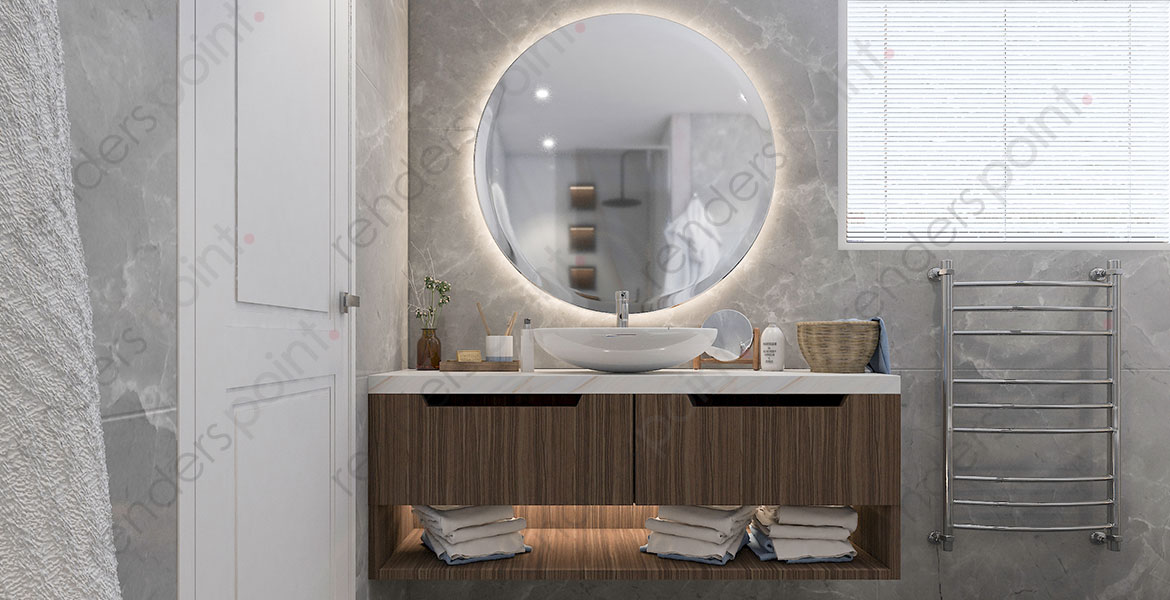 Drop-in sink vanity unit in warm wood
A pretty and sleek addition to the bathroom space indeed. The warm wooden cabinets with incorporated lights and a drop-in sink over the white marbled countertop make it durable to use.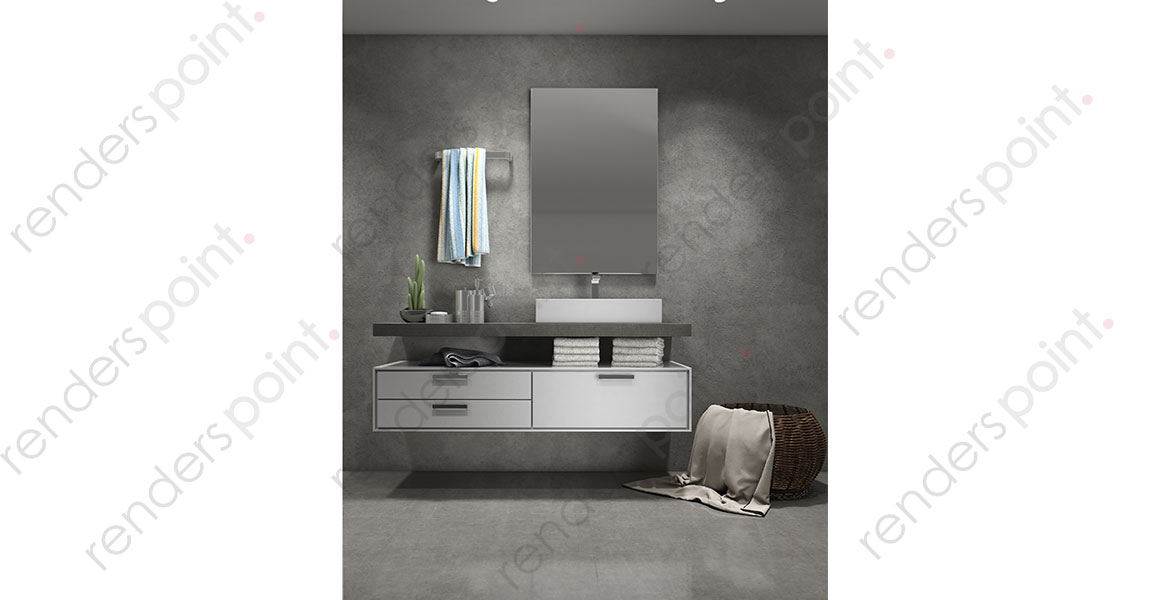 Elegant wall-mounted vanity unit.
Such a beautiful addition to the bathroom space. An elegant, sleek and straightforward bathroom vanity unit design comprising storage cabinets and a single basin accommodating all the bathroom essentials keeping the space neat and clean.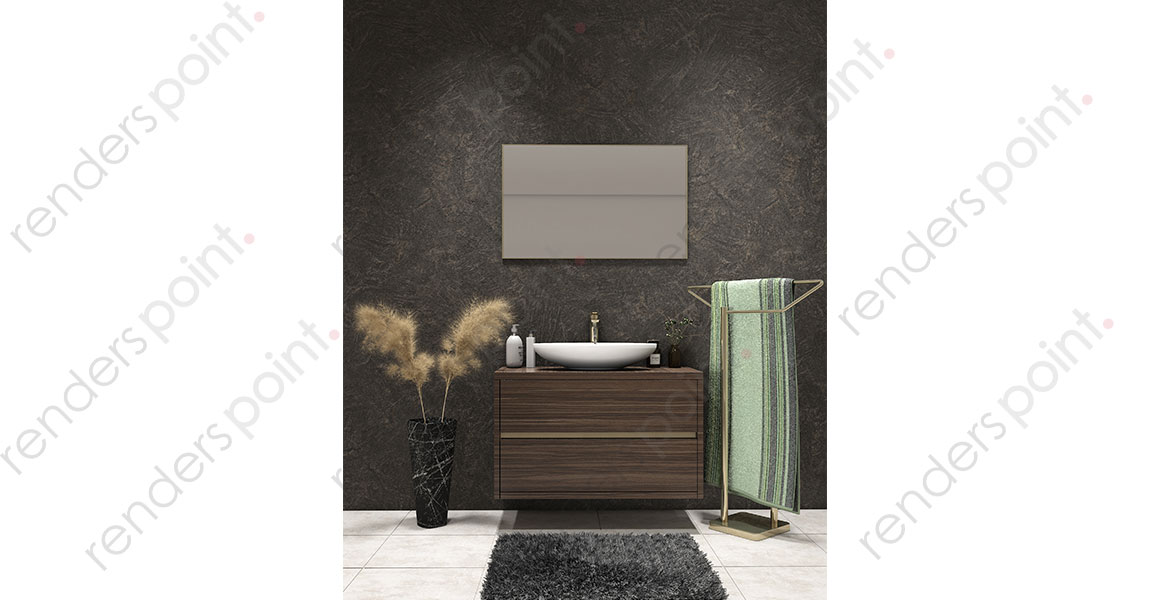 Drop-in basin with wooden touch vanity design
Simple and sleek bathroom vanity unit design with a warm wooden touch. The wall-mounted arrangement of the vanity unit keeps the underneath space clean and clutter-free.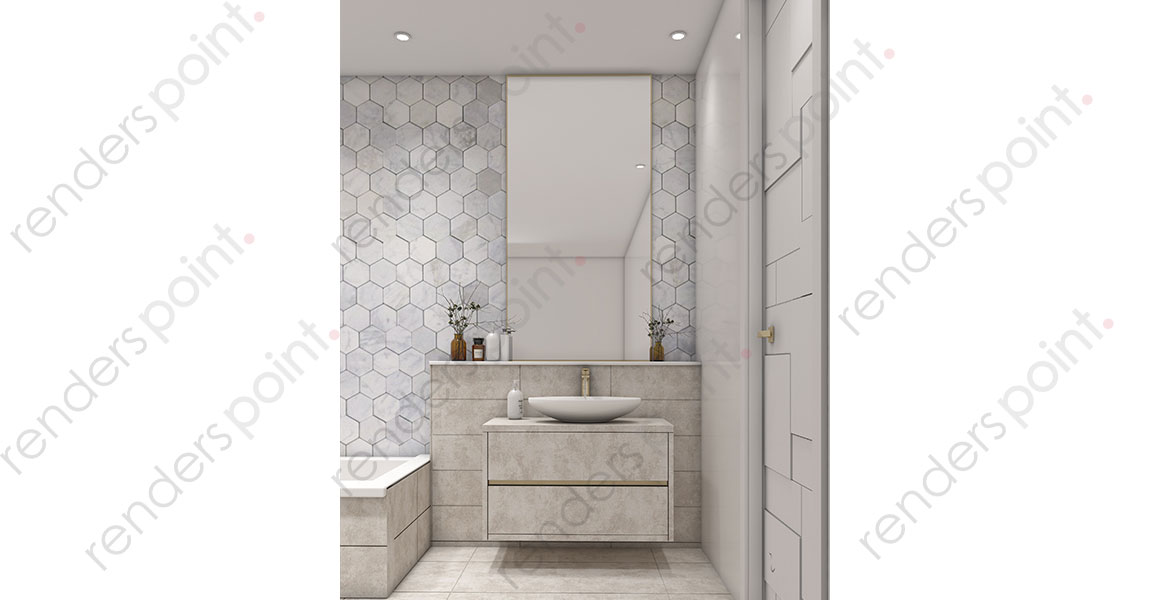 Wall-mounted vanity unit in pretty pastels
A pretty wall-mounted vanity unit in pretty pastels with a drop-in basin arrangement. The drawers cabinets of the vanity unit offer enough additional storage space, while the underneath space helps keep the floor space neat and clean.
Bottom Line!
When it comes to the bathroom vanities, trust Renderspoint.
Our goal is to provide bathroom vanities that last a lifetime.
You can simply count on us to find the appropriate set of vanity units for your bathroom that not only fits your bathroom space and décor but also your personal preferences.
With years of experience, our skilled team provides bathroom vanity solutions that fit your bathroom space well and add aesthetics to it.
Call us at 020 8610 9655 to discuss a bathroom vanity unit design.