Do you also find yourself lingering on the beautiful bathroom design ideas and pictures and pinning them to design your bathroom space for that change you require?
If yes, you must be ready to give a new life to your bathroom space.
But planning for the remodel just like that? Oh, did I just hear yes?
Perhaps you gotta take a look at this blog and then decide on planning for it!
Well, the bathroom spaces are the reflection of your living styles. It can actually make or break your image. So, you have to be a little more attentive while deciding the décor of your bathroom space.
What is bathroom rendering?
Bathroom rendering is a special rendering that is done specifically for the bathroom space. That means a 3D image of the bathroom space will be generated before actually laying down a brick.
Sounds amazing? Indeed!
Bathrooms are among the essential parts of the home and demand special attention.
The Bathroom renders help you pay that much-desired special attention to the space while providing the elegant look you want and saving you from some expensive mistakes.
From choosing the right cabinets to the colour combinations, appliances, accessories, theme, and lighting, Bathroom renders cover it all and bring a realistic image in front of you that you have always dreamt of.
Your imaginary bathroom design, blended with professional expertise and a pretty outcome in the form of a 3D realistic image, how does it sound? I find it super amazing!
Well, when it comes to the requirements, how can we not provide you with the solution for it?
Yes, Renderspoint is the one-stop service provider that caters to all the requirements to provide you with the bathroom look that you have always desired!
With Renderspoint assure
Efficient layout and design
Our team utilizes the 2D model to generate floor plans and bathroom designs with other bathroom items and create 3D to let you explore and edit the design from every angle.
Furnish and edit
With the bathroom renderings, you can edit patterns, materials, and colours to create unique walls, furniture, floor plan, and more essentials to find the perfect fit for your bathroom space.
Visualize and share
Use the rendered images and capture your dream design as a realistic image. With these realistic images, you will get an image including the shadows, appropriate lighting, and rich colours to add life to the image.
Perks of getting Bathroom renders from Renderspoint
HD Visualizations
With Renderspoint HD visualizations, you can capture your interior bathroom work in a realistic manner.
Experience the impressive lights, shadows, and rich colours that bolster the entire design and create stunning images.
2D and 3D models
Whether 2D or 3D, Renderspoint takes care of it all while giving the realistic look of your bathroom space.
Things to consider before beginning with bathroom render
Shower Location
You must choose the shower location where you need to place the shower and bath area. Additionally, don't forget to select the shower style you would like to use.
Marvelous Pebbles
When choosing the flooring of the bathroom space, you can choose some pretty pebbles. The flooring pebbles and slender wall pebbles can accentuate the look, and the walk-in shower space will give you a beachy feel.
Incorporate elements according to space
Whether you have a huge bathroom space or limited space only, you've got to choose the appliance that does not make the space look much occupied and makes it feel like complementing the design and space.
Sink
The sink is an essential element that is often used whenever you use the bathroom space. Think of choosing the sink that makes an elegant style statement in your Bathroom.
It can bring out a real effect, and incorporating a marble vanity unity can cover all your requirements, whether it is about your style, taste, or needs.
Multipurpose Bathroom
Gone are the days to think of the bathroom space for a single purpose only and stick to the old-styled taps only.
Bathrooms have come a long way from just bathing. Bathrooms have become more luxurious spaces that give a sense of relaxation.
So whether it is a stand-alone shower or a bathtub in the Bathroom, or both, a bathroom planned efficiently gives relaxation and luxury at your disposal.
Maximize the storage
Whether it is a bathroom vanity unit for additional storage, plan the bathroom space the way it offers the maximized storage space to accommodate your bathroom essentials.
Trending Bathroom Designs Ideas by Renderspoint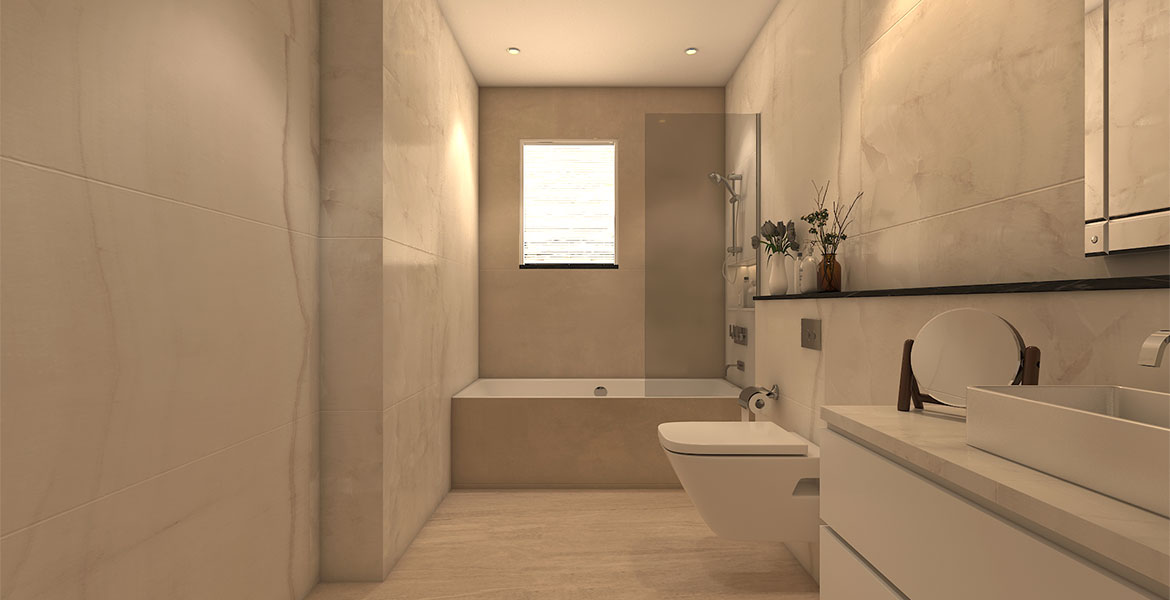 Modern Bathroom Render Design
It's an elegant and streamlined bathroom render design showcasing the perfect modern elements of the sleek bathroom space.
It's a perfect blend of modern elements matched with the elegantly textured walls in matte finish tiles and glossy white cabinets—a perfect design to accommodate each nook and corner in a sleek bathroom space.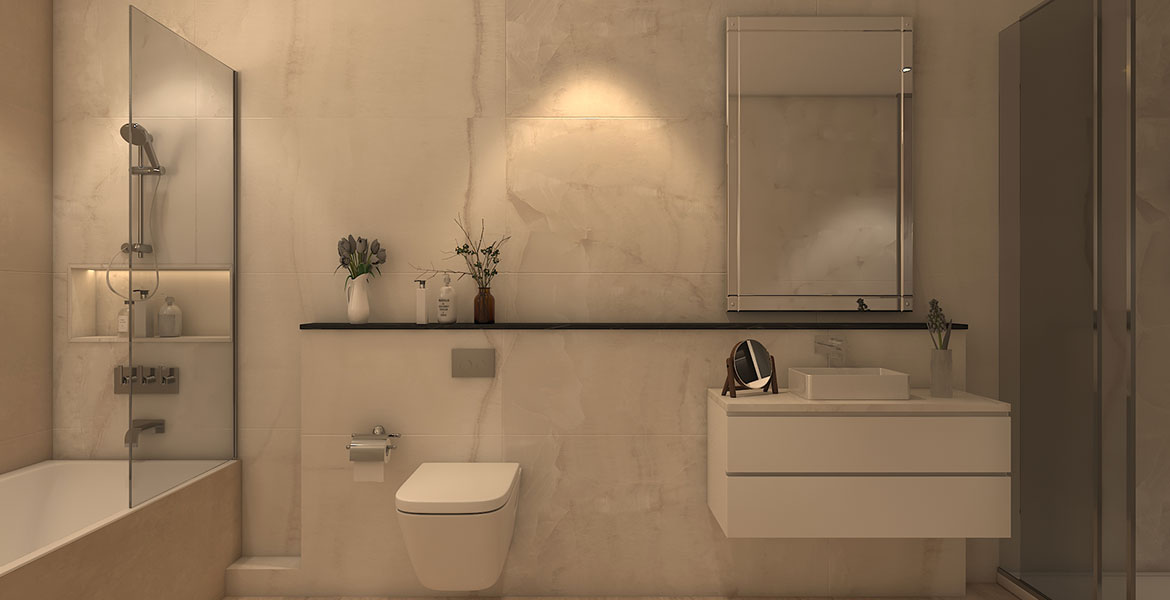 Modern Bathroom Design in Pretty Pastels
Look at this bathroom design idea in pretty pastels. Isn't it beautiful? Well, for me, it is. How amazingly every corner and space is efficient!
With the perfect separation of the bathroom shower space from the rest of the Bathroom, the area keeps the entire space clean and dry.
And the vanity area in a pretty white with a hanging mirror is the perfect place to rejoice in your pretty skin.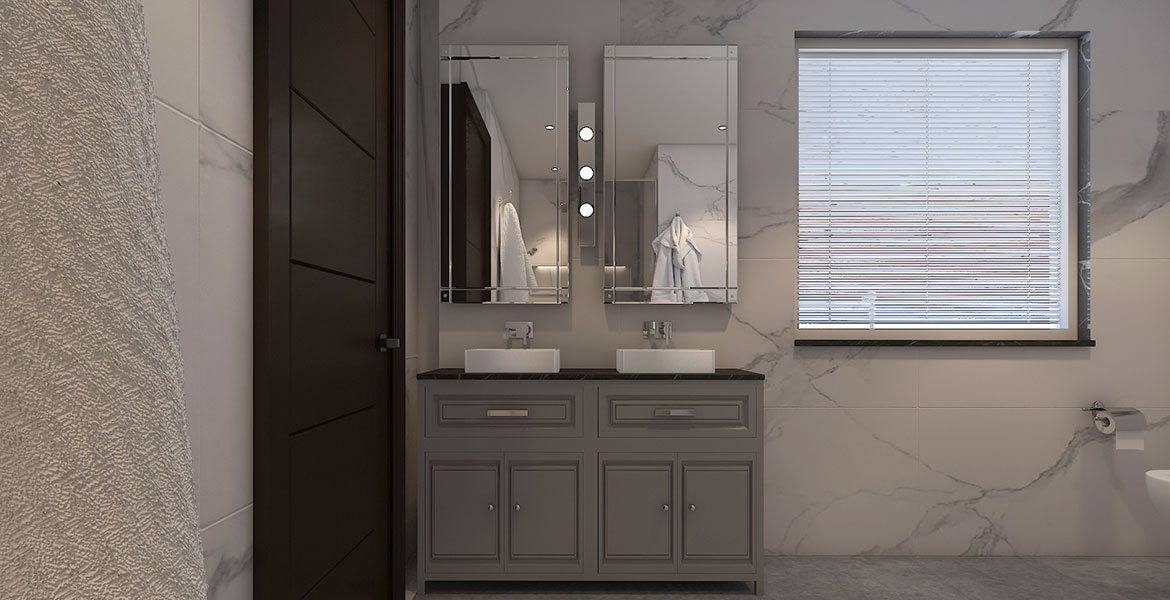 Modern Bathroom Design in a subtle touch
Who said subtle and grey colours are boring and keep the place not so happening? Well, look at this bathroom render; this will certainly change your thoughts about the subtle colours.
The vanity unit with additional storage shelters all your bathroom essentials nicely and keeps the entire space clutter-free. And the textured walls in the white are giving a look that keeps the environment well lighted.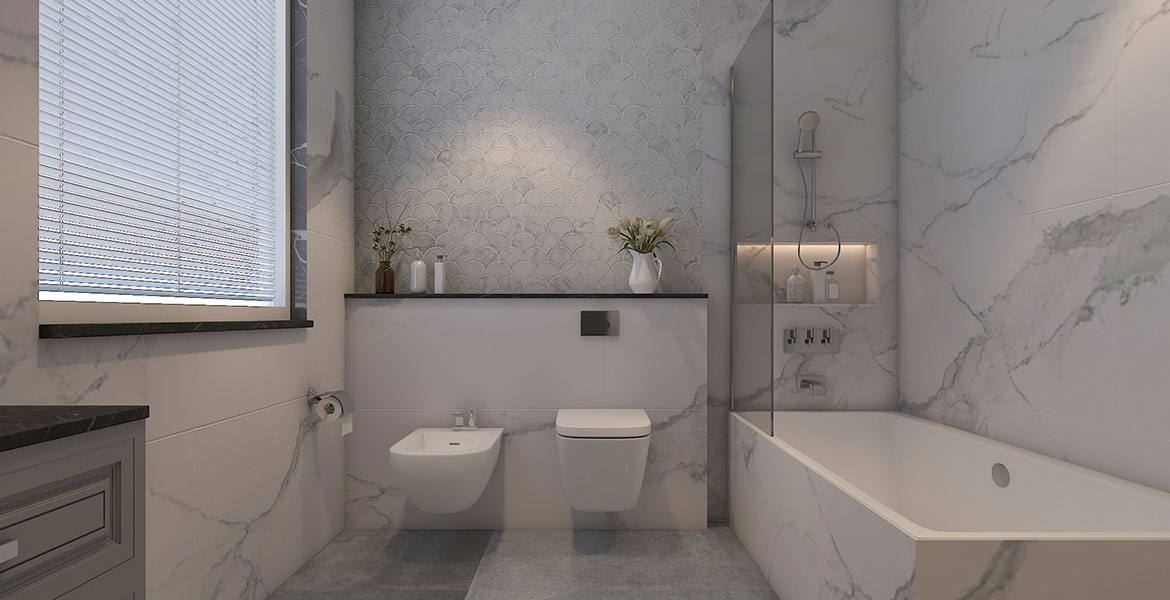 Bathroom design renders with a bathtub.
Super amazing bathroom renders were created for the bathroom space giving us ample space to experiment.
From adjusting the bathtub to adding the shower area and giving it appropriate separation, this bathroom design is perfect for medium-sized bathrooms.
With the appropriate lighting and textured walls, this bathroom design stands out well from the rest.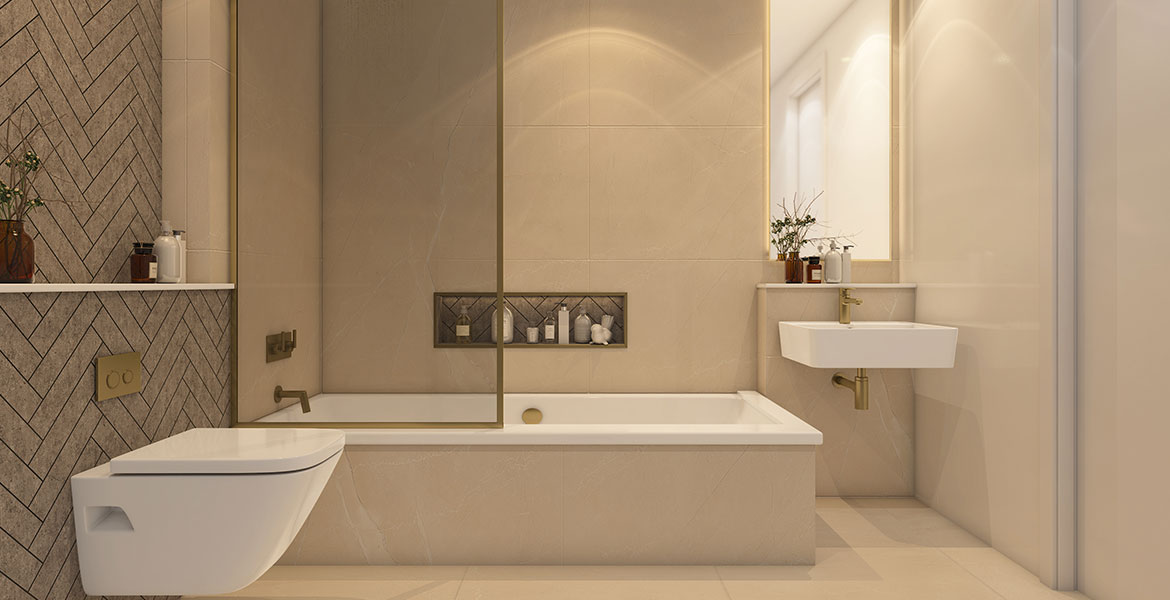 Luxurious Bathroom Design
An elegantly crafted bathroom design with pretty pastel walls and a built-in bathtub is a perfect space to take away all your worries after having a hectic day.
For us, this is it! The soothing lights with the combination of dark walls and lighter ones give the perfect look and feel. And the sleek sink and limited elements give a clean look.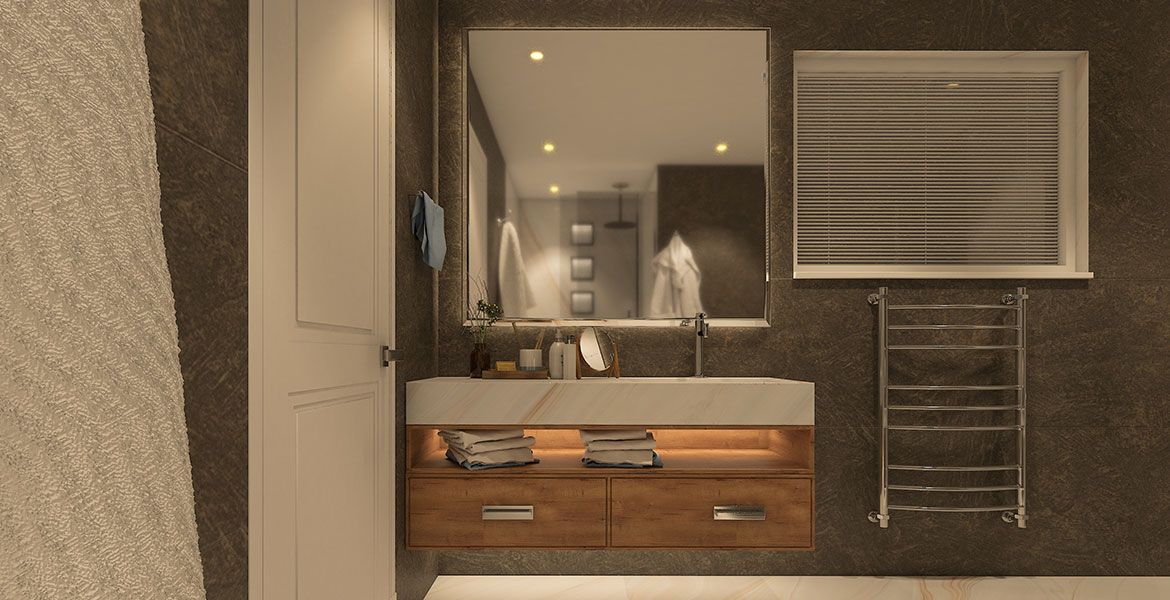 Rustic Modern bathroom design
If you like the rustic look matched with the traditional wood, then this is the show stopper.
Look at this dark-toned wall embracing the natural beauty paired with warm and cosy tiles in a matte finish to enhance the warmness. The main feature is wood-like vanity paired with rich marble in textured format.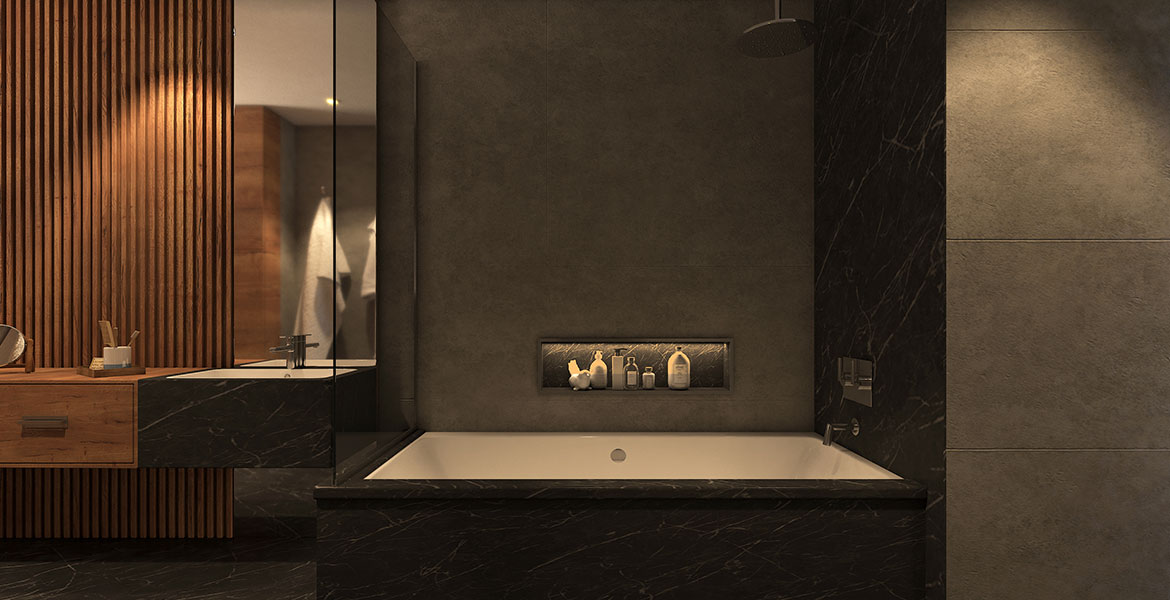 A modern bathroom design in darker tones
What do you have to say about this black beauty? A perfect place to waive your worries! It's a perfect blend of traditional and modern taste.
The elegant black textured marble bathtub, paired with vanity extended to the wooden cabinet, is the perfect combination to give that style statement.
This bathroom design embraces the latest technology from trends and materials with minimal adornment and clean lines.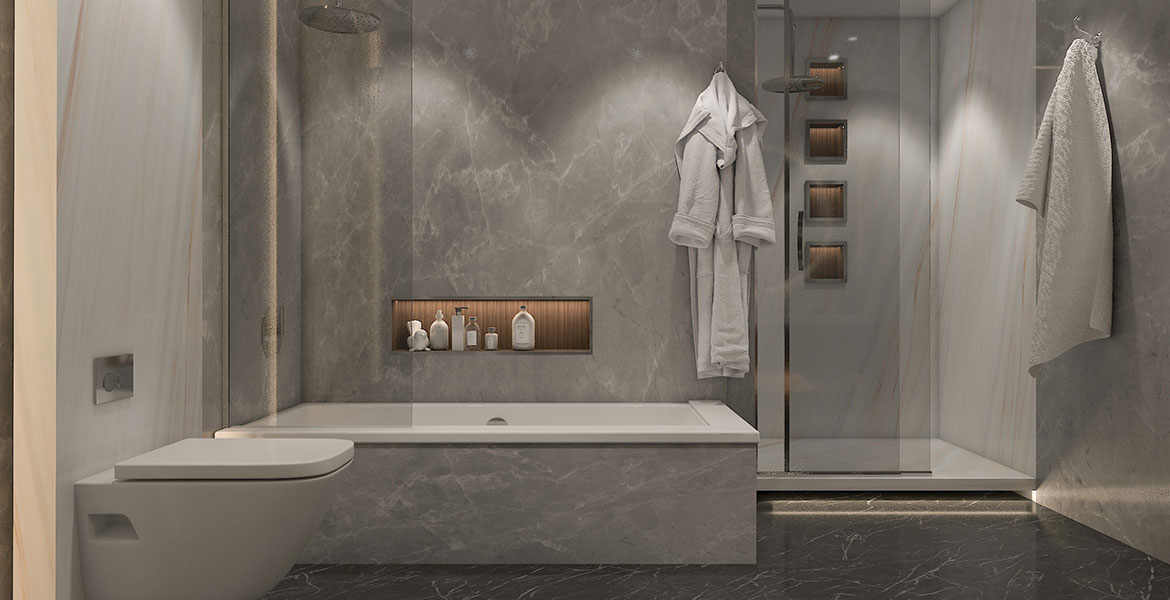 Luxurious Bathroom Design Render
Look at this comfortable, refined, and timeless bathroom design with gleaming surfaces and high-end materials.
This bathroom design gives a luxurious feel with massive decorative details while maintaining classic elegance.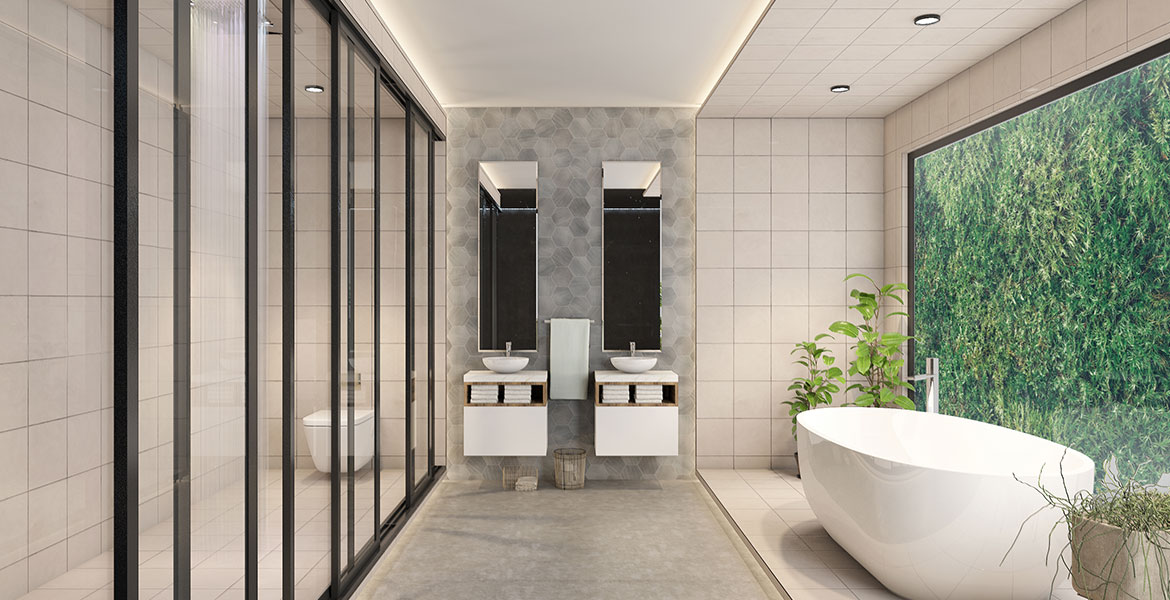 Timeless bathroom design render
The key features of this bathroom design render are the antique style lighting, classic bathtub, styled vanity, all in timeless white.
This bathroom design is a timeless and comfortable one crafted with gleaming surfaces and high-end materials.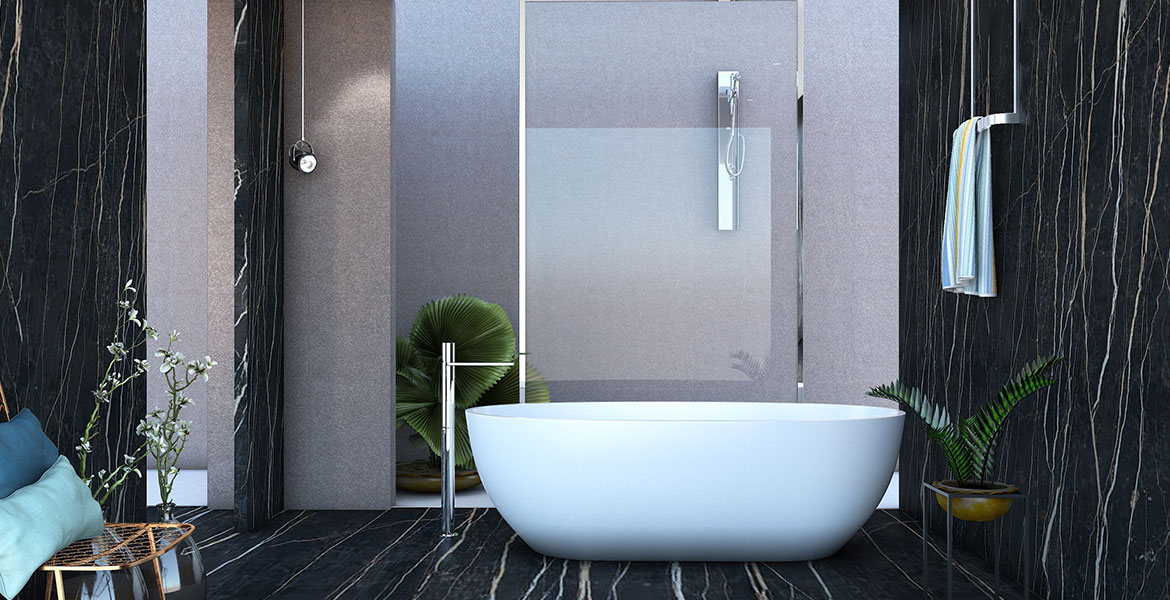 Bathroom renders in a modern and traditional blend.
This pretty Bathroom renders for ample bathroom space is the talk of the town. With the perfect blend of modern with traditional and glass arrangements, this bathroom design gives a clean look to the entire space.
The bathtub arrangement and separate shower space in the glass cabin give the vibe and chance of choosing the bath style according to the mood.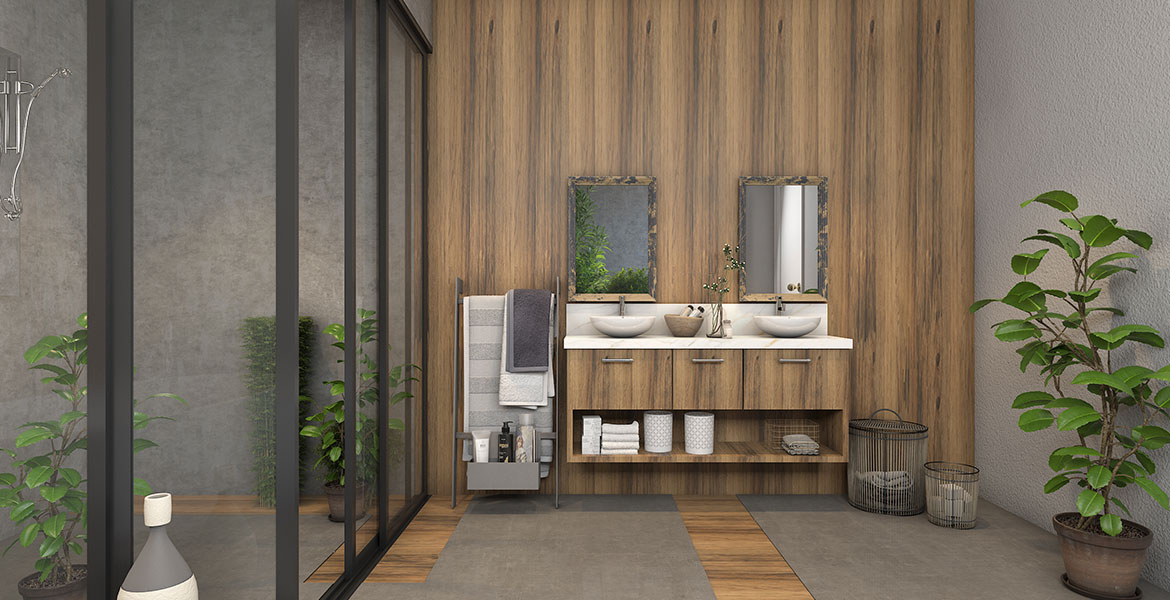 Conventional Bathroom render
Woods can't look more beautiful than this, and this pretty bathroom design render proves that. How amazingly the wooden touch blended with white sinks and hinged drawers and glass décor.
If you are a traditional wood lover, then we must say this is it! We feel it is a perfect vanity unit for the people desiring the traditional wooden touch in the bathrooms.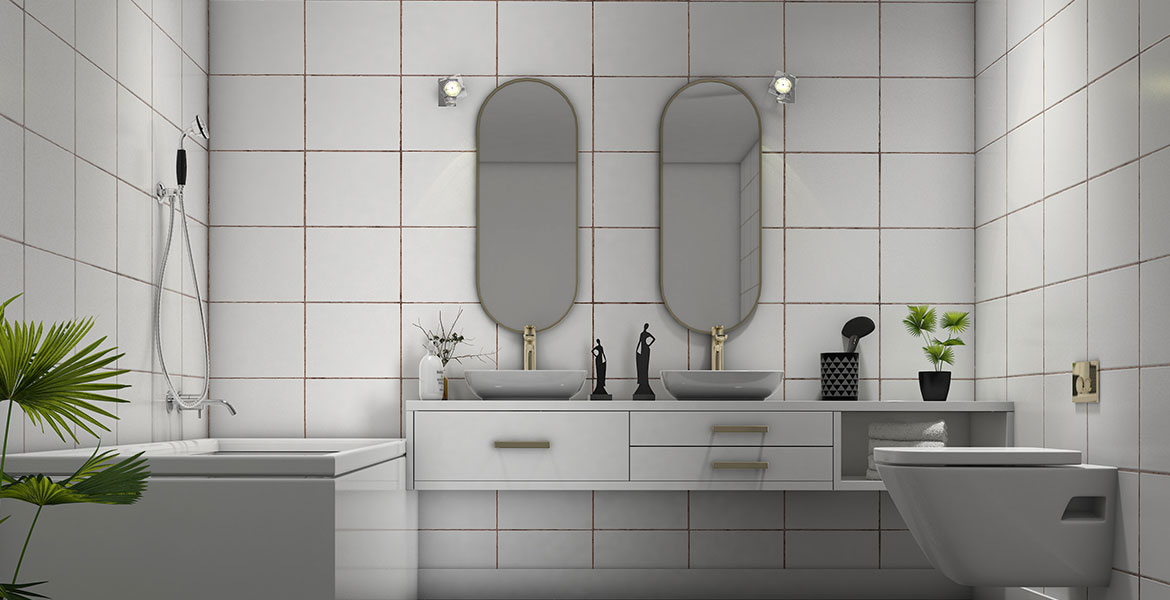 Bathroom renders in timeless whites.
How beautiful the pretty whites can be, this bathroom render speaks it all. Without saying much, the glossy wall tiles and white vanity unit make a style statement.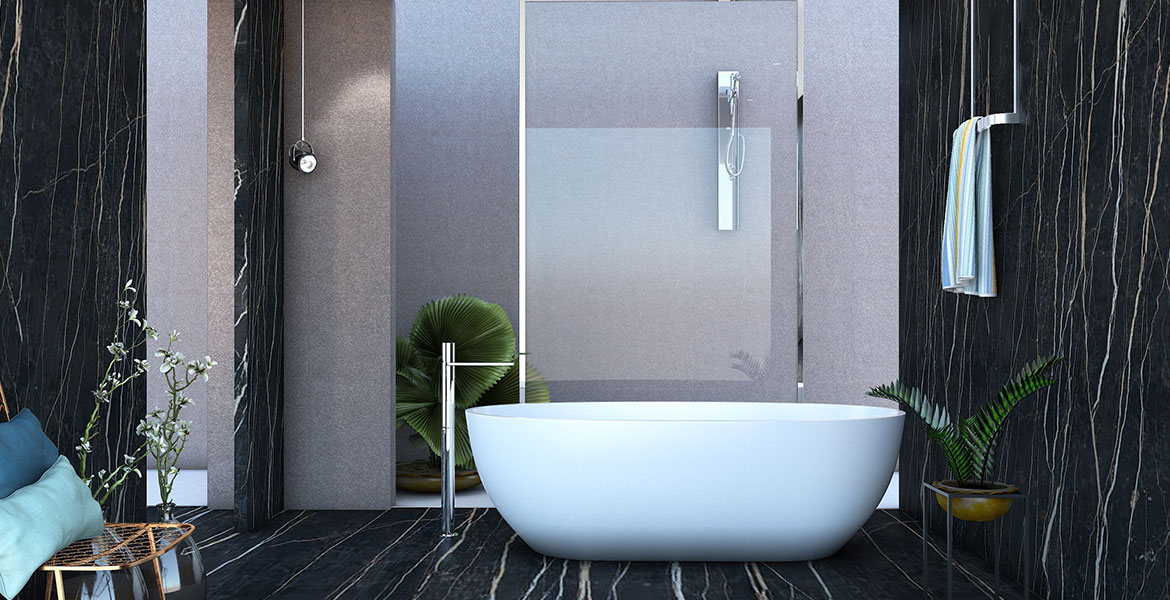 Bathroom renders in monochromatic fusion.
A perfect black and white Bathroom set up with textured marbles on wall and floor plans.
The elegant sliding glass door for the separate shower space and a bathtub arrangement outside give the space a warm look and desired vibe for the next relaxing bath.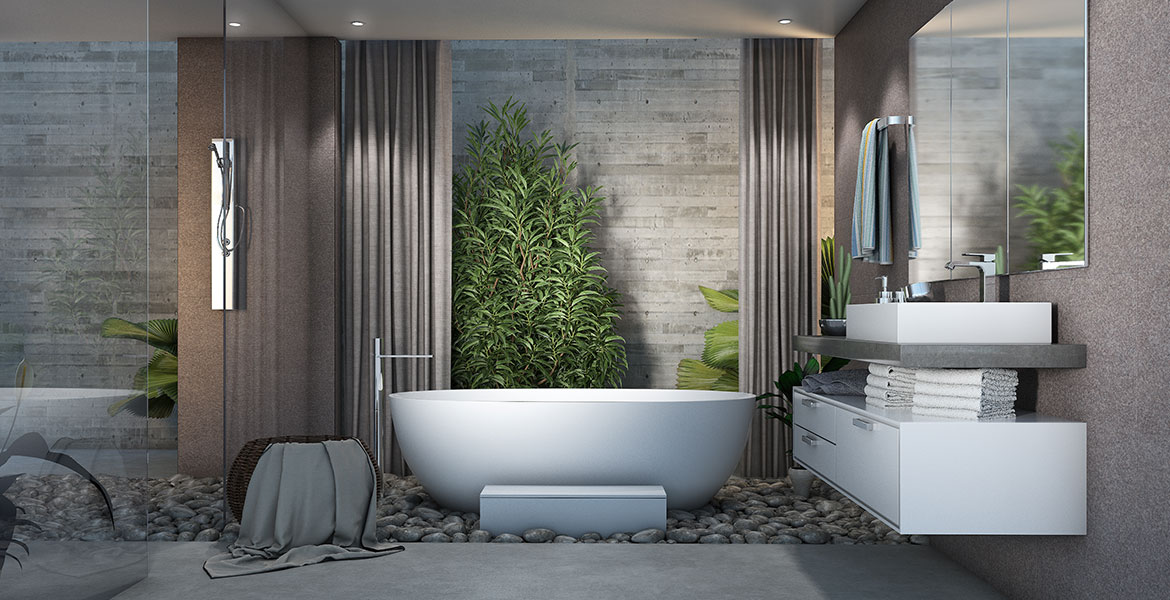 Lavish modern bathroom design render
What do you have to say about this beautiful Bathroom render with a glass door and a separate bathtub setup in white? Well, don't you think that it looks perfect? Indeed!
The bathroom vanity unit in glossy whites and additional storage gives a clean look to the space and keeps the bathroom clutter-free.
Bottom Line!
Bathrooms are the house's smallest rooms that majorly cover the most attention due to the relaxation it is expected to provide.
Renderspoint takes care of every bit of it and creates solutions based on efficient space utilization matching your desires.
Renderspoint is the foremost 3D rendering service provider in the UK that has completed ample render projects, including the exterior, interior, bathroom rendering.
We take the privilege of delivering beautiful renders for each home space and are a proud service provider in the UK.
Have you got a project to discuss? Connect straightaway  020 8610 9655 Or email us karanveer@renderspoint.com.