We all are familiar with the term rendering in architecture, which is the process of creating two-dimensional images and animations simulating the final project from three-dimensional images and models of the buildings.
The process of producing computer-generated images is not simple as it looks, even though the name only has one word, ''rendering''.
Uncovering the Concept of Pre-Rendering
Have you ever thought about what is before and after procedures involved in the entire visual representation?
Rendering is processed in two main stages:
Pre-rendering or offline rendering and
Post-rendering or Real-time rendering
Let us learn briefly about:
➤ What is Pre-rendering?
➤ The role it plays in the digital generation of animated photos.
➤ What is Post Rendering and, lastly,
➤ Key differences between pre-rendering and post-rendering terms.
Definition: Pre-Rendering Process in Architecture
Pre-rendering is the first step of creating 3d models and renders from three-dimensional sources to make realistic visualisations.
It helps clients and designers to experience the aesthetics, nature, design and presentation of a building before its construction.
The concept of pre-rendering is more like the rendering definition itself.
In other words, Pre-rendering means creating renders and visualisations of an architect before it is finally rendered. The pre-rendering process helps 3D artists to analyse how a product will look with certain materials, textures and finishing.
👉

The role of Pre-rendering:
Pre-renders help architects make informed decisions, collaborate effectively, and create high-quality designs that meet the needs and expectations of clients and stakeholders.
5 Ways Pre-Rendering Amplifies a Business without Avoidance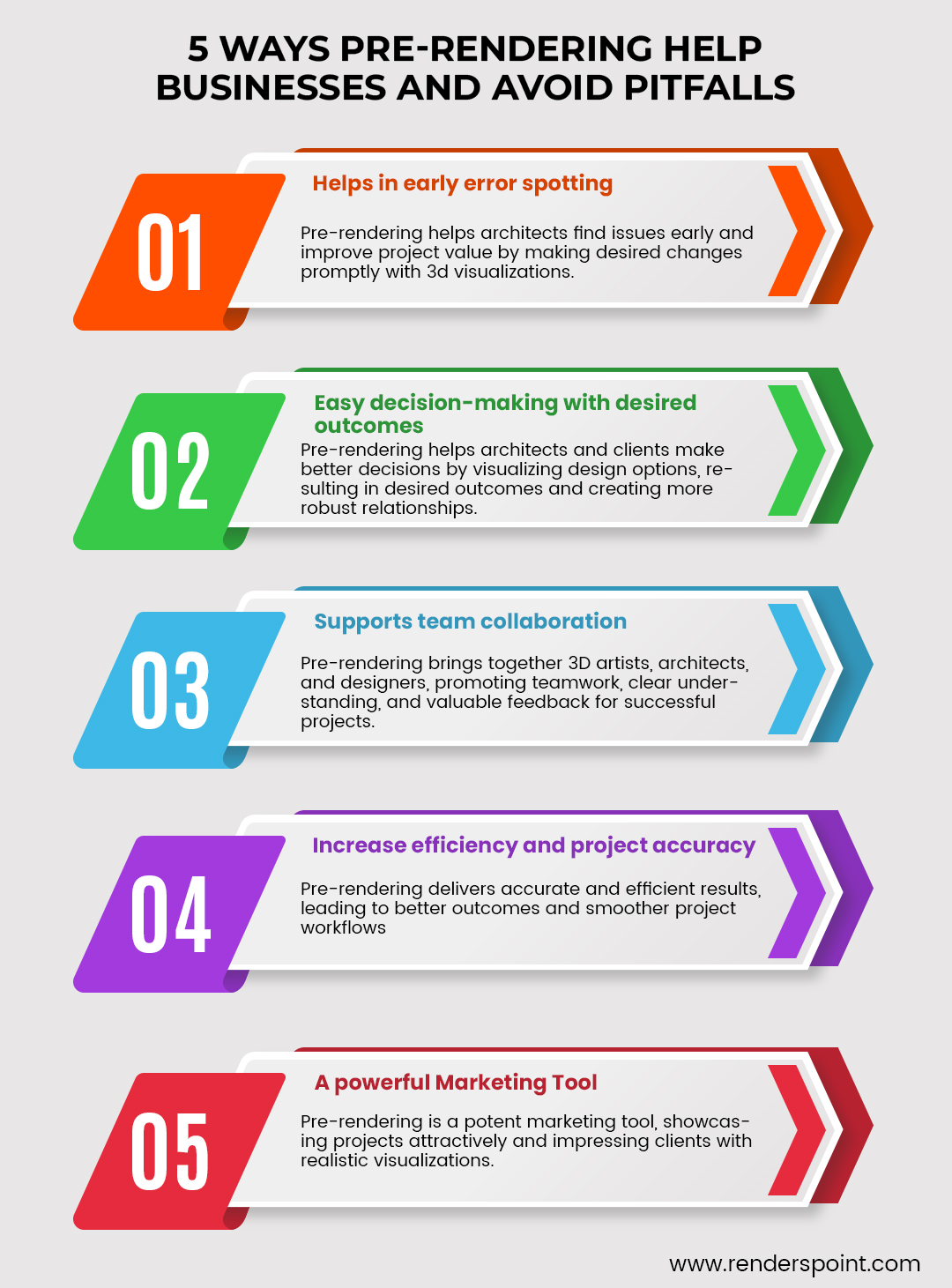 Pre-rendering in architecture is important for a refined and holistic building design understanding.
With the pre-idea of material texture, spatial details, lighting conditions, and structure layout with décor, one can demand making changes or upgrades to achieve the highest satisfaction.
Hold your snacks and soft drinks, buckle up to understand the reasons of how a project pre-rendering helps in maximum benefits: –
1.   Complete Architect visualisation and early Error spotting.
Pre-rendering allows architects to visualise a design and its various components, such as lighting, texture, and scale, in a realistic way. From interior to exterior portions, you can easily inspect the building.
And therefore, it can help find potential issues or opportunities for improvement early in the design process.
By naming errors and doing desired changes at the first state, project value eventually increases by the completion.
2.   Straightforward Decision-making and Desired Results.
Pre-rendering plays a significant role in decision-making, while the process of construction helps architects and clients with design options and materials.
By creating visualisations, architects can compare different options under material types, textures, home décor positioning, lamp, and light angles, etc.
Clients can confidently speak up about the changes that further generate desired results. And it refines the rendering company's reputation as well as its relationship with customers.
3.   Pre-rendering encourages collaboration and teamwork.
Pre-rendering surely means interaction with several 3D artists, architects, talented designers, and industry experts. They discuss the construction methods and designs which support teamwork.
Thus, the process eases collaboration between architects, clients, and other stakeholders. By sharing visualisations, everyone involved in the project understands it more clearly and can share feedback or suggestions.
4.   Accuracy and Efficiency are the fruit of Pre-rendering.
Since team and collaboration shares the design ideas effectively with open communication and idea sharing, the quality of the product enhances. More the conversation, the more the accuracy.
Thus, precision and accuracy are amplified with pre-rendering designers. It also can save time and resources by showing potential design issues early in the process.
5.   Pre-rendering is surely a powerful Marketing tool.
The best rendering company can become a marketing magnet by showing its CGI (Computer Generated Imagery) portfolio to marketers, architects, and designers. It will surely pull their interest in your potential work.
Well-designed pre-rendering samples are powerfully impactful. You can share & promote those samples among a wide audience offline and online.
Since the result is already visible, this will help clients visualise the finished product and make a valuable decision.
Once the render idea is initiated, the next step is operated. i.e., Post-rendering. Let us know about it.
Definition: Post Rendering or Real-Time Rendering
Once pre-rendering is done, artists are relieved from the most significant part and are moved to the next step to utilise post-rendering for design betterment.
Post-rendering, as the name suggests, has something to do with the rendered images. The process of modifying, polishing/ enhancing, and adjusting the computer-generated images is known as ''Post Rendering''.
Simply put, the post-rendering method relates to the stage in the architectural visualisation process where additional adjustments and enhancements are made to achieve desired details.
The Role of Post-rendering
The goal here is to tone the overall composition using various tools & techniques for post-rendering.
Hopefully, all of you have precisely understand the concept of both pre and post render visualization.
Let us move ahead, folks!
Differences: Pre and Post Rendering Techniques
Let us now move ahead with reading some differences between pre- and post-rendering processes:
| | | |
| --- | --- | --- |
| Names | Pre-Rendering | Post Rendering |
| Time of the processing | Pre-rendering is done before the construction process begins to help clients understand the design idea and the building details effectively and easily. | Real-time rendering is done once the first rendering is processed completely to change and further beautify the existing designs, effects and textures. |
| Purpose of the rendering |  Pre-rendering targets to present and evaluate the architect design before customers that help 3d renders to share their intent. | A rendering company focuses on post-rendering to improve the existing 3d model, which can lead to great business deals & opportunities. |
| Work Iteration | Pre-rendering companies know the patience as the process is all about getting back to the project for minor edits. It improves the quality based on feedback. | Post-rendering is done in a short span, and this process does not always include multiple iterations. |
| Tools used | Best renders use advanced 3D render tools and techniques for pre-rendering. AutoCAD, SketchUp, V-Ray, Unity etc., are popular tools. | Post renders use software and editing tools for changing the already existing images and projects. Affinity Photo, Capture One, Luminar, GIMP etc., are some tools used for real-time render processes. |
So, we studied the rendering types and how they differentiate one another. We added the table for you to make the understanding easier and clear. You can recap the desired section on having any doubts.
The Takeaway
Pre-rendering is the base for developing magnificent architect, animations, and visualisations. It connects the customers to the project deeply with details and the natural output.
The Best pre-render experts know the way to satisfy each client. Unleash the potential of pre-rendering in 3D architecture.
Harness its secrets to elevate Efficiency, elevate quality, and revolutionise the way you bring your architectural visions to life.
Renderspoint is the best rendering company in London, with the experience of over a decade. Explore the endless opportunities with the render team in the UK and brush up your architects and attract the big project calls.
Contact the team on 020 8146 5629. Our team will be happy to hear from you!