"Now visualize your architectural space with the atmospheric architectural renders using real skies!"
When it is about communicating the architectural designs of a constructive space, the atmospheric conditions play a crucial role in heightening intrigue and igniting the clients' emotions.
It not only conveys the perspective concerning the constructive space but also enhances the sense of connectivity the project gives at a specific place and time with all the accurate nearby elements.
In short, it gives a clear story about the project's form, functioning, and appearance.
How much impact does an atmospheric rendering make?
Even though the project building remains the same, even a small change in the atmospheric conditions can dramatically impact how the audience will connect with the project.
Imagine a home space with all the nearby elements on a beautiful summer day!
And now try imaging it on a day with a thunderstorm all around!
Does your imagination of the project look the same?
Do both the scenarios have a similar appearance?
Well no!!
And that is what the atmospheric rendering helps you with.
A small weather change in the entire project can completely change the appearance.
Whether it's a sunny day, a lighting time of the day, or some happy blue skies, here are some combinations that an atmospheric rendering can provide.
3D Atmospheric Renderings in various weathers
1. Rendering a lighted-up sunny day!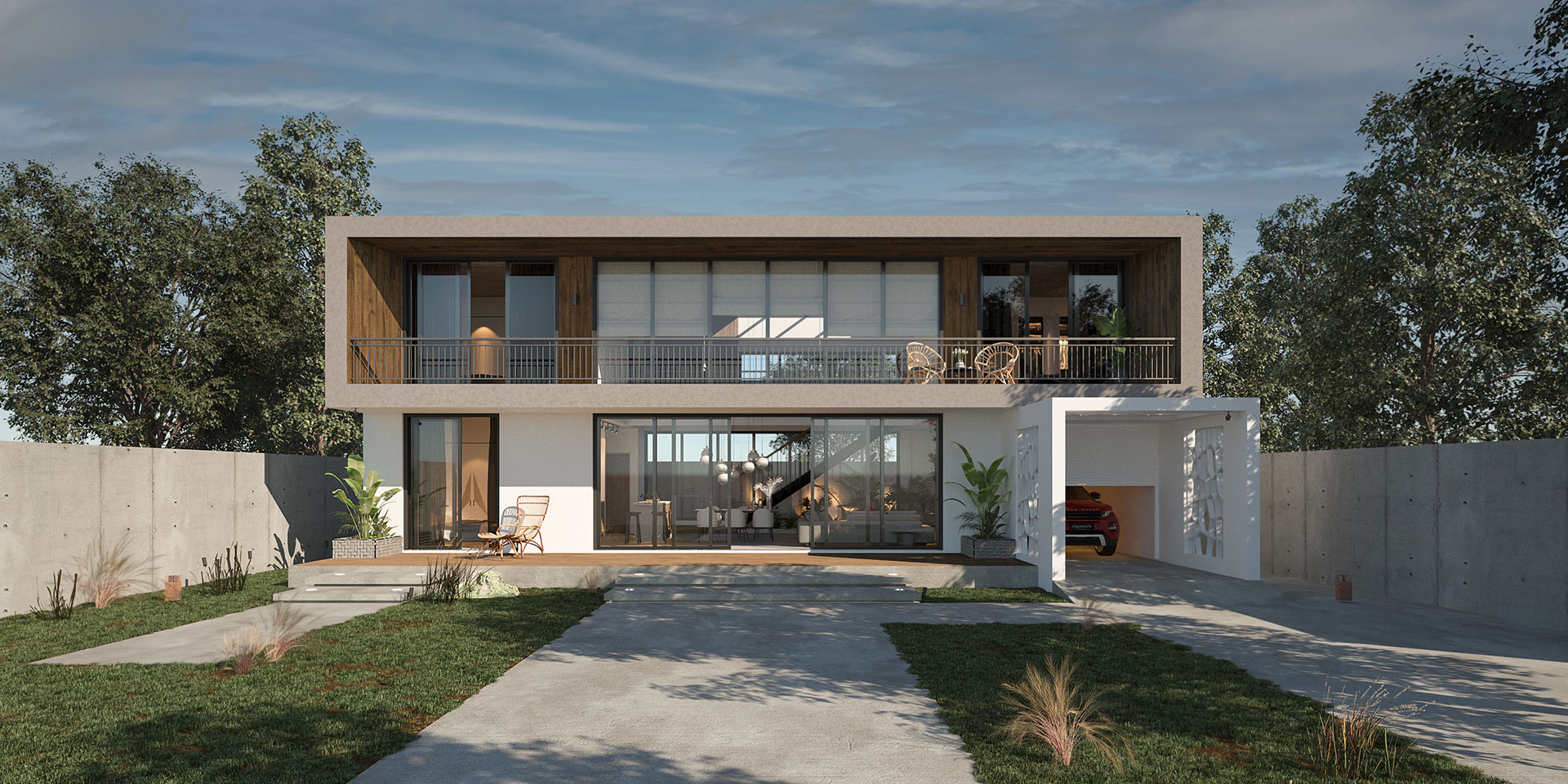 Whenever we talk about a sunny day, what exactly comes into mind?
An energetic feeling
A sense of openness
A vibrant and clear sky
Some greenery around
And some birds
That is what sums up a bright summer day.
And to build perfection within the Render, the Renderspoint applied a realistic style to the space with some crisp and bright colors to give the impression of a vibrant sunny day full of joyful moods.
2. Rendering a pleasing thunderstorm
The building during thunderstorms gives a sense of comfort, relaxing fresh breezes, and a higher positivity level to enjoy the greenery another way.
This Render in thunderstorm weather generated by Renderspoint delivers a sense of positivity, and this design of the building space makes ensuring to experiences a higher possibility of notions of the space.
Why always choose disturbing thunderstorms to give an entirely negative impact when such renders can showcase compelling aesthetics while communicating well with the building.
We have eased the environmental lighting to give a real impact to the space, while the appropriate lighting in the home hives a warm, comfortable, and welcoming glow.
3. Rendering in a refreshing morning
What could be better than a crisp and refreshing morning?
I guess nothing!
And that is what this 3D Render depicts.
A home looks much more adorable on a refreshing morning as it's not just a place where you wake up but a lot more than that.
This place may affect everything. And so, to perfectly deliver it all, we have created this Render on a refreshing morning with soft environmental lighting and a smooth color selection.
A reduced sun shadow
Balanced color
Perfect sky coloration
And a perfect greenery effect nearby
Thoroughly explains the image while elevating the mood of the clients.
4. Rendering in an overcast setup!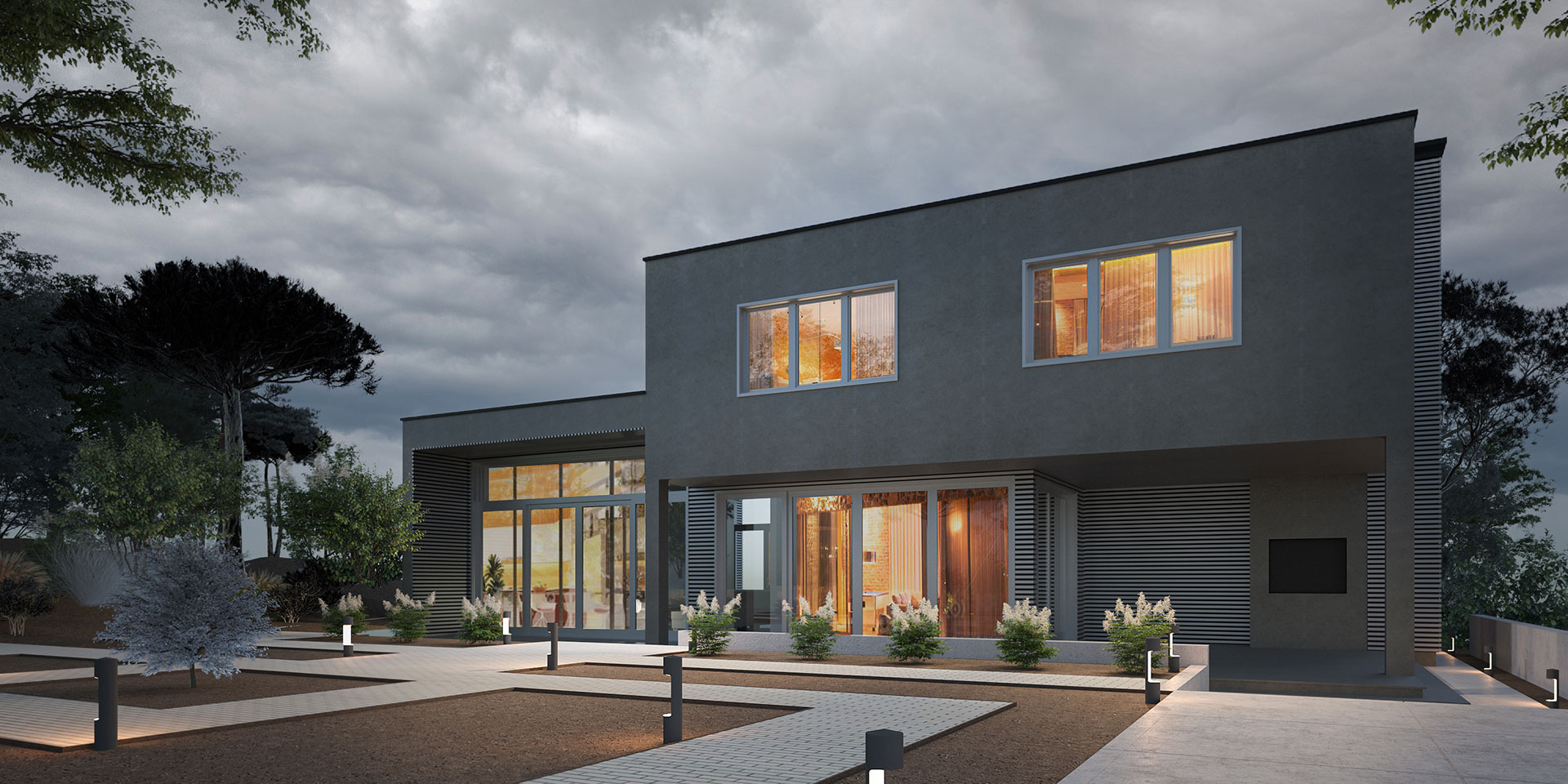 Rendering in the overcast setup generally makes an excellent pair. It depicts the time of the day that shows cloudy weather during the evening or late afternoon.
It offers a more atmospheric setup with higher contrast between the shadows and lights, creating a blissful impact on the clients.
The appropriate lighting with a calming effect and mild weather perfectly describe the characteristic of this overcast setting render.
5. Rendering on a rainy day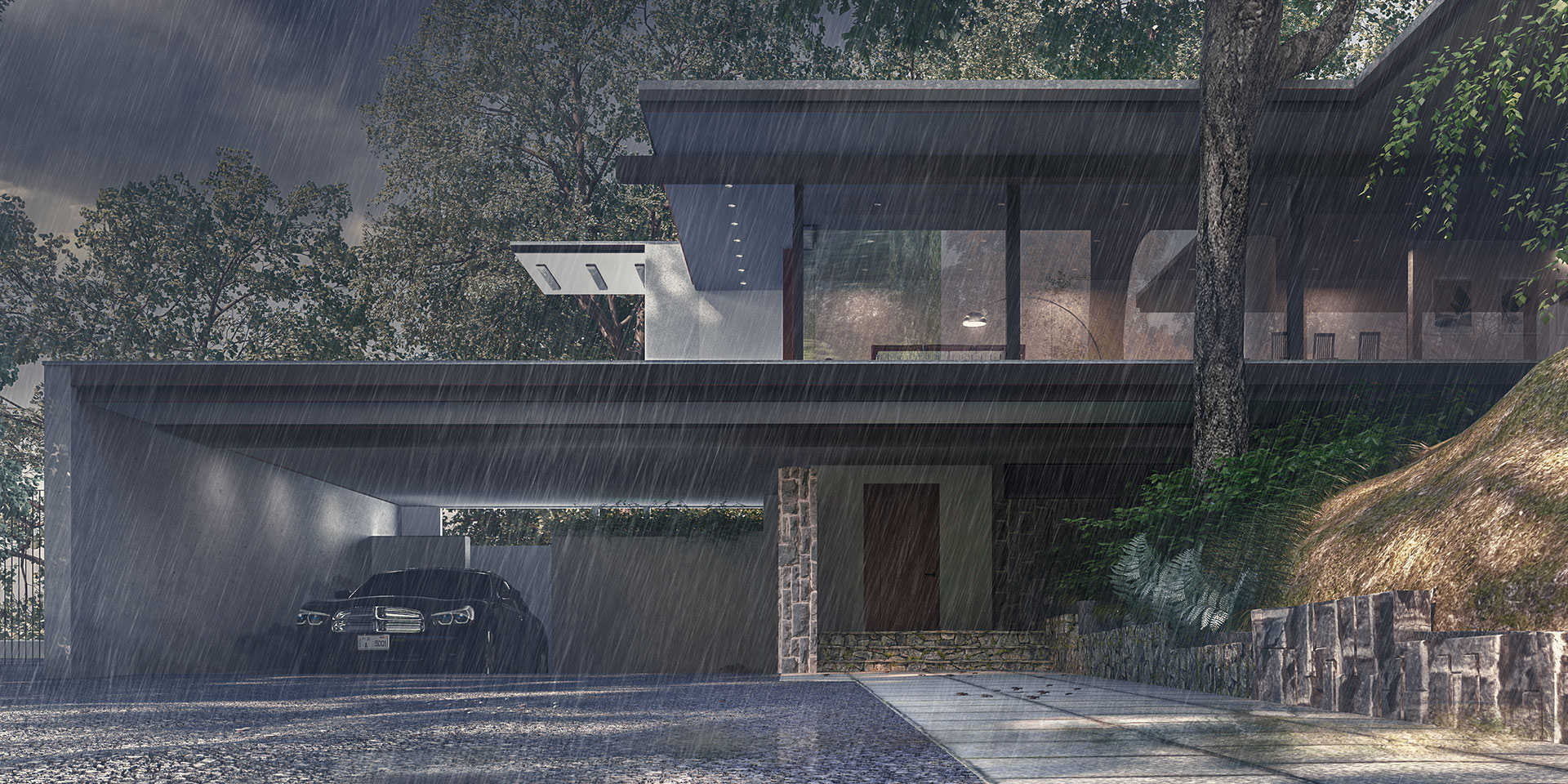 Rains depict a melancholic and calm mood, uplifting the urge to enjoy the entire scenario.
And while talking about the rendering, it is one of the most inspiring looks for the presentation of the project delivering a calming appeal.
Rainy effects within the renders create a more appealing, warmer, and inviting appearance to the clients that it is hard for them to adore a little more.
This Render on a rainy day with a monochromatic color palette with beautifully complementing minimalist design is an alluring pick that even our team completely adores.
6. Rendering with Northern Lighting effects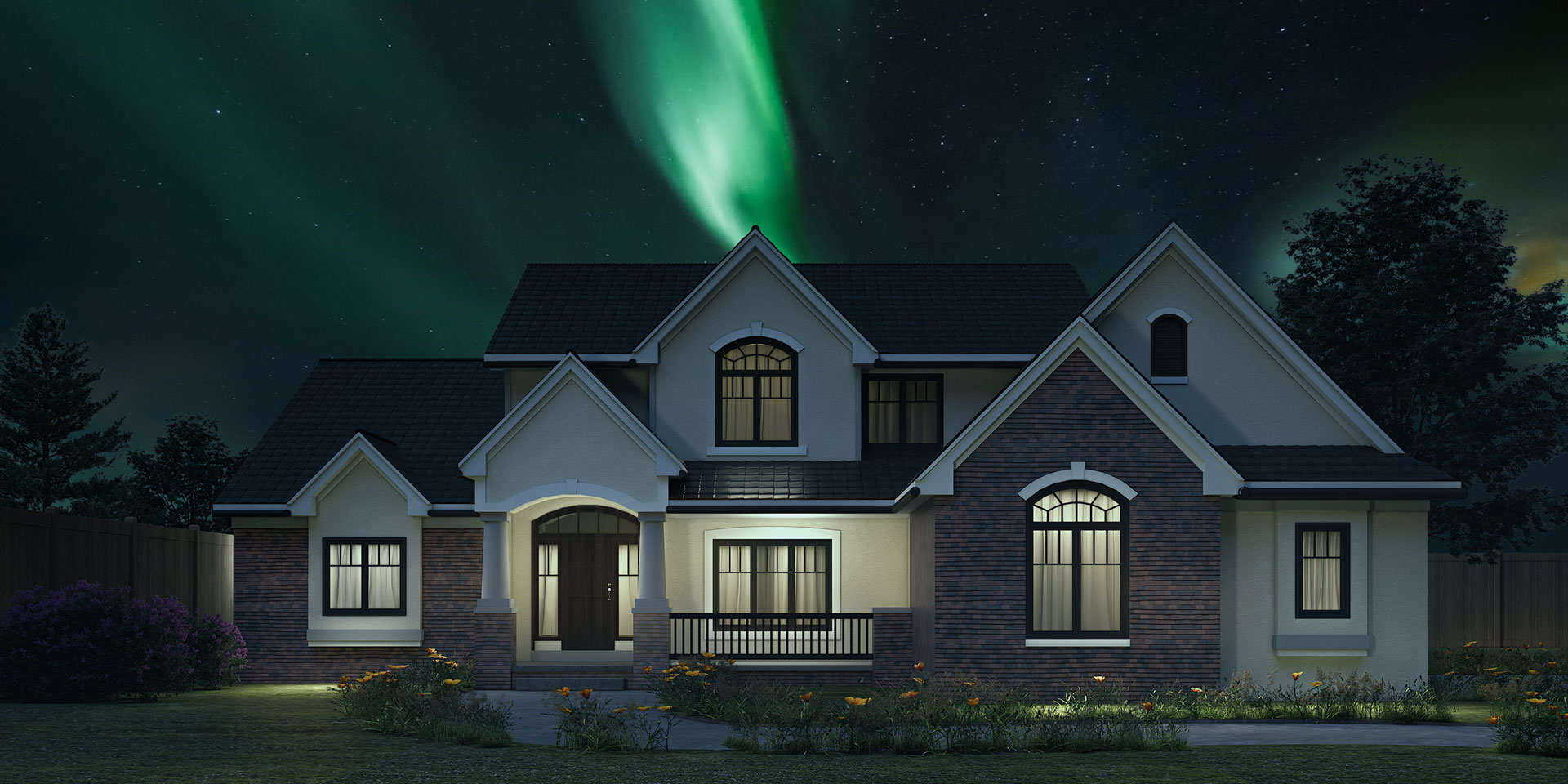 Although it's more of a natural phenomenon rather than a type of weather, the northern lighting effect in this entire Render certainly deserves applause.
And this Render, with all the atmospheric elements, successfully delivers the stunning image of this magical space that everybody will fall in love with it.
3D Atmospheric Renderings in various seasons
Now that various weather impacts within 3D Renders have been analyzed, it's time to shift towards the multiple seasons.
Let us move to the seasonal settings that help you imagine the space with the right mood.
1. Renders with Summer and Spring Seasons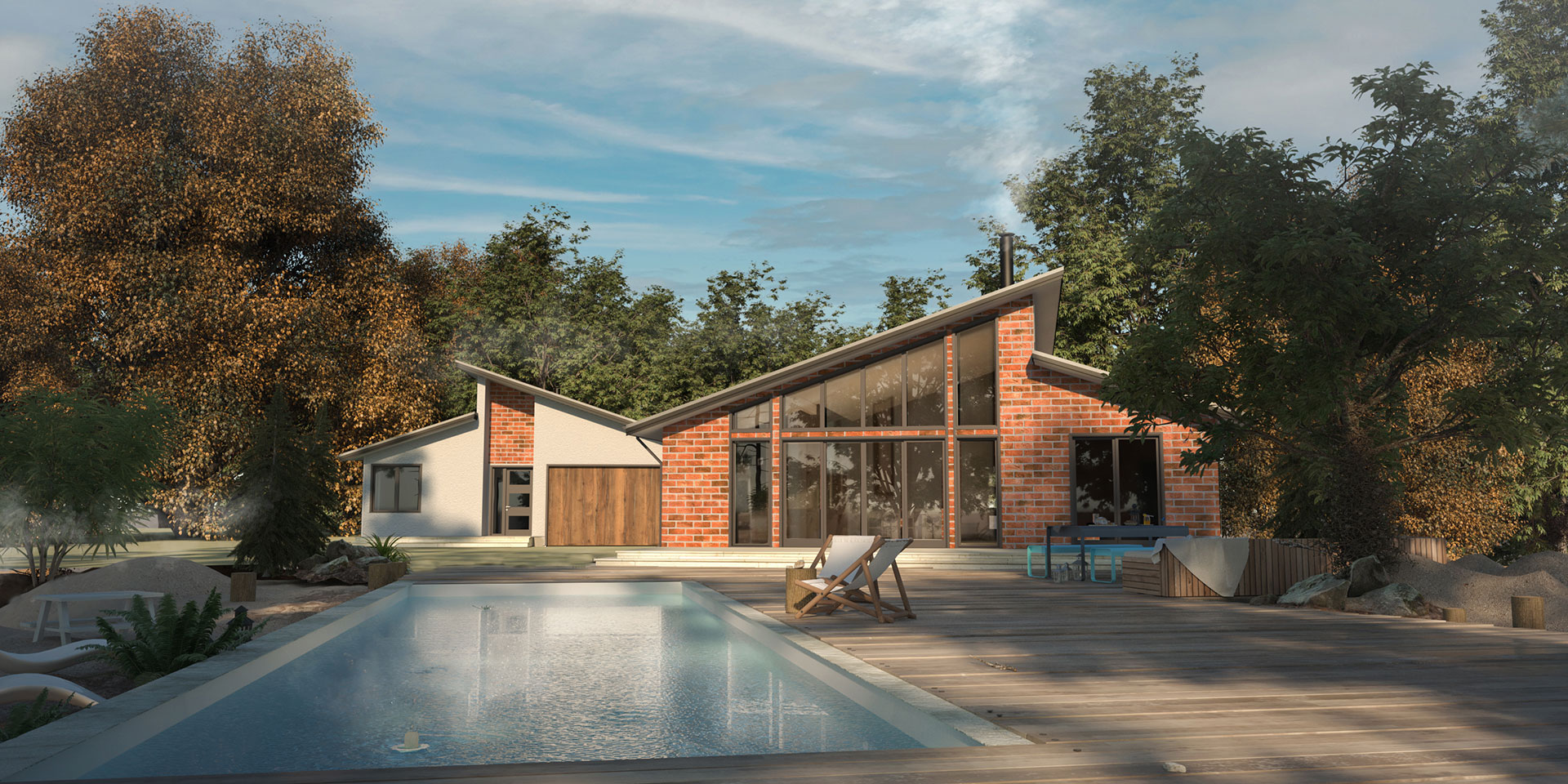 The seasons that primarily look similar in the visualizations are the ng and summer.
So, there is no point in discussing them separately. That is why we have compiled both seasons in one category only.
Being one of the foremost season setups in a neutral environment that never distracts the clients from adorning the building.
This Render with a perfect kind of setting matches perfectly and delivers a relaxing appeal to the space.
2. Rendering with autumn fall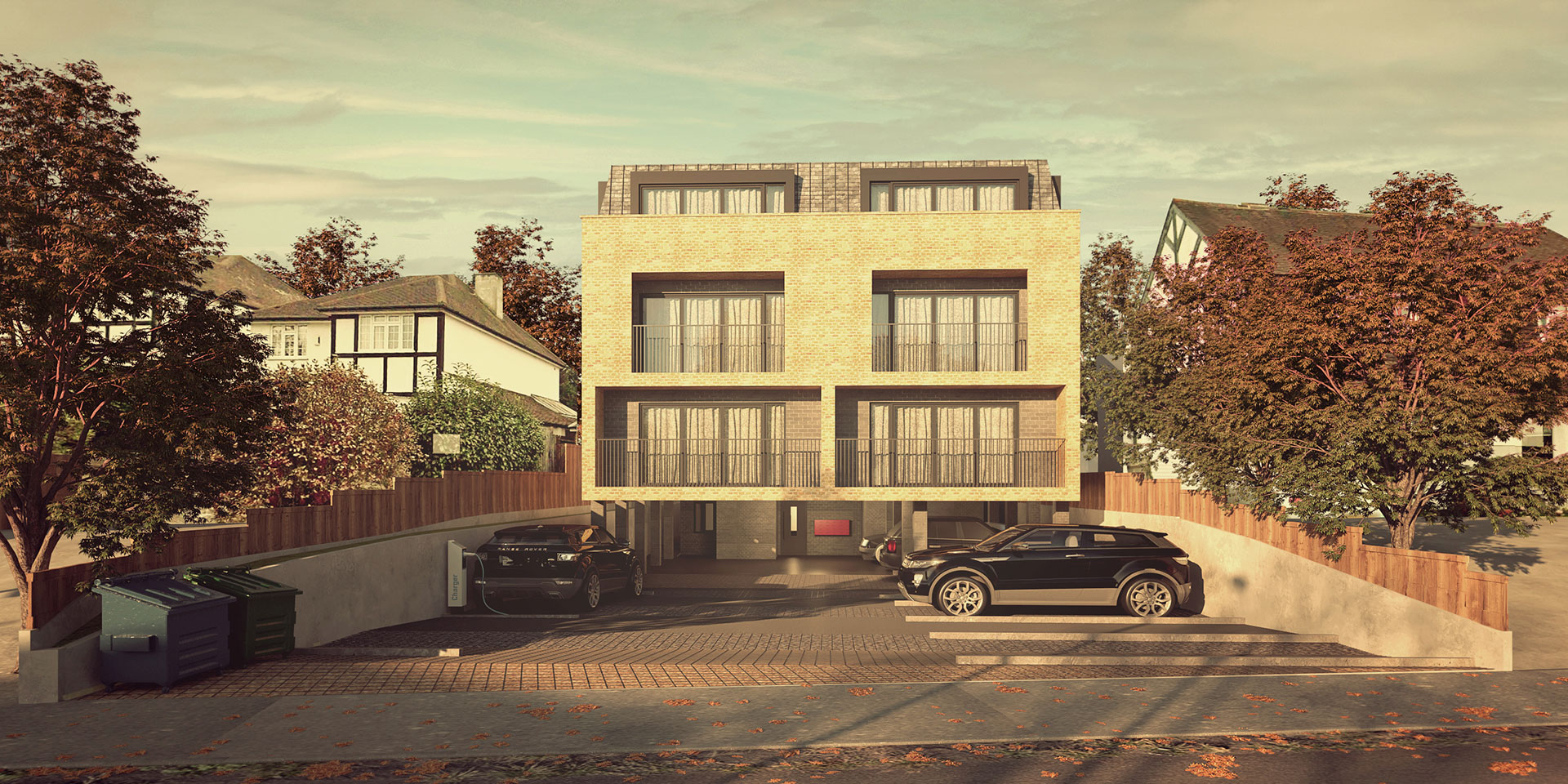 While living in the space covered mainly with the autumn falls, this Render of the autumn fall gives a beautiful visual with a serene atmosphere and vibrant colors.
It feels adorable coming outside your home and viewing the autumn fall when you can imagine it with a realistic setup without actually laying a brick.
In places where nature plays a significant role in shaping the entire mood, imagining your home space with an accurate environmental setup perfectly delivers excellence.
The actual elements with all the warm colors in this rendered image beautifully complement the whole space.
3. Rendering with a winter setting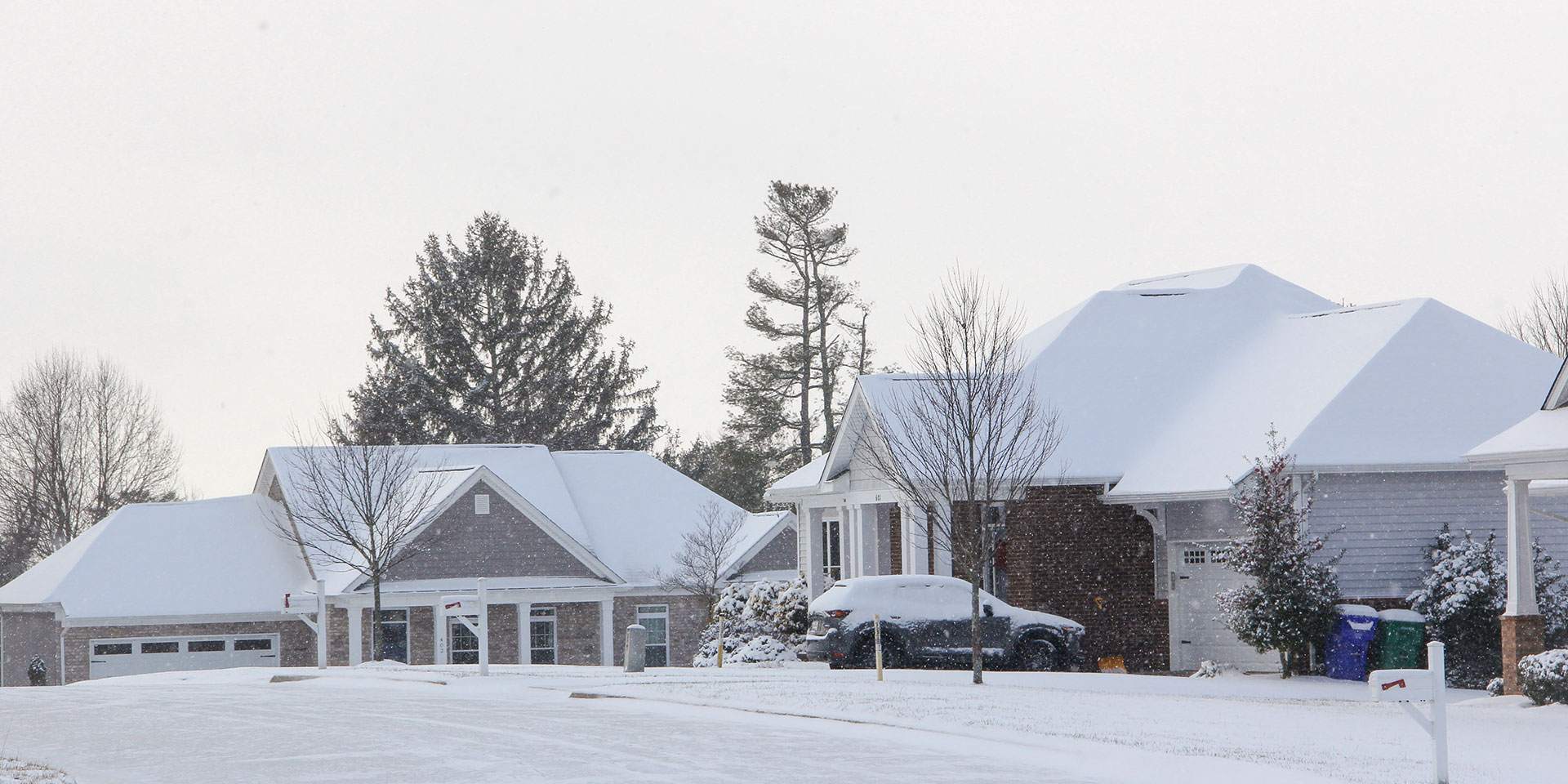 Imagining the space with a winter setting is a perfect way to go. A pretty winter setting in this rendered image gives the entire building a warm and inviting feel.
Rendering in the winder setup adds a festive and cozy feel to the whole render setup delivering excellence.
Bottom Line!
3D Renderings and architectural visualizations have always been a helping hand in the entire architecture field.
From a brooding thunderstorm, a bright sunny day, and a cold chilly winter season, Renderspoint takes care of it all.
Capture the sunny, stormy, or everything in between with Renders Point!
Connect now @ 020 8146 5629 or visit support@renderspoint.com to know more!
Get a satisfying and well-managed workflow bringing a unique vision to life.