Right 3D external rendering for the project not only turns it awe-inspiring, boost kerb appeal, makes it long-lasting but also multiplies its value." 
Exteriors not only make your clients delve in awe but also add significant value to the property! 
All thanks to 3D rendering services that help clear and vivid visualization of the project before construction and enable the project to get completed on time and within budget.  
It's the 3D exterior rendering that enable you to perfectly portray your designs in any season, weather or desired surroundings which makes it a clear call for your clients to convert.  
Have a look how 3D rendering is increasingly becoming an integral part to exterior architectural design. 
What is 3D Rendering?
3D rendering is the advanced CGI technique for creating two-dimensional images from professionally designed 3D models. 
 It is similar to photography and implies detailed textures of each aspect, such as lightning, positioning and size of an object. 
Mathematical representation of three-dimensional objects in a two-dimensional image that looks just like a 3D object is known as '3D Rendering'. 
3D exterior rendering involves working over external and elevation designs that come with different designing options for materials, colors, finishes and textures. 
Depending on the client's budget and requirements, the exterior architectural design can be obtained. 
But, why is 3D visualization important for exterior architecture? The next section answers your queries.  
Top 10 Reasons Why 3d Rendering Is Important For Exterior Architecture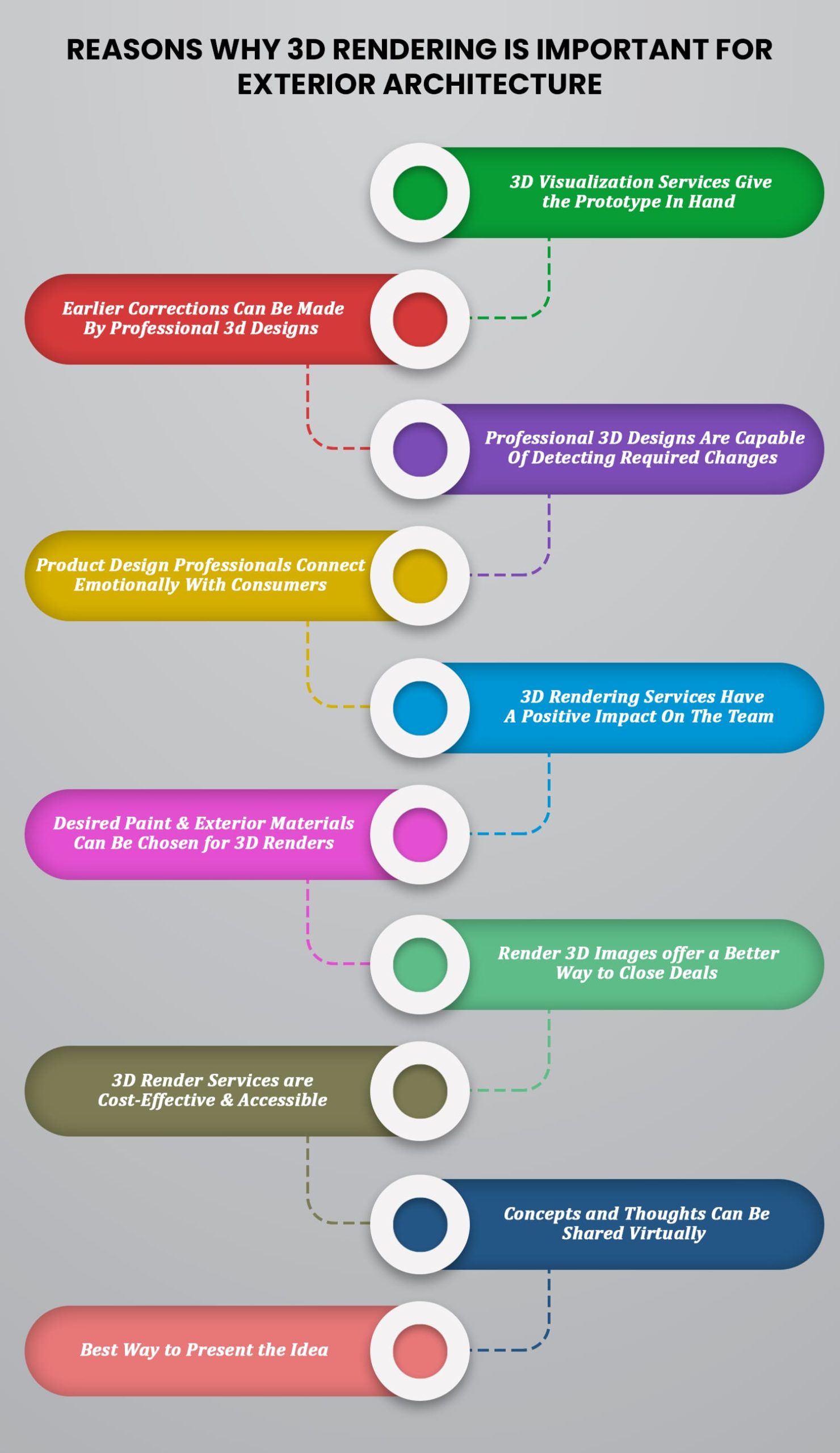 Today, almost everything can be made and customized depending on demand. 
 The objective of 3D visualization tends is to provide a prototype of a project so that the clients can have more satisfaction regarding the model. 
Additionally, the required modifications can be performed easily with 3D visualizations. Rendering is a cost-effective and efficient way to review performance before construction. 
1. 3D Visualization Services Give the Prototype In Hand
By using 3d rendering at exterior designs, the project comes out with more accuracy, functionality, and reliability in the design. The external architectural rendering provides a complete idea of the finished project even before the construction work. 
It expands the growth of the company as the customer gets a pretty idea from the prototype and becomes willing to grab the design.

 

Prototype makes it possible for the client to observe and look at the exterior from every angle.

 

Product design professional also provides a walk of the building for more satisfaction of the client.

 
2. Earlier Corrections Can Be Made By Professional 3d Designs
It may happen that a client is not able to express or clearly brief about their idea of exactly what they want. 
This happens due to a lack of understanding, communication and unable to express the desires. 
The instability to decide what it wants exactly can create a disorder and an unpleasant experience. To resolve this, 3D visualizations are holding hands. 
3D rendering services eliminate the regrettable part of a client by showing the exact output. 
Before the construction works, the customer can request changes at any time, so it is important to keep him up to date with the rendering drawings.

 

The colours, positioning, dimensions and shapes can be customized by designing various structures and one to one interaction with graphic software leaves a comfortable impact on the client to speak more about his demands.

 
3. Professional 3D Designs Are Capable Of Detecting Required Changes
The Architecture that does not use 3D rendering services has to face problems regarding natural environmental conditions. 
Sunlight, rain, air, atmospheric pressure, snow, and many other more sudden conditions have a greater effect on building a design. 
The 3d rendering allows the cause and effect to be projected onto each corner of the building. Without rendering, the whole construction can go in vain.

 
All atmospheric changes are applied to a specific design and the software implements them to identify possible outcomes.

 

3D rendering prevents such problems by detecting before construction and replacing the structural design with appropriate calculations.

 
This practice makes a difference and saves resources too. 
4. Product Design Professionals Connect Emotionally With Consumers
Anyone can communicate with you through the mind and mouth, but not everyone connects emotionally and heart to heart with a customer or designer.  
Similarly, a client briefly states the results they want, but the detailed conversation is rarely seen between the idea communicated and the designs retrieved.  
A professional 3D architectural visualization has the power to build significant connection with the viewer.  
The amazing and breathtaking 3D views allow the client to speak more about his desires and dreams. Why?  
The images are so realistic that they leave a familiar, authentic effect on anyone who sees them.

 

A home is a matter of emotion, and 3D rendering services allow people to feel the vibrations of construction even while looking at a single picture.

 
5. 3D Rendering Services Have A Positive Impact On The Team
For a construction company, 3D rendering gives advantages to all team members for better project management.  
A single designer cannot go far in the realm of design and construction; if he or she holds the hand of a team, they collectively can do wonders. 
If you're unable to make your teammates visualize the project, the work may suffer due to a lack of understanding of the concept. 
Acknowledging the design better by each member proves a better overall result. 
The 3d rendering opens the way to allow everyone to get a detailed and realistic view of the project and can participate in decision making. 

 

The concern of each team member can be taken by directly displaying the 

3d design

. Teammates can report errors and ask for changes that you have no idea about.

 

Increases the efficiency and longevity of the project.

 

All engineers, designers and software vendors can exchange ideas on the exterior design of a building.

 
6. Desired Paint & Exterior Materials Can Be Chosen for 3D Renders
Since everything about the project is open to everyone.  
A client can make ideal choices regarding exterior paint and materials for use on walls and objects.  
Traditional design methods lack this type of interaction and result in mistakes and unexpected results. 
3D exterior rendering services being offered at smart and advanced levels with advanced technologies have made it possible to get a demo of the accessories, items and other designs that you want to create on the exterior. 
The 3d render image can be shown to all the stakeholders for a better opinion or feedback.

 

The green belt such as trees, shrubs, hedges etc and even lights can be well depicted and planned with the help of renders.

 

Materials such as wood, glass, granite, plywood, and any kind of finish can be experienced with 3d pictures. 

 

It soothes and refreshes the mind automatically, whenever anyone watches their 

3d rendering

 visualization.

 
7. Render 3D Images offer a Better Way to Close Deals 
The market is flooded with similar profiles of 3D visualization companies but the ideal ones are those who offer engaging, realistic, professional and above all practical renders that woo your clients.  
These 3D rendering architecture images not only help you stand competitive but also emerge into a well-established BRAND! 
Let's check how?  
The 3d rendering limits the designer and software engineers to put arrows into the darkness by helping them identify the flaws beforehand. Hence, shields the customer and the market.

 

Security and surety about the 

exterior design

 come out in front and helps in a much clearer idea about architecture.

 

Right presentation by dealer helps in delivering the idea to write customers. Accurate discussions make the potential plans and better closing of deals.

 
8. 3D Render Services are Cost-Effective & Accessible 
The latest and cutting-edge rendering software today come with rich features and spell-binding functionality.  
The rich features add life to even the most normal looking exterior drawings which immediately impresses the clients and even help the construction team to work with appropriate precision, without flaws. 
Changes can be made quickly with the help o software based on the feedback. This significantly lowers the construction cost as it mitigates any rework.  
Rapid changes can be made by professionals anytime by changing the demand.

 

It saves an abundance of money that could have spent on redesigning external architecture.

 

All of these major key points make 3d rendering an inexpensive, fast, and convenient way to develop a better architecture.

 
9. Concepts and Thoughts Can Be Shared Virtually 
Global is the call! 
The portfolio, the designs and the work can easily be shared online and communicated globally.  
The files are sent directly to the client through email or uploading on virtual drives or cloud. This means the process is instant. In a blink of an eye! 
This means speedy work and no waiting time. 
Therefore, by delivering beautiful and impressive exteriors speedily and with zero waiting time, the construction work can be kick-started early (of course, after the approval of the renders) and gets completed on time. 
10. Best Way to Present the Idea 
3D Architecture Rendering provides many benefits that cannot be matched by traditional mechanisms of constructions.  
Indeed, it's a perfect approach to present the idea in front of the investors, workers, and customers. 
3D rendering helps visualizing the images of structures that are hard to imagine and make you get a sneek peak into the future. 
3D rendering allows people to look into the future. People are happy and satisfied with the services provided by 3D visualization trends. 
How does 3D Rendering Work?
3D rendering services are based on CGI and mathematical formulations made by product design professionals. The physics of light, shadows, material properties, space and motion play a vital role in the design of exteriors a practical space. 
STAGE 1 
The first step in 3D rendering is to visualize or design the final object with sketches, software, or reference images. Any mode can be taken according to the requirements and comfort of the professionals. 
STAGE 2 
In the second phase, the 3D render artist uses software to design, numerical 3D structures. Here, the graphics software brings the visualization of the client to the real world. 
STAGE 3 
To make the 3D model more analogous, a correct setup is made for ambient editing and smooth images. 
STAGE 4 
The decisive step generates 2D images from the above steps, followed by key changes before completing the project. 
Bottom Line
3D rendering is undoubtedly a visionary concept for developing and constructing accurate and professional buildings designs that support your dreams of delivering the best and the unique.  
High-end software in graphic design is an engine for change. 
They boost the productivity of architectural and design industries by winning the heart and trust of customers.  
 3D rendering holds a very promising future and will keep on offering fascinating exterior visualization designs to complete your dream designs.