"Keep reading to know the ultimate guidelines that help you find your perfect 3D rendering architect near me."
We understand. Project profitability and lead generation are two of the prime concerns for every construction or re-development project.
Also, slowing down or stopping the project due to any technical glitch or unforeseen error is more like a nightmare that no one wants to have ever!
All thanks to 3D rendering & modeling architect who leverage the disrupting 3D design and visualization technology to make designs more predictable, engaging, and impactful.
If right 3D professional can help impress even discerning clients by offering a comprehensive visualization, a wrong one can change the entire game risking your name, fame and money.
But, how to find a professional 3D rendering specialist who infuses life in these 3D renders and meet your requirements?
Keep reading to find answers to your search for finding trusted and best rendering specialists near me.
Qualities to look for 3D Rendering Artist near me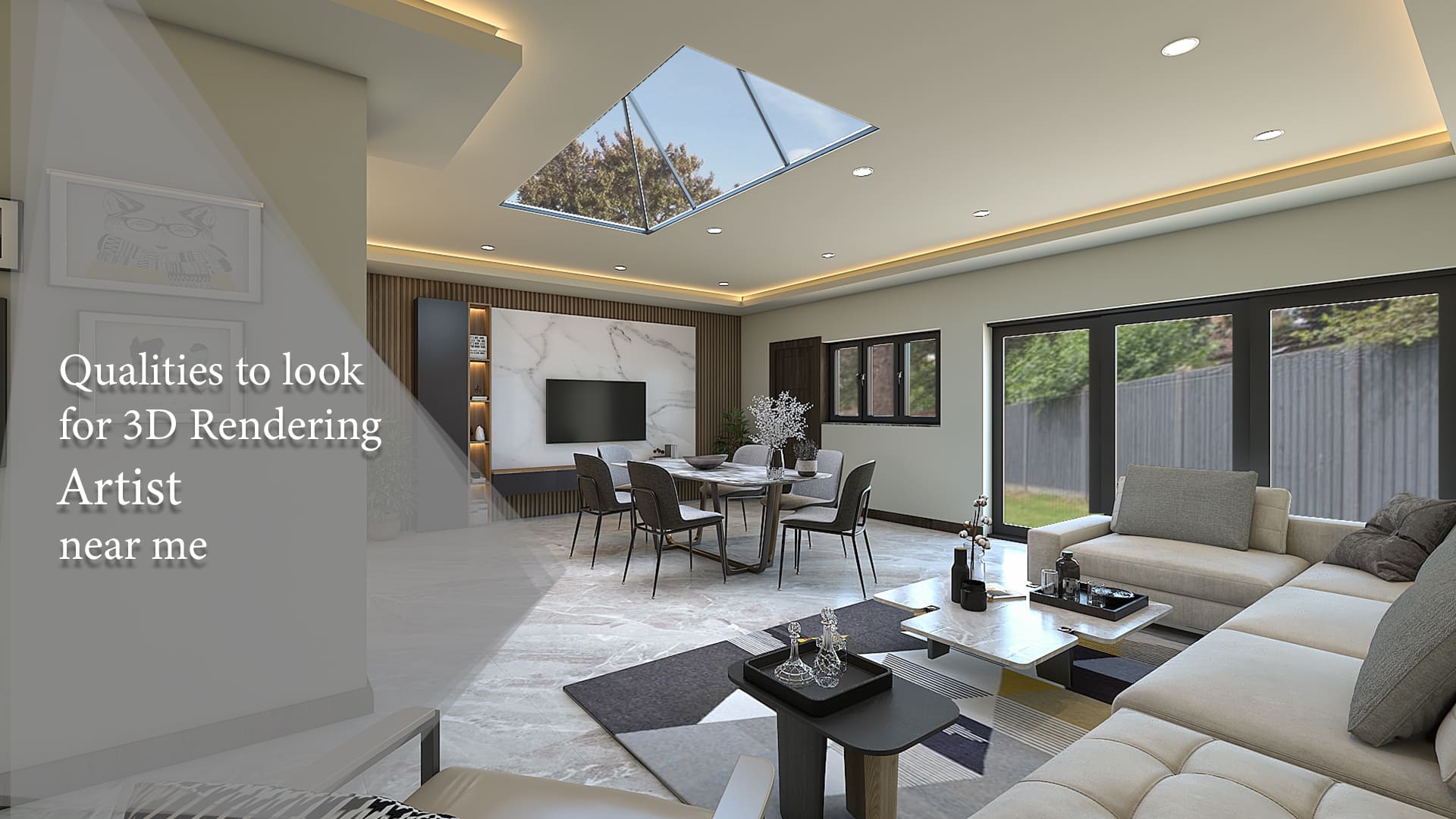 Before partnering with a 3D rendering professional, it's essential to understand their skills, their workflow, and what you can expect from them.
Look at the pre-requisite qualities you must look for while looking for a 3D rendering artist near me on digital platforms.
1. Skill & Knowledge Level (Experience)
Experience speaks. (Period)
It's evident, and a well-known fact that working with an experienced 3D artist ensures speedy work and a professional approach that makes you rest assured that your 3D renders will be free from all errors and flaws.
2. Meeting Deadlines
Completing work as per deadlines is one of the significant and critical aspects that you need to look for.
A good and professional 3D rendering expert near you will deliver within the projected and promised time by following all milestones and keeping you in the loop.
3. Comply with your Jurisdiction
Google-ing with 'rendering services near me' as the keyword is the right way to be sure that your 3D visualization expert will comply with the rules, regulations, and protocols in your area.
This is because 'near me' will always give you results within your local area, which ensures that 3D renderer listed would be well acquainted with your local legal requirements.
4. No Fake/Unreal Designs
An ideal 3D expert will offer a design encompassing real elements and not unreal objects/elements that look appealing but are practically impossible or go out of budget.
Stay away from those who claim to offer designs with a budget and give options that are impossible to achieve in the real world.
5. Team player
A 3D partner/ visualizer may need to coordinate with various teams such as engineers, artisans, masons, clients, etc.
So, it's imperative that while searching for the best 3D home rendering architect for your project, you must check that the 3D artist must be equally good working in a team or independently.
6. Updated with the latest trends
A fair knowledge of the latest trends, styles, technologies, and industries would enable you to build a solid and long-term relationship with the 3D rendering architect.
This ensures that the 3D renders are innovative, and the design offers an out-of-the-box solution.
7. Interpretation skills
Besides their professional skills in handling software, a 3D rendering professional must possess exceptional analytical and interpretation skills.
Reason?
Adept interpretation of vision
should not miss any details or requirements, and
customize the design as needed in the project.
8. Responsible & dedicated
Responsibility towards the project and equal commitment towards the client's work are necessary qualities for any 3D rendering visualizer.
Lacking these will lead to unnecessary delays, budget overflowing, and poor-quality 3D renders.
Guidelines to find 3D Rendering Expert near you- A Complete Checklist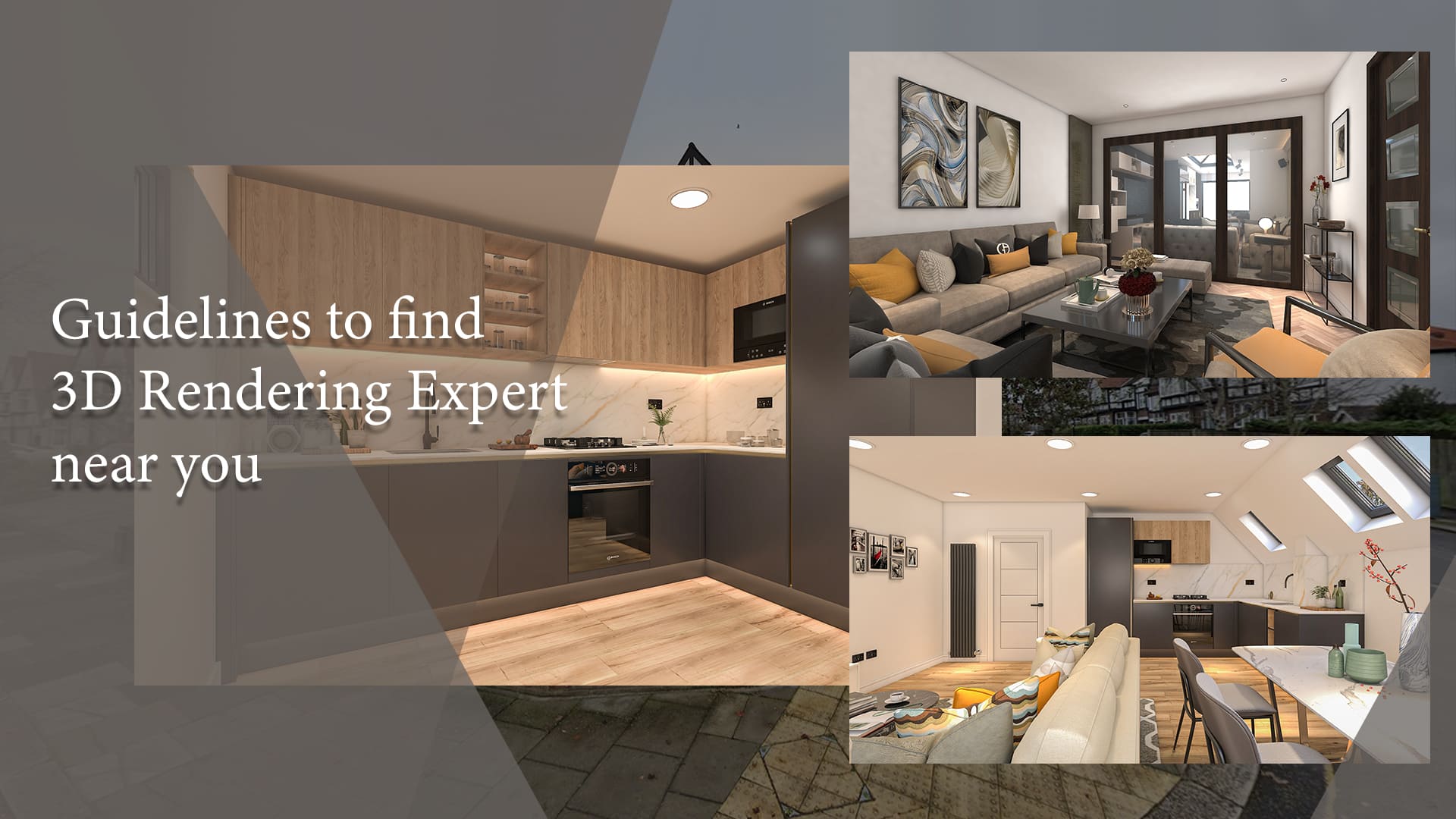 Before exploring online platforms for the best architectural 3D rendering services specialist or company near me, you must have a better idea of the project itself, such as the concept, rough sketches, budget estimations, and skillset you are looking for.
This knowledge, along with the below-mentioned checklist, will help you find the best 3D rendering architect for your exclusive needs.
1. Qualities
Your 3D visualization partner must possess all the qualities mentioned above.
These qualities prove beneficial if you are struck between two or more choices and need assistance to finalize your 3D architect.
2. Company or Freelancers
Working with a 3D architectural visualization studio assures uninterrupted & high-quality work, timely completion, and professional 3D renders.
There may be issues with Freelancers as they may fall ill, have trust issues, or may leave/hold your project for unavoidable reasons.
Well, there is no such case when you partner with a 3D rendering company.
3. Revision Policy
Inevitably, the first draft always has a scope of improvement and may require minor edits and a few revisions.
Skilled 3D rendering specialists will offer revisions without extra cost until the client is satisfied or the mistake is theirs.
If any 3D artist offers unlimited revisions, it may sound lucrative at first, but it puts a question mark on his credibility/knowledge, and skills.
4. Price/Budget
Ideally, everyone is looking for high-quality 3D modeling and rendering at minimum prices. But, it's a fact high-quality does not come at low prices.
Also, other factors that help control the overall budget include delivery time, fewer revisions, customizable designs, and excellent communication.
It's always advisable to discuss your requirements with your 3D rendering partner and get a quote for your work as it helps you to decide better.
5. Digital Reputation
In today's digital world, having a strong presence over the internet adds credibility and makes a profile authentic.
Whatever you plan to partner with:- a freelancer or a company, check their website, social media handles and reviews/testimonials.
This gives you a fair idea about their designs, approach, workflow, and creativity.
6. Portfolio & clients
Websites are the best way to check the portfolio of works. You can also take references for the clients and approach them for better clarity of service.
Just ask as many questions as you can. Make sure to clear every single doubt before proceeding with the final agreement.
3D Rendering Architects at Renderspoint are Ready to Help
Where most 3D rendering companies are busy setting up their 3D assets, Renderspoint is already leading the league with many renowned names sparkling in their client list worldwide.
The in-house team at Renderspoint offers diverse 3D architectural visualization services using highly advanced software/hardware that ensures complete quality and budget control, regardless of whether the project is simple or complex.
Partnering with Renderspoint for 3D visualization, 3D modeling, and 3D rendering needs for your business helps leg up your profits, revenue, reputation, and leads.
Choosing Renderspoint ensures:
Faster Time to Market
Get quality-driven work delivered in promised timelines, thereby reducing your time to market, and helping you stand unrivalled in this highly competitive market.
Maximize Value for Your Solution
Being one of the most trusted and loved 3D rendering company UK, their work ethics, professional approach, and 3D experts help add maximum value to your solution by meeting the right expectations.
Continuous Expert Support
The diligent and seasoned team at Renderspoint offers continuous support to ensure your business does not suffer any interruption or slow down.
Completely In-house
The team is 100% in-house and completely flexible as per your needs. The highly skilled and professional 3D rendering experts can easily handle all your bulk needs.
Better Control Over Cost
Renderspoint is your ultimate pick for the best external rendering companies near me that offers better budget control. How?
The team delivers high-quality 3D renders at a minimum turnaround time designed completely per your business needs, requirements, and vision. Thereby controlling your overhead costs.
Customized Solution
Renderspoint believes that there is no one-size-fits-all approach in the construction industry.
Therefore, 3D visualization architects at Renderspoint understand your needs and tailor the solution according to your personalized preferences using real-life objects/elements in designing.
Non-Disclosure Agreements (NDA)
To protect the clients' integrity and information and, maintain confidentiality, 3D rendering architects are Renderspoint sign the NDA without any obligation.
Bottom Line
So, just make a checklist and list these guidelines while searching for the best 3D rendering architect near me on Google.
Renderspoint – the leading 3D architecture visualisation company UK checks all the boxes of this checklist.
Whether you are in any corner of the globe, rendering specialists at Renderspoint are just a call away.
Reach us at +020 8146 5629 or drop a line at support@renderspoint.com for queries, business partnership, and a FREE Quote.