While building the house, you certainly wish to do the best that you can.
After all, it's your abode and your safe rescue from all the chaos of the world.
Our House bears everything, from a change in weather, heavy rains, hails, dust to high temperatures and what not! However, there are several measures and ways that can protect the House.
With the right type of house rendering, you can ensure that your home will not only look beautiful and well maintained but also augment the property value.
If you want to renovate your House and augment its aesthetic and make your home exteriors more water-resistant, then house rendering can be the all-in-one solution for you!
Let us get acquainted with the different types of house renderings and everything you need to know about it.
What is house rendering?
House rendering refers to a process of covering an external wall with acrylic, cement, lime, or some other sort of mixture.
There is no doubt that the home naturally degrades over time.
It can be due to the regular wear and tear and even due to the weather conditions.
But thanks to the house rendering services, you can simultaneously protect the home and raise its property value.
House renderings can add an appropriate finish to the walls and greatly enhance the House's overall look.
Choosing to render the home can completely transform the overall aesthetics, hide imperfections, and lend a sleek and modern façade.
Is House rendering a good idea?
Are you also wondering whether it is a good idea to opt for house rendering or not; well, if yes, then check out these points and figure it out yourself?
It protects the exposed brick.
It extends the lifespan of the wall.
It stops moisture and dampness from seeping into and damaging the walls.
It adds a layer of insulation.
It keeps the house warm and dry even in rainy or cold weather conditions.
It prevents expensive repairs and maintenance.
It protects the construction material from erosion.
It provides an appealing appearance to the House.
Types of House Renders
1. Cement Render
Cement render is generally mixed on-site prior to being applied in 2 or 3 coats.
This type of render tends to be cheap in terms of materials and a little expensive in case of labour due to the requirement of various coats.
Modern cement renders are disreputably stiff and prone to develop some smaller cracks over time and allow the rains to penetrate.
These small cracks also lead to the opening of the doors, frost blowing hollow voids under the surface while loosening the bond.
However, they also require regular repainting to continue to look good.
Advantages of choosing cement renders
It is effective and economical.
It effectively hides the poor brickwork.
It can be repaired easily and quickly.
It promises extra support when it comes to durability.
It offers easy and on-site applications.
It can be painted in any colour as desired.
Disadvantages of choosing cement renders
The finish of this type of render is quite basic.
It requires maintenance.
It is not as weather-resistant as several others.
If not done carefully, you may end up with cracks.
It might require regular painting.
2. Polymer Render
Polymers Render are usually sold pre-mixed in bags with either lime or white cement as a base.
Polymers and several other plastic-based products are added to them to make the House render less prone to cracking.
Polymer renders are available in a variety of colours and are frequently coloured, which does away with the requirement for painting.
Advantages of choosing Polymer Renders
It is highly waterproof
It doesn't require any additional waterproofing processes.
It is an effective option for wet areas
It prevents walls from rotting
It is weather-resistant
It provides good protection against heavy rains and extreme weather conditions.
It sticks perfectly to the walls.
It suits all types of wooden or brick walls.
Disadvantages of choosing Polymer Renders
A crack in the rendering can be expensive and dangerous.
It is a new technology that is not often preferred.
It comes in pre-coloured forms.
Imperfections can cost a lot.
Even a single repair can cost a significant amount of money.
3. Acrylic Render
Acrylic render is often applied as a thin finished coat to seal and augment the aesthetic and appearance of the House.
These types of renders bring lovely texture and colour to the home.
Also, the fibres are added to prevent damage and provide a long-lasting and durable finish.
Advantages of choosing Acrylic Renders
Acrylic renders are flexible and crack resistant.
These are water-resistant.
It is affordable and reasonably priced.
It comes in a wide range of finishes, colours, and textures.
Disadvantages of choosing Acrylic Renders
These are not so environmentally friendly
It doesn't allow the property to breathe.
4. Silicone Rende
Silicone renders are often used since it promises longer life and also has the capacity to be self-cleaned.
However, several claims that the silicone render permits the rainwater to wash away any dirt when it rains.
Advantages of choosing silicone render
Its hydrophobic feature makes it distinct from others
These are very flexible and adaptable.
Its unique properties include hydrophobicity, breathability, and vapour permeability.
It is long-lasting, water repellent, and low maintenance.
Silicone has colour mixed into it that means just one coat and the job is complete.
The coloured silicone renders means that no requirement for painting
It gives a smooth and natural-looking finish.
No painting requirement means a drastic reduction in the maintenance cost.
It provides a premium finish
Disadvantages of choosing Silicone Renders
It takes slightly longer to apply.
It is not environmentally friendly.
It can be quite expensive.
5. Monocouche Render
Monocouche renders are relatively newcomers to the house rendering world.
These have the flexibility and texture of traditional lime renders while facilitating to eliminate cracking collectively with a low-maintained and hard-wearing finish that is visually appealing and weather resistant.
These are supplied in bags that can be ready for mixing with water. It can also be applied by spraying on or by hand trowel.
These are pre-coloured and use white cement, and can be easily applied in one coat.
So these types of renders are quicker and require less labour intensive s compared to the traditional house rendering products. The primary disincentive of using this type of render is the cost.
Advantages of choosing Monocouche Renders
These are convenient as it is easy to get the entire job done.
It is long-lasting as it can last for at least ten years.
It requires low maintenance and is water-resistant.
It provides a crisp, clean finish.
These have a high thermal efficiency that also acts as insulation.
These come in a variety of finishes and colours that make them flexible.
These renders act as strong contenders against extreme weather conditions.
Disadvantages of Monocouche Render
It is not crack resistant.
6. Lime Render
Lime Render is the traditional method for house rendering. It is really the best option for the old House, where a breathable finish is necessary for the House to work as it was originally intended.
Though the lime renders tend to be a little harder to apply as compared to the regular ones.
It is an excellent option for those who are looking for a rendering system.
Lime renders are a little expensive as compared to the standard cement renders. But the best part is that it usually doesn't take any longer to apply.
Lime rendering products come in several formats, including
Traditional lime putties
Monocouche lime renders
Bagged hydraulic lime that rather behaves like weak cement.
Advantages of choosing Lime Render
It is more flexible than cement.
It's a breathable option to prevent moisture issues from getting trapped within the wall.
It looks appealing and adds aesthetics
It enhances the exterior of period homes in particular.
It requires low maintenance
It is eco friendly
It is best suited for the older buildings
The render dries out quickly due to lime's high water retention properties.
Disadvantages of choosing Lime Render
It takes a longer time to apply
It is quite expensive
It requires quality aggregates
To apply this, a skilled application is required.
A few questionnaires are to be kept in mind and get answered before starting with rendering!
What colours do the renders come in?
House rendering can be supplied or painted in any colour you wish for. But don't forget to aim for a tone that fits well with the materials chosen in the rest of the home.
Although the colored renders are a little expensive but require low maintenance and no subsequent repainting.
How much does the house rendering cost?
The cost of house rendering varies depending on the area of the House. This completely depends on the size and several other factors of the space.
Can I render the House by myself?
Well no! It is not recommended.
House rendering is not everyone's cup of tea. For this, you must seek help from rendering professionals.
To get the best outcomes and smooth finishing, choose a reliable render service provider.
They have the experience and expertise to handle it all proficiently with appropriate precision and on-time deliveries.
How often should you render the House?
A rendered house generally lasts for 20 to 30 years on average.
So, you must choose the services very precisely as they will be there for the next 25 years. Look for a peaceful and expert partner to get what exactly you desire.
Does House render stop damping?
House rendering is a quick fix for penetrating the damping, particularly when caused due to the water trapped into the cracks between the brickwork and render.
However, it should be utilized alongside measures to fix the damp causes.
This may be the roofing problems or fascia boards and broken guttering, for instance.
Can rendering be done when it is raining?
Well, no, while rendering, If the materials are exposed to the rains or extreme weather conditions, then you might get an output with lots of problems.
This may include colour inconsistencies, textural issues, lime bloom, etc.
So, you gotta keep an eye on the weather and make sure rendering is done in favourable weather conditions.
Inspirational House rendering ideas for you!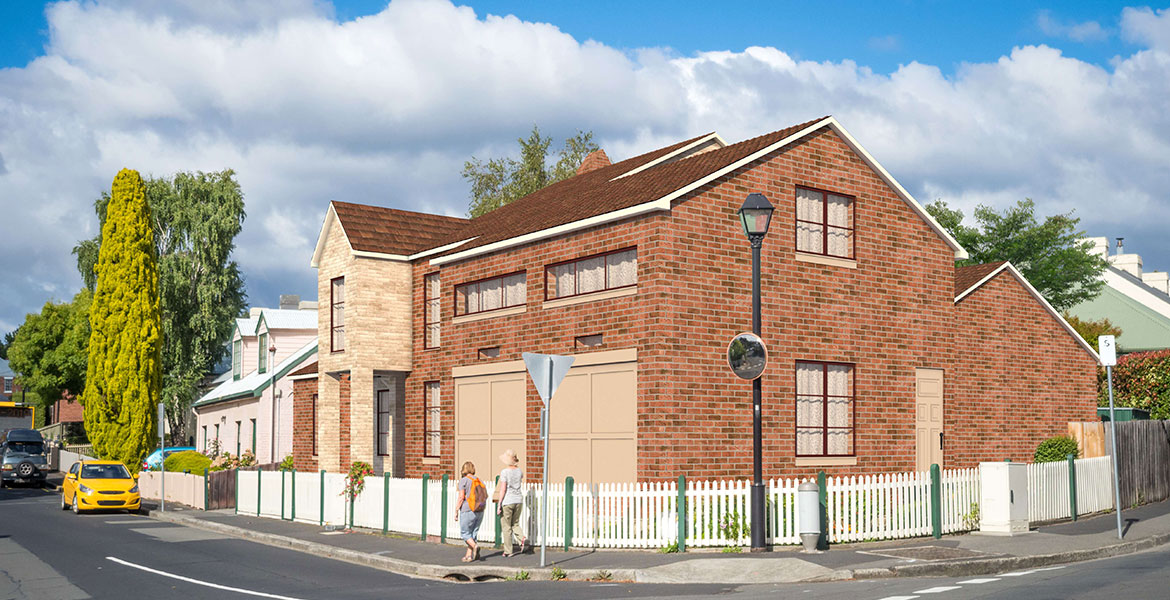 Exterior House rendering view
Look at this house rendering image that is designed with bricks having cement protection on it.
The House's exterior view is indeed exposed mainly to the higher temperatures and extreme weather conditions.
But due to, the cement renders that will protect the exteriors from getting faded away and keep it as a new one while prolonging its life.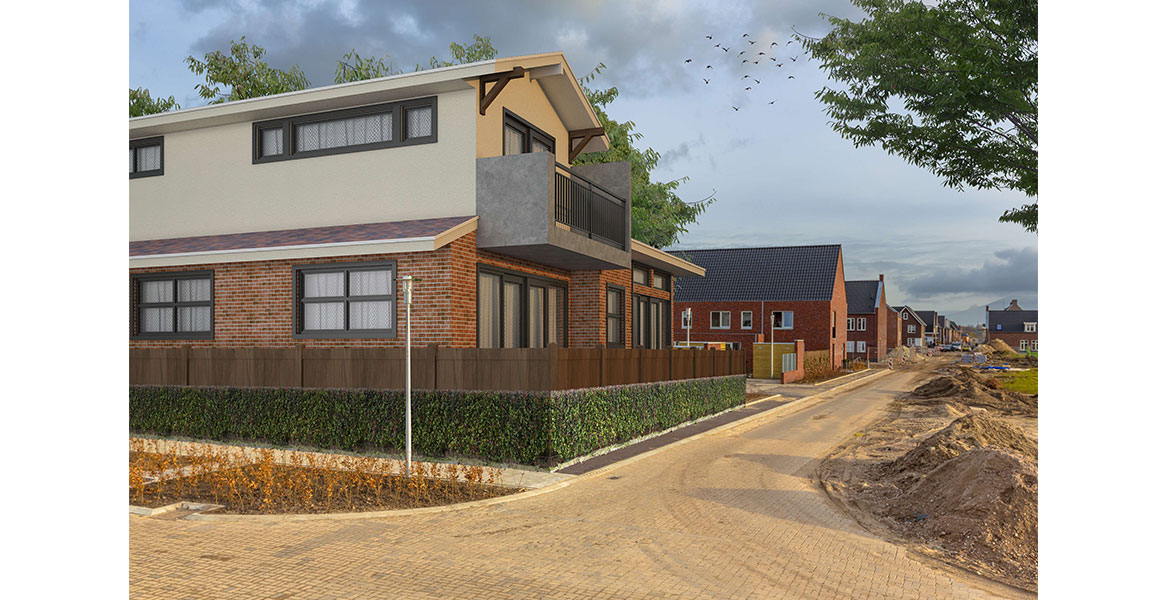 Modern street buildings render
Check this beautiful modern street building render, protected with acrylic and cement renders.
With the direct sun rays and the direct exposure to the hail storms and rains, the House will be new for the upcoming years.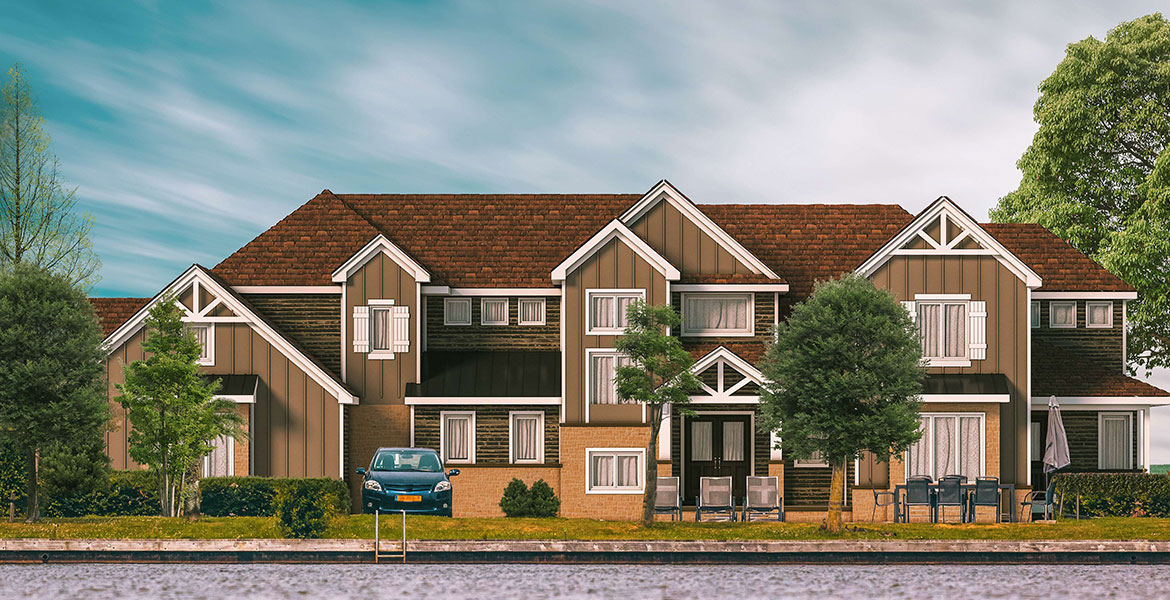 A pretty house exteriors render 
Here comes another pretty house render that never lacks in leaving the long-lasting impact and even keeps it protected for years. What do you say about this?
With all the essentials in mind, our team has rendered this house exterior with a blend of acrylic and cement renders that will keep the property protected and shining for long.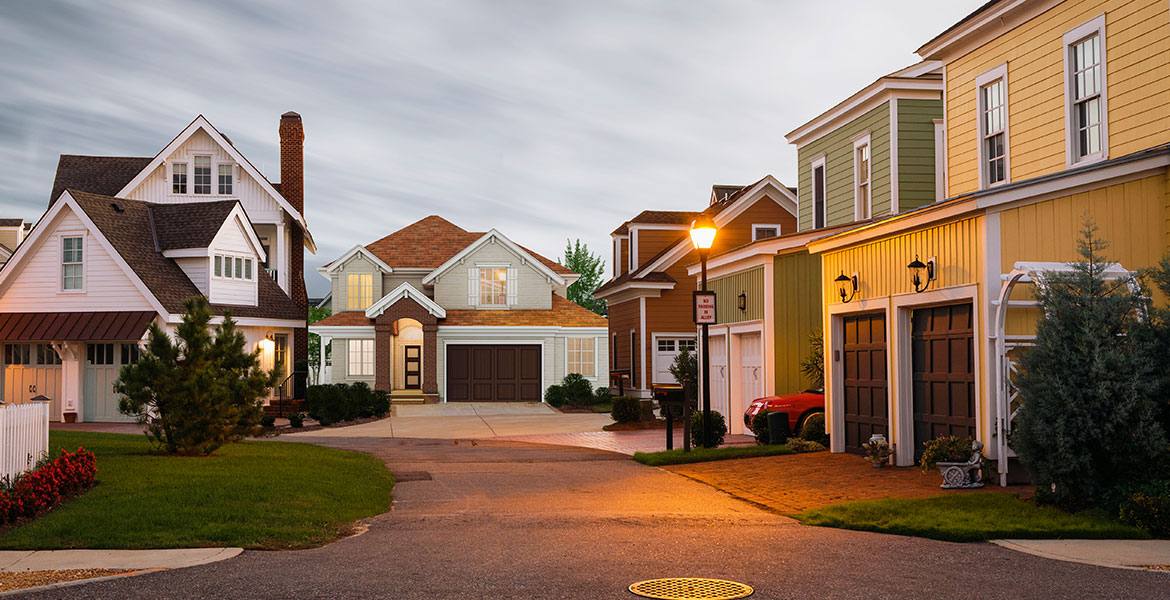 House exteriors with polymer rendering 
This house exterior is rendered with polymer render that keeps the property safe from cracking and protects the walls during extreme weather conditions.
Isn't it pretty?
Indeed it is! With the client's requirements, our team has developed the render so that even after ten years, the exteriors of the property will glow with the same shine as it is now!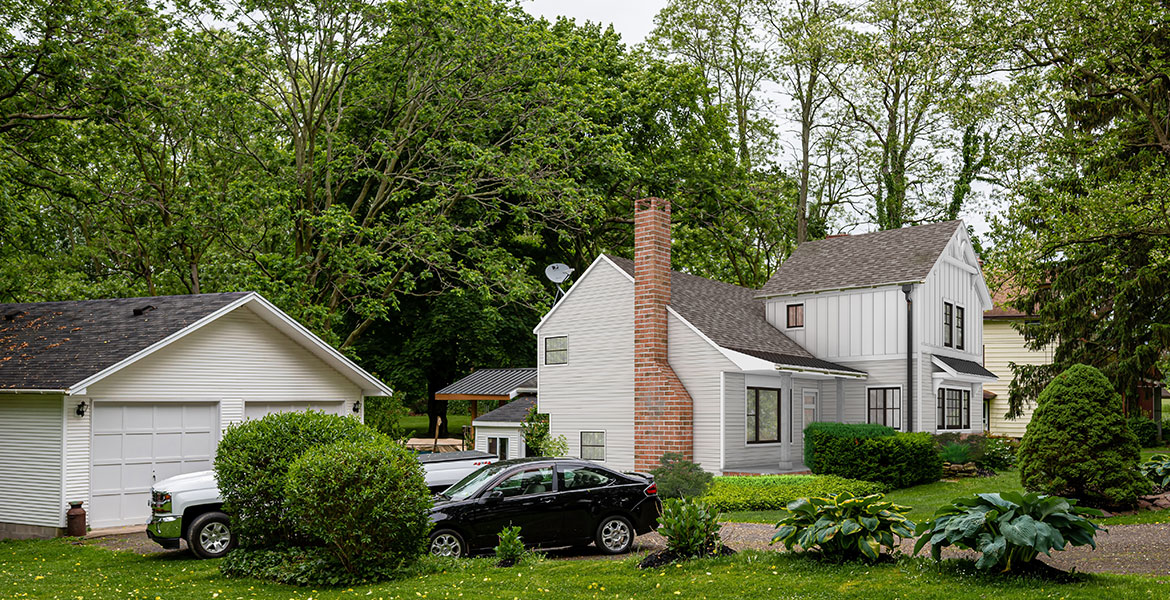 Modern house rendering 
Look at this rendering of the House. It has completely changed the entire outlook of the House and made it stand out from the rest.
The best part is that the additional structural support that the property has got with the rendering.
So, keeping the House protected and with the same outlook for years is not difficult anymore.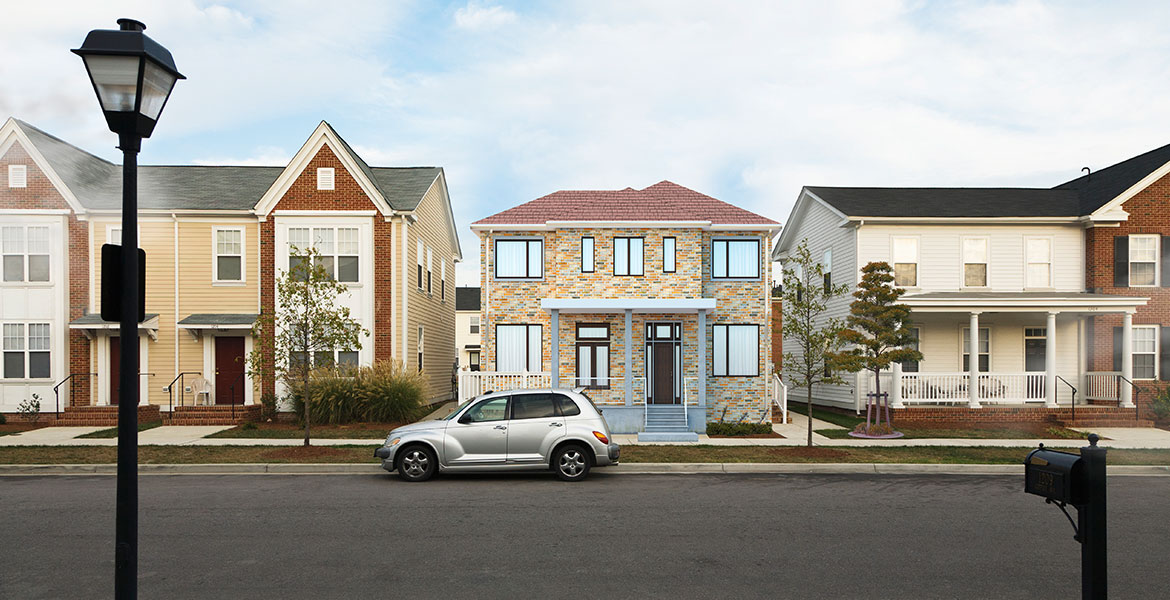 Make a bold statement with a house render. 
A mix of materials, including the renders, coloured outlook, and glass perfection, creates a striking exterior façade.
The exterior protection with the house render gives it an unmatchable appearance that makes this home design stand out from the rest.
Even with the extreme weather conditions, the outlook will remain the same due to the advanced protection.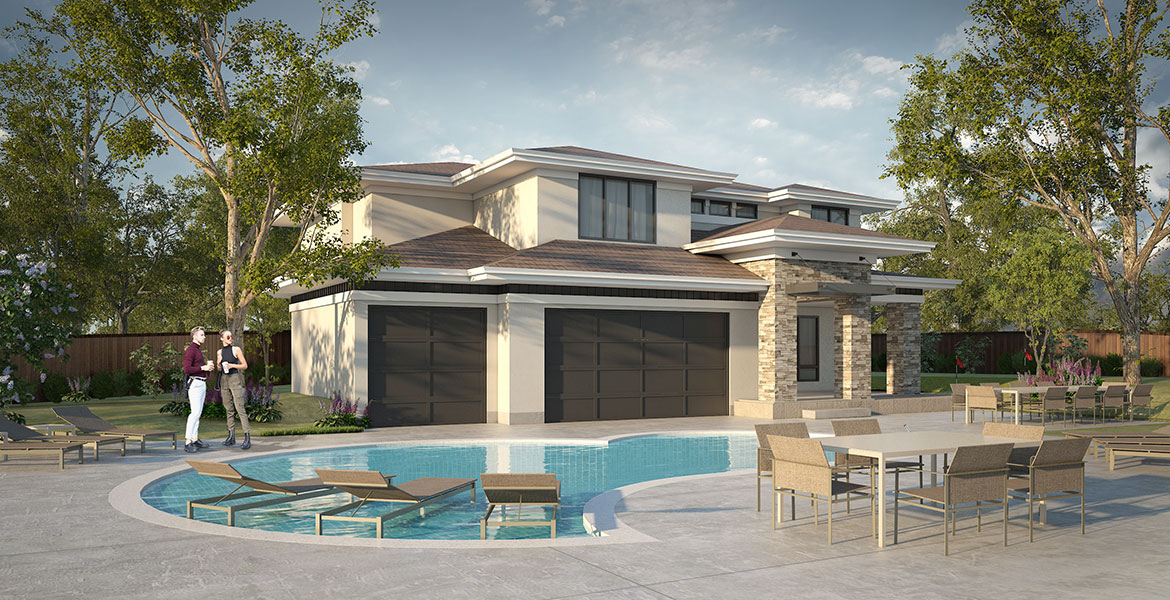 An off white render for that softer finish 
With the blend of several materials, including the slate effect cast concrete tiles and House render, this House creates a striking exterior façade while standing out well with an eye-catching appeal.
A combination of brilliant off-white render with concrete tiles can be dazzling.
This soft and warmer choice in off-white is indeed a better choice that keeps the House new for the next twenty years.
Bottom line!
House rendering is an excellent way to make a long-lasting impression on neighbours, visitors, and potential buyers.
Renderspoint is a one-stop solution to help you leave that long-lasting impression.
Being a foremost service provider in the UK, Renderspoint has successfully delivered and served ample clients with satisfactory results and still counting!
Devoid of burning a hole in the pocket, Renderspoint ensures to deliver the best services in the town!
Got a project to discuss? Connect with us right away. Call us 020 8610 9655 or email us at support@renderspoint.com.