"Make your professional goals attainable with 3d render services." 
Rendering is the ultimate future that will take the designing industry to the next level.  
No second thoughts on the crucial role architecture 3d rendering play in businesses and services today.   
It is so highly defined, realistic, and engaging that we might not spot a difference if it is just visualization or actual.  
Bye-bye forever to pen mark and cardboard and welcome 3D visual algorithms and computational power of computer-generated images.   
3d architecture rendering is a real-time innovation implementation widespread in the modern era.  
What does 3D Render Meaning? 
The 3D architecture turns information from a 2D model to create a photorealistic image.  
Construction engineers shows the bigger picture of a building with a 3d model having precise textures, finishes, and lightning.  
3d render services are not limited to the construction industry; it has been proven successful for film productions, video games, advertising, and designing companies. 
While it used to be something only brands with deep pockets could afford, in recent times, organizations of any size can extend their hands on computer software and create 3D renders without blowing their budget. 
Importance of an Architect 3d Design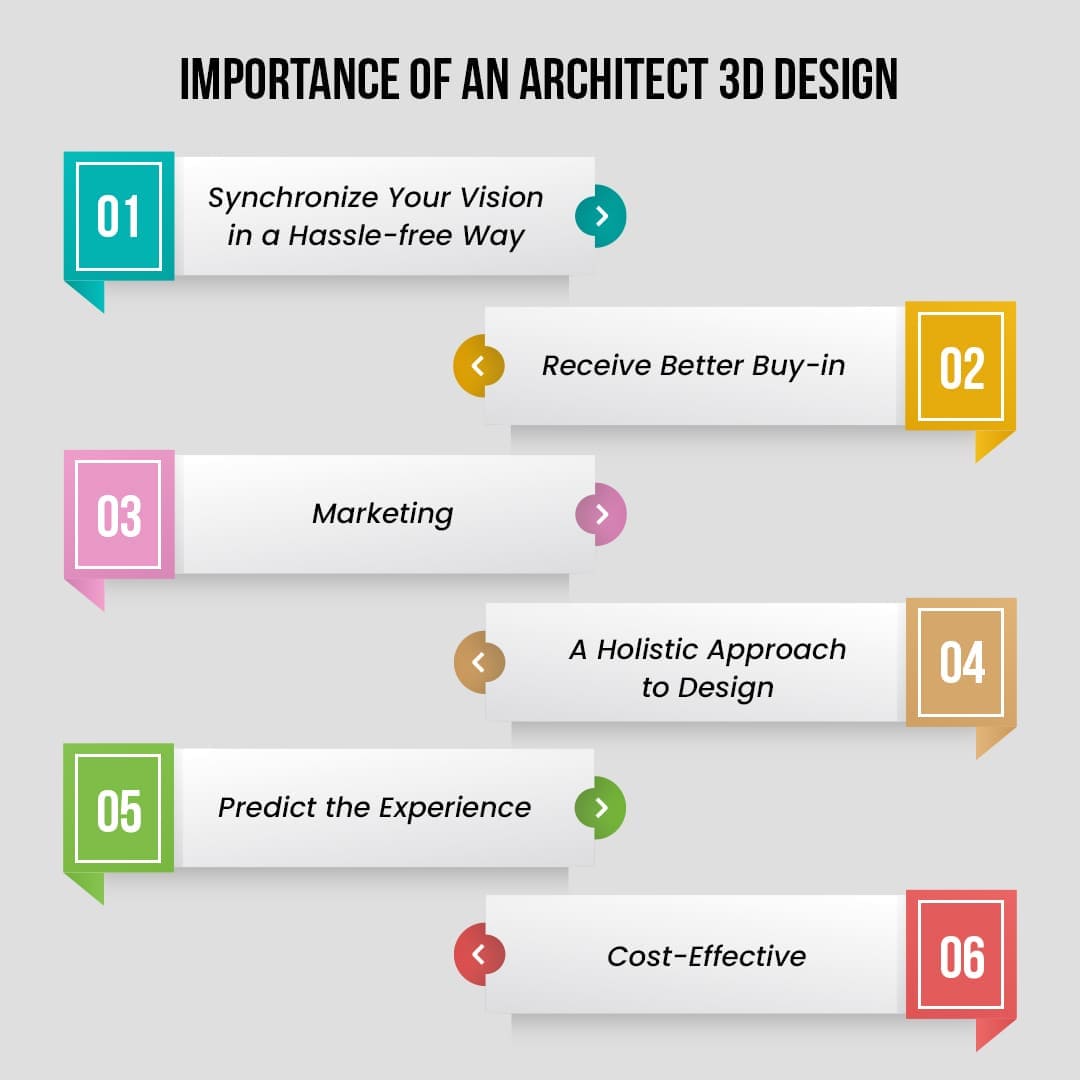 Photorealistic renderings are the bridge between you and your clients as it dictates the language of your customer when they have difficulty getting the designing concepts.  
Renders have been an integral part of architectural design for the past couple of years.  
Its ripple effect has been seen in the rise of the economic value of the construction industry and saving thousands of pounds by averting costly mistakes. 
Your clients can experience their projects, choose materials and colours based on the rendered images, and with a minor tweak, you can match the designs to fit their needs and expectations. 
But more than that, visual portraits are critical to your practice as an architect, and here are some reasons: 
Synchronize Your Vision in a Hassle-free Way 
As an experienced architect, you know that you need to draw up two separate designs.  
The hand-drawn sketches you present to clients show what you are thinking and the precise drawing you share with the engineers. 
The 3d render process delivers your ideas to both the client and the engineer and makes your life easier. 
No one has to imagine what the building looks like, and everyone will be on the same page, keeping the project on track – meaning excellent delivery for the client. 
Receive Better Buy-in 
Clients buy into your Design faster since everything is communicated in pictures. 
Clients can provide better feedback and refer to specific parts of the project that are unclear. 
Render 3d images bridge the communication gap between your technical terms as an architect with their everyday use of words.  
With feedback integrated quickly, the approval process becomes swift. 
Marketing 
What will you pay attention to between a project you can visualize and a drawing? 
Different 3d render type has made it possible to pre-sell a development before the work begins. It's fantastic news for generating investments and applying for planning permission. 
Moreover, it makes the clients and investors enjoy a realistic project presentation, aiding realtors in pre-selling units based on photorealistic images. 
It is also easier to communicate on social media, boosting sales significantly. 
A Holistic Approach to Design 
3D architect has reduced the errors and flaws of designs that usually show up during the project. 
You can see the projects holistically and remove the defects not noticeable in a flat 2D drawing while showing clients the reasons for the decision. 
Predict the Experience 
House 3d render gives architects the power to control the entire design phase, showing issues that may pop up during the night or if a neighbor's building will disrupt the light entry into the proposed build. 
It also offers road access, vegetation, and future experience, addressing client concerns. 
Cost-Effective 
3D renders save tons of money for companies from costly fixes that occur once a building project starts, as architects can see flaws. 
Instead of drawing up the new plan on paper, which will take weeks for an architect to accomplish, reviewing and upgrading only takes a few hours. 
Benefits of 3D Architecture design for an Architect  
Render 3d images works like a magnet in the real estate business and show a client the bigger picture.  
It is affordable, engaging, and brings higher success rates with complete satisfaction as it highlights a building in detail.  
Customers can look at the project from different perspectives.  
Read out the main advantages of the best 3d home architect.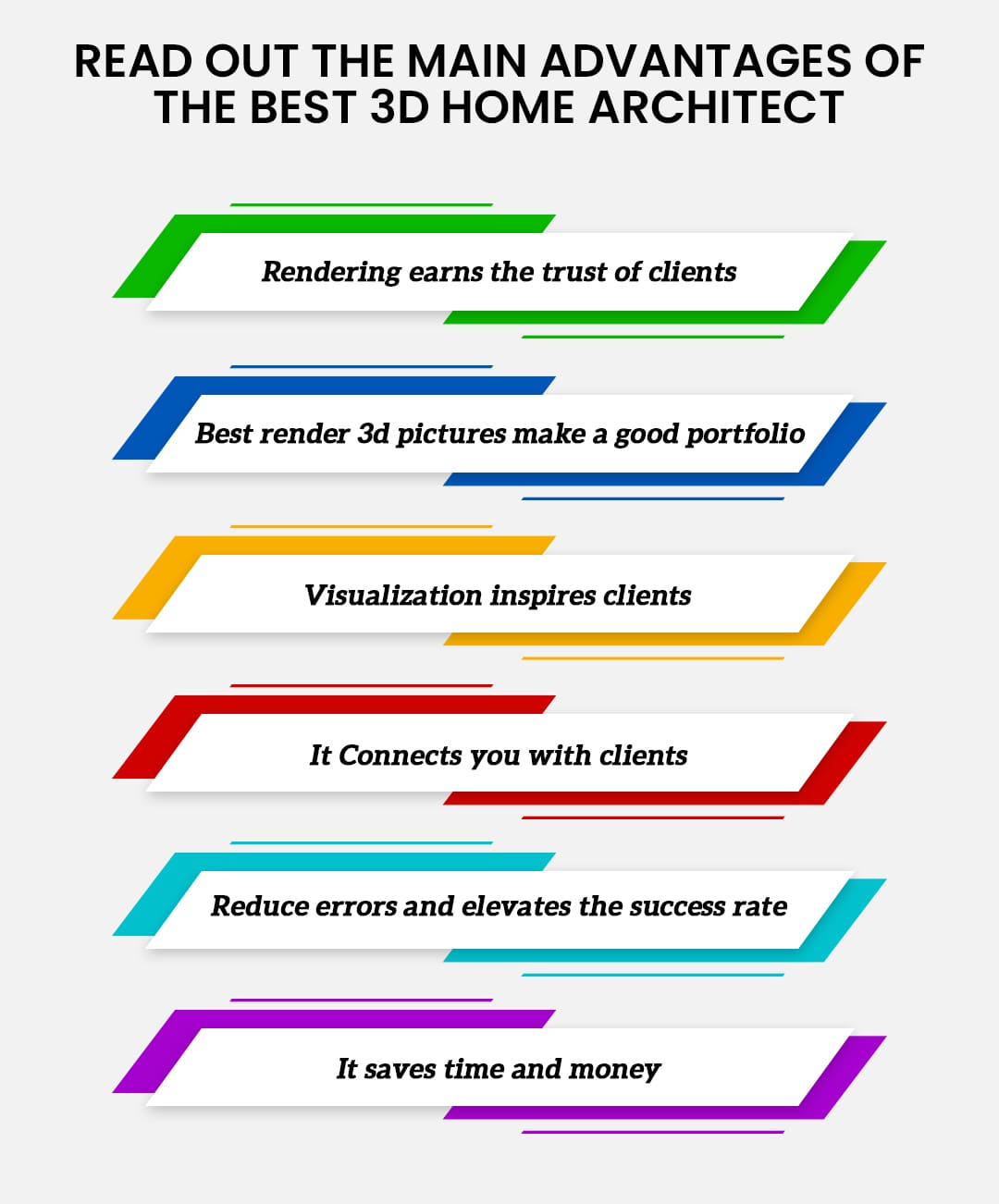 Rendering earns the trust of clients.  
Architecture 3d rendering makes the architecture of the crew reliable and trustworthy as the complete structure is presented before him nicely.  
Besides, the rendering software works real-quick if someone wants minor transitions, depletions, or additions to existing designs and can quickly revert to any prior structures.  
Best render 3d pictures make a good portfolio.  
3d render gallery act as your work blueprint, proof of every successful project and an achieved milestone. It helps the customer to make a valuable decision.  
Photorealistic pictures show your dedicated work, experience, knowledge, and highly creative side that benefits you in grabbing highly paid jobs and work opportunities.  
Visualization inspires clients.  
The superior house 3d renders high-quality images, and smooth movement between spaces hitches people.  
Clients remain inspired once the visual outcome has been put forward. It shows your excellence and the will to construct a dream home that emotionally connects a designer to people.   
It Connects you with clients.  
The thin line between a good and lousy contractor relationship is work quality. If an architect fails to match desirable expectations, his entire career can go in vain.  
3d render interior design makes the inspection easy. Consumers can share their ideas and communicate effectively, resulting in meaningful relations.  
Reduce errors and elevates the success rate. 
A 3d render artist precisely spectates interior and exterior layouts, reducing failure risks, errors, and disappointments.  
Additionally, it upscales your growth and power up your portfolio when developers recognize your work and ping you for pre-selling designs.  
It saves time and money. 
Since the building review work is done at the initial stage, going back and forth for layout, material, and color selection is only a waste of time.  
Also, structural changes during work may cost thousands of extra pounds to the industry. It finalizes the job and spots the issues at an earlier stage.  
Conclusion 
In a nutshell, the architecture 3d model unlocks a designer's true potential and allows him to create more ambitious ideas and visualizations.  
Renderspoint delivers exceptional and exclusive projects – we are the best 3d render company in the UK and are willing to go above & beyond for cost-effective and practical developments.  
Applying 3D rendering to your project is easier for you and your client to share the same vision. Request a 3D Render quote for your project today.