Whether it's a kitchen renovation or construction of a 50-floor tower, 3D modeling helps to get the picture perfect. Keep reading this guide to know everything about 3D modeling in architecture.
3D architectural visualization and 3D modeling are two of the buzzing topics in the architecture and designing industry.
Whether it's renovation of a small kitchen or construction of a multi-floor building, 3D modeling helps to gauge the accuracy and precision even before the construction.
This technology really creates a dramatic impact on any project execution in a much broader and positive sense.
What is 3D modeling?
3D rendering and 3D modeling services provide a medium to transport the ideas/vision from the brain to a real-life canvas!
3D modeling is a digital presentation of any surface or any real-life object using specialized software in three dimensions. Mostly, the model is created in a simulated 3D space by manipulating edges, vertices of several polygons.
Later on, these shapes are modified into highly complex designs to result in a 3D model of the object.
What is need of 3D modeling?
3D modeling helps in creating an interactive design that is realistic and closely resembles the real world object in all aspects.
It's a great technological innovation and tool that helps to communicate the designs ideas in a better way.
Read More:- Everything You Need To Know About 3D Rendering
Understanding the structural feasibility of the design can be better understood and predicted with the help of 3D visualization tools.
It's a great way for the designers, architects and other companies to market the product in an effective way.
The clients are able to grasp the design in a better way and modify it as per their needs if required. It's both cost and time effective.
Why is 3D modeling gaining popularity?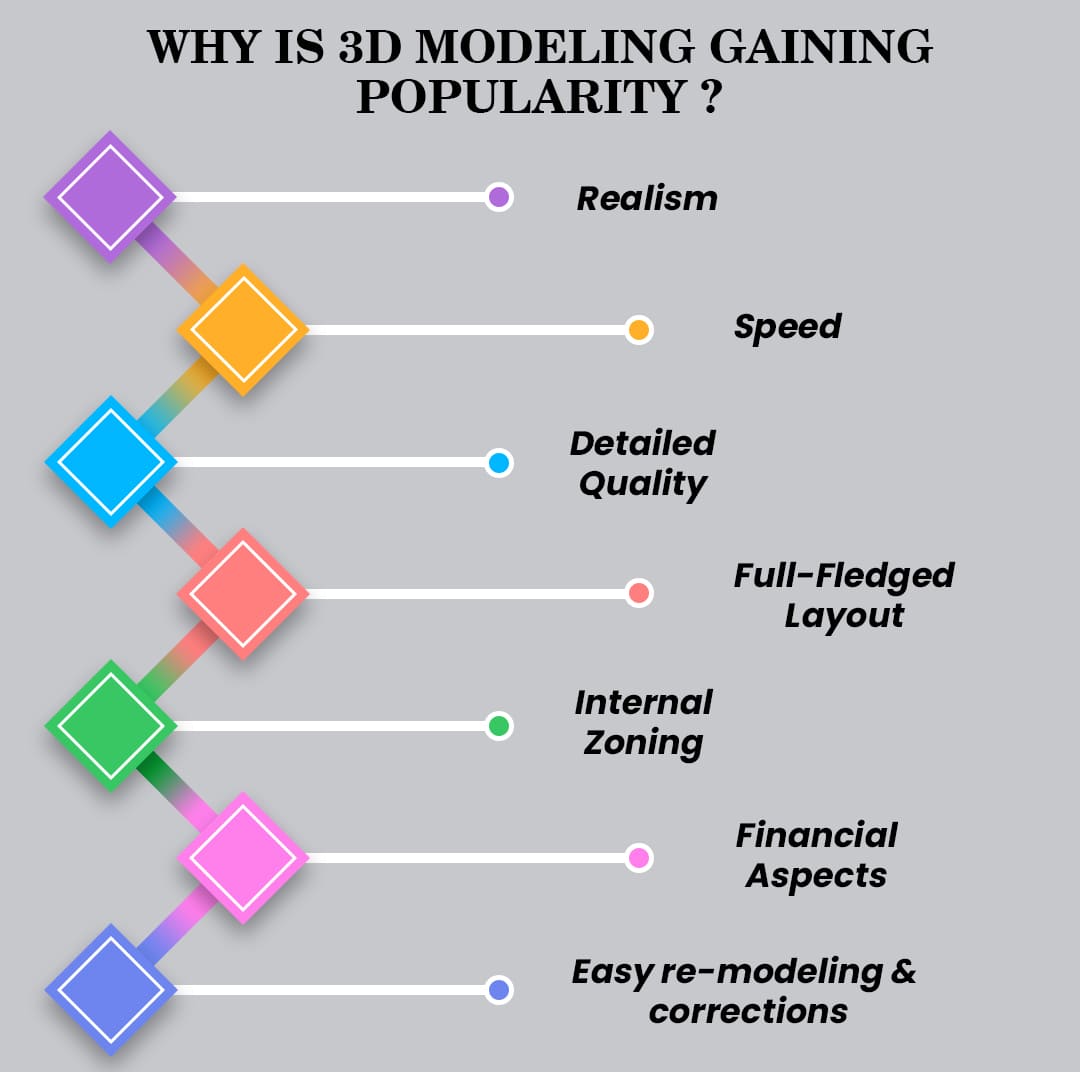 This technology is gaining popularity leaps and bounds across all domains especially construction and architecture.
Let's have a look at the reasons what makes 3D modeling helps you stand abreast in this highly competitive domain.
1. Realism
Though the main drawings for any architectural project are initially drawn to 2D scale, going for a 3D layout ensures their accuracy, precision and compliance to construction standards.
3D modeling aids in development of a digital and functional prototype. This makes sure that the designing phase is speedier, more efficient and financially less draining.
Most of the companies use the traditional CAD software for 3D modeling and rendering. It's always better to consult with a professional company for 100% accuracy and realism.
2. Speed
Even to get the basic calculation, measurements and visualizations, 2D drawings is still used in the industry.
But, to survive in the industry it's important to deliver the accuracy rather than rough estimates.
Using 3D modeling techniques to build a prototype not only expedites the entire process but removes even the slightest chances of mistakes.
Read More:-Top 10+Questions about 3D Rendering
3. Detailed Quality
The modern architectural visualization when done by skilled professionals and advanced software allows achieving maximum compliance to the requirements and needs of the customer.
Apart from customer, the designer or architect is able to give a real touch and justification to his imagination, vision and ideas in a detailed way.
4. Full-Fledged Layout
The modern 3D renders and models can not only be in digital forms but can be transferred into a tangible form as well.
This helps the customers to get a better understanding of the project and visualize your idea. A 3D printer can be used to take out the layouts.
5. Internal zoning
3D Modeling opens up the possibilities of internal zoning as it helps to understand and analyze the efficiency of the space especially when it comes to commercial construction.
You can easily fill the internal space with floors or galleries and could even test the layout from customer/employees perspective by filling it with décor items and goods.
6. Financial aspects
Going for 3D visualization is always profitable in all aspects whether it's time, efficiency, resources or money.
As all the details can easily be visualized in the 3D model, the rework and other revisions can be done pretty easily.
This will ensure timely completion of the project as all necessary loopholes have already been rectified in the designing phase itself.
Thus, saving a lot of money as it would increase the cost if rework is done post construction begins.
Read More:- Why it is important to use 3D Virtual Interior Design?
7. Easy re-modeling & corrections
A 3D model helps in understanding the overall impact on the design when any changes (even minor) are made to the original design.
The pitfalls and loopholes in the elements are detected early that are the major reasons behind delays.
The 3D models made by professionals using high-end software are highly accurate and precise. This will help reducing the cost incurring post-construction.
As the end result is completely as per the 3D visuals, the final construction gets completed even before time and is 100% accurate.
What are some most Popular 3D Modeling software?
Technology has brought many unique and technically advanced 3D modeling software that turns the creation of 3D structures and shapes easy from the designs.
Gone are the days when 3D modeling required expensive software and huge hardware. Not any more.
Digital advances have made the things more reachable. Most of the computers today have that graphical performance that can create even the complex of designs.
Here are some of the top rated and most popular 3D modeling software.
Autodesk 3DS Max
Formerly known as 3DS Studio Max, this is one of the most widely used software by the professionals.
This software supports NURBS, polygon construction and also patch surfaces. 3DS Max does not gives you full rendering functionality.
For that you may need to add third party modules or plugins for high-quality rendering.
Rhino
This software is popularly known as beast of curved surface design and is an undisputed pioneer in NURBS.
Rhino offers compatibility for both Mac and PC. It offers the functionality to sculpt the objects and easy adaptation to LIDAR scans. It uses raytracing mechanism to render scenes.
Blender
Blender is a free and open source tool for 3D modeling and comes with a great community support.
Unlike other software that only supports rendering and modeling, this 3D creation tool provides full fledged options from rigging, simulation, modeling, compositing, motion tracking and rendering.
Autodesk Maya
For professional results, Maya is a great option.
Maya is still one of the first choices for most of the 3D modelers when it comes to character creation and simulation of natural elements.
Photoreal rendering using Arnold Renderview system is one of the major reasons to buy this software. But, it is expensive and needs a powerful workstation.
Exceptional, Impactful and Professional 3D Modeling Services by Renderspoint
Let the technology ferry your imagination close to reality!
When it comes to presentation, the high-quality 3D architectural visualization services by Renderspoint always make your presentation stand at an edge.
Our 3D Modeling specialists are expert in reading your vision and ideas from your brain and painting them digitally in form of 3D models and renders.
Transform your business and stay unrivalled with high-resolution renders and highly-accurate 3D models by Renderspoint.
Why choose Renderspoint as your 3D modeling partner?
Easy, Quick and Realistic
With high-quality and realistic 3D architectural visualization services by Renderspoint, you can share a vivid and more clear picture to your clients.
The presentations would be more effective and impactful with professional rendering and 3D modeling services that lead to conversion.
Get professional renders designed by specialists at promised time that boost your presentation and lead generation.
Image that's powerful than thousand words
One professionally designed model, render or 3D architectural walkthrough has the power to influence 100x better than a thousand words.
The clients and the stakeholders are more influenced and impressed by what they see rather than what they hear.
Approvals, marketing and Presentations
3D rendering services by Renderspoint are more compelling as all the doubts and apprehensions can be discussed and cleared in a better visual way.
The vivid image stays with the customer for a longer time and scores better chances of conversion.  Partnering with Renderspoint also help you get the construction approvals easily and speedily.
Faster project Execution
When the designs are clear with the stakeholders especially the construction team, the entire projects gets completed in the expected time frame.
There are zero delays as all the re-work process has already been done during the designing phase.
3D Modeling services by Renderspoint undoubtedly give a boost to your business, productivity and low turn over time.
This means huge saving in terms of money, resources and time.
Intelligent Functionality
The seasoned and professional team at Renderspoint creates such 3D representations that can easily be explained and communicated to even non-technical person.
The detailed level of calculations delivered by us saves time and ensures high-end precision. Thereby, significantly reducing time and effort.
Bottom Line
When it comes to decisions and choices, 3D modeling helps you get the right irrespective of the complexity of the design.
3D modeling services by Renderspoint not only help you visualize your dream design but also aids on better planning and communication.
Reach out to us to know more about our services and streamlined processes that help your convert profitable projects and take your business to new heights.
Don't forget to visit Portfolios and explore the majestically beautiful renders by Renderspoint– UK's most trusted rendering solution partner.