The world of architecture, engineering and construction is heading towards a major shift with the growth of rendering services in specific fields.
"We are clearly on the edge of another revolution in the AEC industry" –Renderspoint.
Architect rendering is nothing new. Since its inception in 1960, architect designers and 3d artists have worked together to bring excellent and swift results.
History shows the continuous growth in how computer-generated imagery influenced decision-making, project perspective, customer experiences and workflows.
Have a quick look into the rendering history:
Many histories reassure us that the rendering became more sophisticated by introducing geometry-based architectural drawings in the 19th century.
Architects were the only ones holding power to afford expensive rendering hardware and software unless technology emerged gradually.
It then enhanced the overall content of different sectors with CGI and visuals.
A Step Towards the Upcoming Architectural Visualization Trends
CGI models collaborated with AI and VR (Virtual Reality) hold immense potential. It unleashes new possibilities to present original ideas with realistic visions.
Renderspoint is putting its point of view with the given blog on what clients will expect from photorealistic visuals and virtual reality in the upcoming years.
Let Us See the Growing Expectations of Clients from Rendering Artists and 3D Visualization Experts.
Technologies such as Artificial Intelligence, Augmented Reality and Virtual reality intensively impacted the photorealistic visualization process and CGI. In the next few years, rendering companies will undergo exciting changes.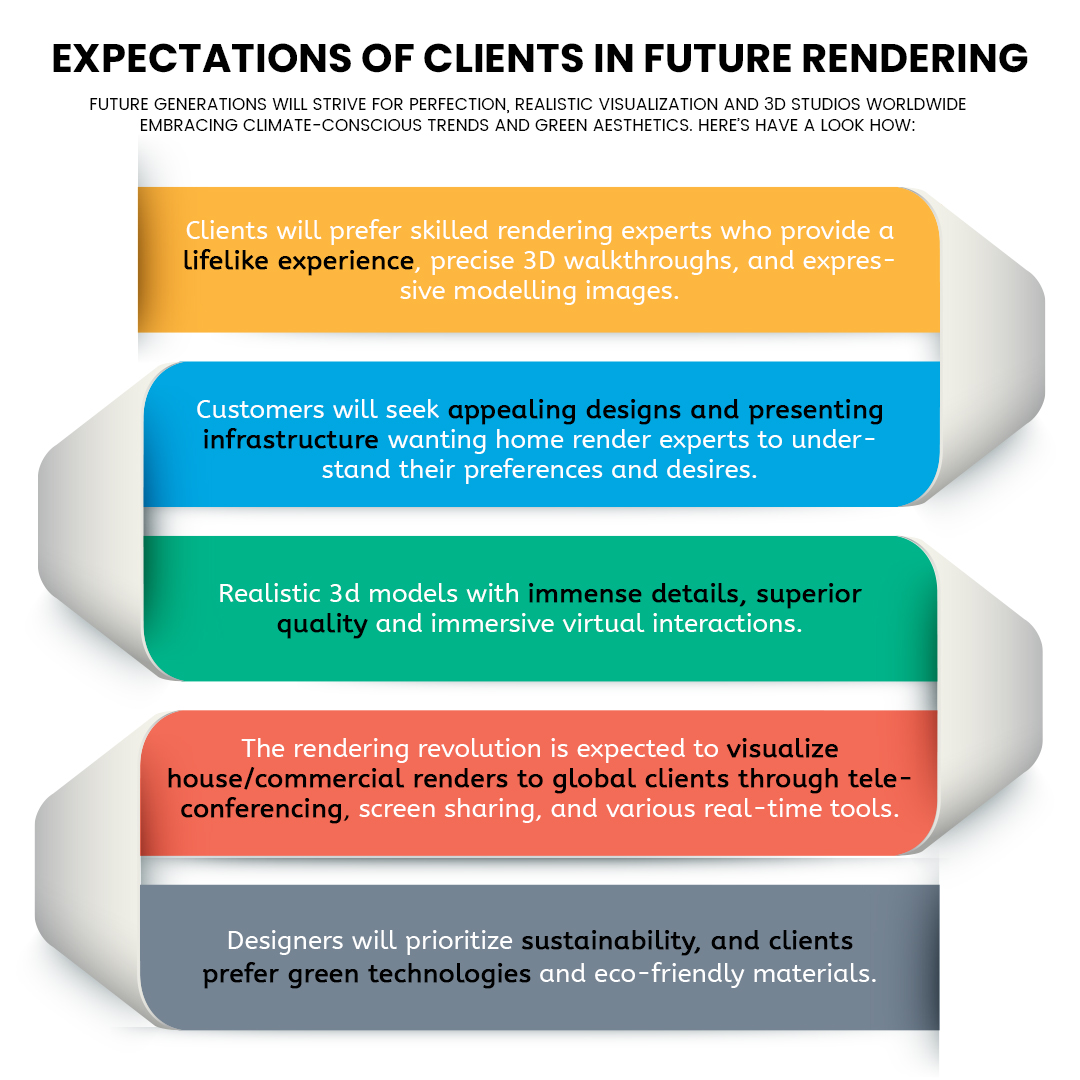 1.   More Accuracy, Realistic and Immersive 3d modelling
In future, clients may not compromise on even minor errors in rendering 3d images for homes. The neck-to-neck competition among the best render companies presently made every artist bring perfection to the table. The future is going to beat up those talented artists more.
They are likely to choose to render experts with qualified and exceptional skills.
Clients will seek the feeling of a real living space while a 3d walkthrough and complete accuracy before the final build.
They will undoubtedly expect three-dimensional modelling images to speak more than an architect could.
Renderspoint sees the future as more challenging and thrilling for rendering specialists with the stack of refining construction outputs.
2.   Configuration, Customization, and Interactive elements in Render Images
When it comes to interior rendering, customers will look for more presenting design and infrastructure. The Home render experts need to follow the way to clients' heart, how they think and what they want.
Clients are expected to have more materials, colours, and furniture configurations.
The best rendering companies must allow clients to participate entirely in the process, which will shift in the upcoming rendering trends.
Renderspoint sees it as the golden chance for interior and exterior renders to leave a remarkable impact on the clients and make transparent connections with them.
3.   Surprising AR (Augmented Reality), VR and Rendering Trends in Future
3d architecture rendering successful projects has set the expectation remarkably high. Clients will inevitably want engaging and detailed renders.
Architects and designs can easily explain their perspective with AR apps and VR smart glasses. This is going to work like a magic world for prospects.
The speed and efficiency of renderings will also increase. Henceforth, the rendering industry needs to set reliable time frames.
3d render interior designs will provide a realistic understanding of the space. It will allow them to walk through space and interact with the design closely virtually.
Renderspoint perceives this as the significant growth achieved by rendering companies.
4.   Expansion of Client Based Render Projects to Remotely Contracts
The introduction of AR, VR and smart glasses will take the future of house rendering and commercial visualization to the next level. The technology will help expand projects worldwide by remotely presenting their 3d render gallery and old projects.
360-degree views, panorama and aerial rendering will excite customers when builders approach clients through AI and VR.
Even the reviews and customization will be made right before the clients through screen sharing, teleconferencing and various real-time tools.
Renderspoint knowns that remote work will not only benefit render artists but also bring diversity to the architect's designs.
5.   Sustainable and Eco-friendly CGI Designs for A Better World
Designers realized the importance of using sustainable materials. Many render types do not show whether the architect's design is eco-friendly and sustainable if the materials used support the environment.
Clients are definitely going to ask for green technologies, energy-efficient features, and environmentally friendly materials.
Future generations being more conscious of climate change will demand visualization studios in the UK and globally.
The upcoming furniture trends, new interior materials, and décor fittings will support green beauty.
Renderspoint experts think the eco-friendlier materials will not only bring changes to the rendering processes but also make green the new norm.
Impact of Future Rendering Trends in Other Areas:
Photorealistic rendering will be the next industrial revolution, which will not only change architectural renderings. In the next section, you will briefly read how the following rendering trends may impact other areas of your life.
■    Interesting Future of social media and Rendering
3d rendering is not only the game for marketers and entrepreneurs. It is the age of socializing; everything is online. We are more curious about showing our best selves and ideal profiles with technology.
Facebook, Instagram, Twitter, and WhatsApp users are likelier to want AR-supported photos, 3d profile backgrounds, Digital avatars, or character renders. Snapchat, Instagram, and many social media platforms have already introduced various 3d avatars. More is yet to come.
■    Engagement of Digital influencers and Metaverse
CGI Charism generated with standard software is gaining enough attention to set the digital age to a new level. Guggimon (A Virtual influencing personality) is already winning the hearts of millions.
YouTube may use Metaverse to generate powerful and impacting content. Your favourite influencers may be replaced with some digital entities. Besides, with the help of AR, VR and rendering techniques, you can even meet your friends in the different Metaverse.
■    Switching from Human to 3D Artists, Reporters and Actors
Future holds the possibility to represent product advertisements with the supportive character render. You may see news reporters, dancers, singers and even actors crafted by some of the best render specialists near me.
We are not scaring you; the next generations will experience the cusp of highly advanced render projects. And this will be the WIN-WIN for both the teams.
■    Surprising Visualization in Gamification Rendering
Game lovers and clients expect an interactive user experience, as realistic as possible. To escape boredom, clients eagerly want a completely immersive gaming environment.
So, 3d rendering services are expected to be integrated into mobile phones and gaming sectors to a huge course.
The Conclusion
The future of architectural rendering will rotate with the integration of new technologies and design solutions. The advanced rendering tools will allow users to create more realistic and detailed projects.
With AI in rendering, designers can represent a building's appearance as practical and immersive as possible. Customers' buying experience will change and polishes up, while architect designers might generate more powerful renders.
Social media presence and rendering trends will also change with the effect of 3d renders. Collectively, these changes may impact both designers and clients.
Renderspoint is a leading industry for generating quality renders that has a seasoned team of 3d designers with unparalleled skills.
Our team is dedicated to follow futuristic trends.
We encourage our clients to participate fully in the designing and rendering processes.
We use Sustainable materials to make projects visually appealing and eco-friendly.
We use advanced rendering technology to produce the best 360-degree views, 3d walkthroughs, external/ internal renders and more.
Grab your phone and ring the team on 020 8146 5629. Contact us by email to get high-quality and reasonable cost-rendering services online.